Internship program expanding from Affton to Mehlville, Bayless, Hancock
Program will offer job experience, skills to seniors from five local high schools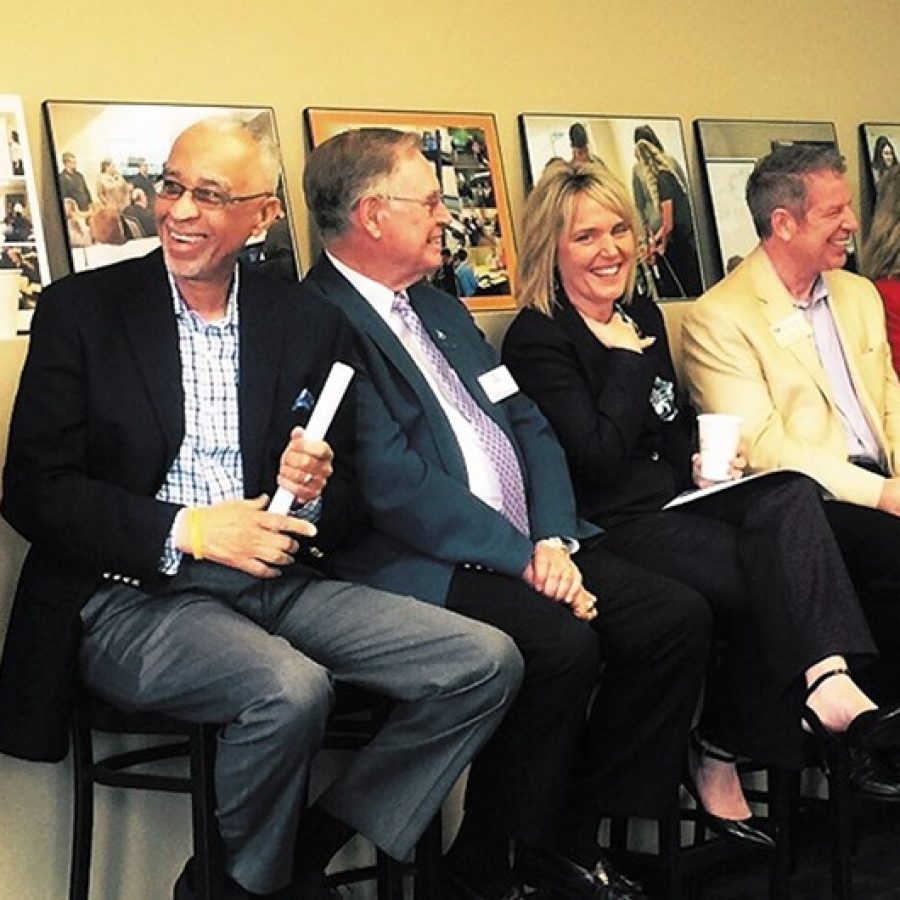 An innovative internship program at Affton High School, one of only a few of its kind in the country, will expand to the Mehlville, Bayless and Hancock Place school districts this fall.
The Affton School District launched Affton Advanced Professional Studies last year as part of the national Centers for Advanced Professional Studies, or CAPS, program for high school seniors.
Rebranded as STL CAPS, it expands this fall to the other south county districts and to high school juniors. Nationwide, the program is only in nine states and 33 school districts.
Students can test-drive future careers by choosing real-life internships and projects in the fields of bioscience, business, engineering, health care or technology. Last year, the health care track was popular, with students interning during the school day at St. Anthony's Medical Center or Siteman Cancer Center, or both.
Instead of learning in a classroom, high school seniors from Oakville, Mehlville, Affton, Bayless and Hancock enrolled in the program will be embedded in a workplace environment for 2.5 hours each school day to gain job experience and master employable skills.
Mehlville Superintendent Chris Gaines said the district's participation in the nationwide network, with 10 slots each for Mehlville and Oakville high schools, is part of a broader effort to expand educational opportunities with innovative learning across the district, including a possible new elementary school of innovation that could open next year in the former St. John's Elementary School.
Mehlville wants to provide those same project-based learning opportunities at the high school level, starting with CAPS, he said.
Affton Superintendent Steve Brotherton approached Gaines about joining the program last year, even before then-Wright City Superintendent Gaines became Mehlville superintendent July 1. A team from Mehlville visited a similar internship program in Kansas City and immediately said, "Yep, we're in," Gaines said.
In March, Mehlville launched a team with a "very open-ended mission and a fairly blank canvas" to "re-imagine our high schools," Gaines said in a districtwide email. The team's plan for the 2017-2018 school year is due to the Board of Education in November.
The new concentration on innovative ways of learning does not mean that Mehlville is throwing out traditional learning, however.
"It all fits together," Gaines told the Call. "(CAPS is) really the piece that happens first … It's just more options for kids."
At a spring panel attended by Education Commissioner Margie Vandeven, State Board of Education members Vic Lenz and Mike Jones and administrators from Hancock and Mehlville, Affton seniors outlined what they've learned through the curriculum, which allows them to intern with companies or hospitals, depending on what strand they choose.
The program's location in the STLVentureWorks business incubator, 315 Lemay Ferry Road, makes it easy for business-minded students to work with startups, and this fall, the health care track will move to a site at St. Anthony's Medical Center.
The program brings students out of their comfort zone into real-world situations to see what careers are like, said St. Anthony's Clinical Education Specialist Dawn Wotowa Bennett.
She mentored AHS seniors in the health care strand last year and helped them pitch their medical ideas and inventions to representatives of local health care organizations, Shark Tank-style.
As the students grew in confidence over the course of the program, they came up with an idea that could actually be implemented for patients at St. Anthony's, Bennett said.
"A lot of times we'll get patients into the hospital, and maybe their families aren't visiting very often — they might like to have their nails painted or have someone play a game with them or have a conversation with them about World War II," Bennett said. "Volunteer Services is loving it, and we're developing that program based off a group project that we did."
Students on the panel were enthusiastic about the focus CAPS will help them bring to college.
"I think one of the biggest things this program has taught me is not only what I want to be in the future, but what I completely do not want to be, so it saves me time and money," Lejla Suljevic noted.