Husband of missing Sunset Hills woman charged with murder
Linda McLaughlin disappeared June 1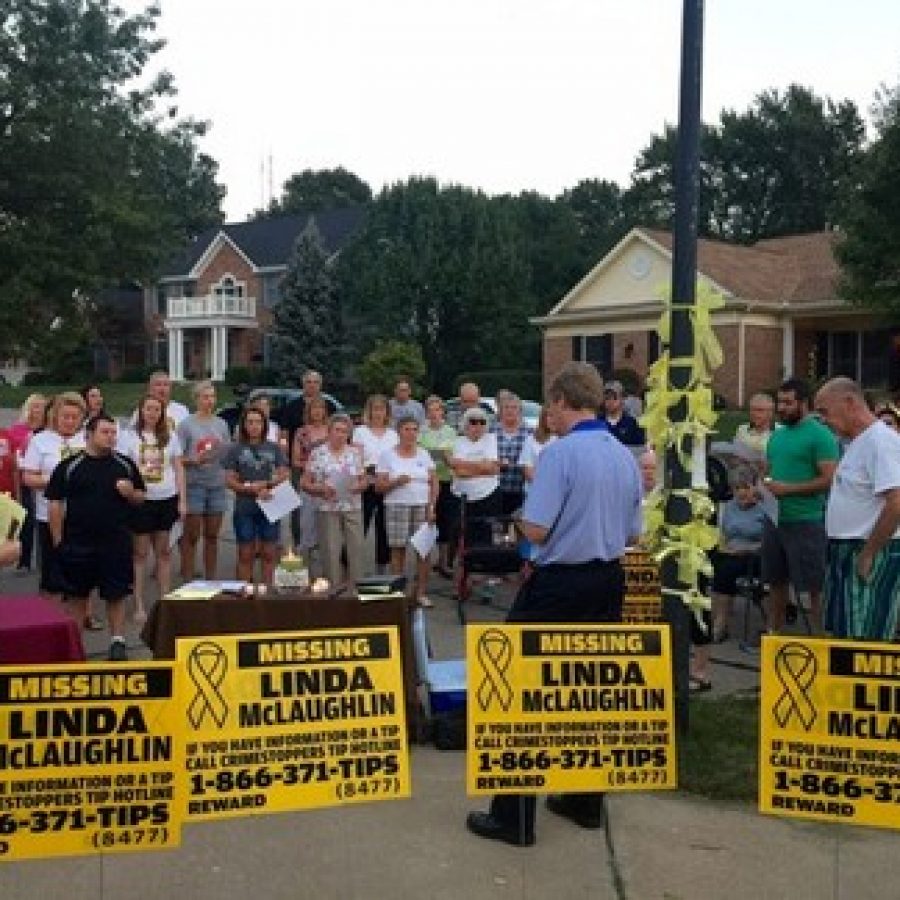 The husband of a Sunset Hills woman missing for nearly a year was charged Wednesday with second-degree murder after her body was found.
County Prosecuting Attorney Robert McCulloch announced that he charged John McLaughlin, 58, with second-degree murder for the death of Linda McLaughlin, 57, of the 9700 block of Meadowglen Lane in Sunset Hills, who had been missing since June 1. McLaughlin is being held on $2 million cash-only bond, and McCulloch noted that depending on findings from the county medical examiner's office, the charges could be upgraded to first-degree murder.
Following a break in the case in the last few weeks from technology that McCulloch declined to specify along with "old-fashioned police work," St. Louis County Police investigators discovered Linda McLaughlin's body Tuesday in a shallow grave on a "secluded, remote, very rough" federally owned property in southwestern Missouri, McCulloch said in a press conference Wednesday.
"The technology that was available puts Mr. McLaughlin at the precise location where her remains were found yesterday, and that's what broke the case open," McCulloch said. "He drove to this secluded spot, which is a pretty significant distance away."
The county medical examiner's office is conducting a full examination of Linda McLaughlin's body, which was preliminarily identified from medical procedures she had undergone.
John McLaughlin and his brother Robert McLaughlin, of the 5400 block of Ringer Road in Oakville, were both arrested at about 3 p.m. Tuesday at their respective workplaces and kept in jail on 24-hour holds without charge, police spokesman Shawn McGuire said.
Robert McLaughlin was released Wednesday without charge, McCulloch said. The brother's possible role in the alleged murder would likely have been as an accessory after the fact, and that investigation is ongoing as the medical examiner continues examining the body, the prosecutor added.
John and Linda McLaughlin were in the middle of divorce proceedings last June, three days away from a scheduled settlement conference, when she suddenly went missing after meeting friends for dinner in Kirkwood. She is listed in business records as the owner of John McLaughlin's business, McLaughlin Hoist and Crane in Fenton.
Detectives' probable-cause statement on John McLaughlin says that the McLaughlins were at the family business at 7:30 p.m. the night she disappeared, after she was last seen by friends at 7 p.m. The husband drove his truck to the family farm in Gerald and arrived at 1:30 a.m. His wife's bracelet and DNA were later found at the property in a farm structure. The husband left the farm at 7:30 a.m. on June 2, parked his truck at the remote location where her body was later found, and arrived back in Gerald at 1:30 p.m. that day, detectives said.
A doting grandmother, Linda McLaughlin typically babysat her grandchildren most days, and when she uncharacteristically wasn't at her house when her daughter-in-law showed up with the grandchildren June 2, the Sunset Hills Police Department determined that the circumstances of her disappearance were suspicious and called in county detectives.
Crestwood native Linda McLaughlin's family, including her sons and her brother, Richard Sexton, and father, Roger Sexton, who both live in Crestwood, held a series of candlelight vigils in her honor last year to bring attention to the final vigil for McLaughlin in September.
The family continued the vigils to make sure that police kept the investigation going, and McCulloch said that police never let up on solving the case.
"Like other cases, there's always an investigation ongoing in these cases," he said.
At the Sept. 1 vigil for his sister, Richard Sexton said the family still had hope that she would be found, but noted that it had not gone unnoticed that her husband had not attended any of the vigils for his wife.
Describing which family members were in attendance, Sexton said, "Everyone but her husband."
Police found Linda McLaughlin's 2008 Buick Enclave undamaged in south city several days after her disappearance, the same day roughly 100 county police officers, Franklin County sheriff's deputies, divers and cadaver dogs went to the McLaughlins' second home in Gerald. Despite a full day of searching ponds and other areas on the 40-acre wooded property, police said they came up empty in the search for McLaughlin.
"We're just missing her," Richard Sexton said. "If you didn't have the opportunity to meet her, you really missed out, because she'd do anything for anybody … This is the most caring, the most loving, the kindest person I've ever known in my life. And I would have said that a year ago, I would have said it four months ago, I would have said it three months ago and I'm saying it right now."