'Hunt for Hope,' a socially distanced drive-thru Easter egg hunt, beautifies South County Saturday
Hunt for HOPE
Saturday, April 11, 10 a.m. to 12 p.m.
Hunt for Hope is a socially distanced drive-thru Easter egg hunt through the streets of Crestwood and Sunset Hills. Families will drive around the community in a visual scavenger hunt for houses and yards decorated for the hunt.
There is no charge to participate, but people who register are invited to make an optional donation to the St. Vincent de Paul Society to help local families financially impacted by the COVID-19 crisis. 
Join the Hunt: Register your car online. Look for an email on Friday, April 10 listing the participating addresses and scavenger hunt sheet.   
Host a Stop: Register your house online. Submit your decorating theme to help compile the visual scavenger hunt sheet. 
Register:  www.huntforhope.givesmart.com 
Questions: SunCrestHuntForHope@gmail.com
Volunteers were asked to step forward to decorate their yards and be creative, and about 40 residents have signed up their houses to participate with another 100 registered to drive around and see the scenes, said organizer Liz Miller, a Crestwood resident.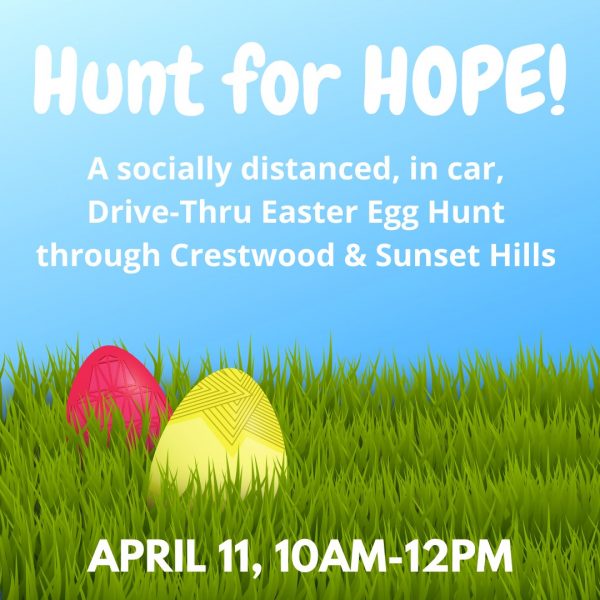 The cost to participate is free, but registrants have the option to donate to St. Vincent de Paul.
"We decided it was such an important thing to the community for everyone to give back," Miller said.
Although the houses visited on the tour will only be in Crestwood and Sunset Hills, children from other areas may register and participate in the drive so that they can experience the fun Easter event too.
The city of Sunset Hills is an official sponsor of the event, and the Easter Bunny will make an appearance in front of Sunset Hills City Hall to wave to children driving by. The city typically hosts an event with the Easter Bunny before Easter, but that had to be canceled this year.
Christmas in Crestwood is also on board as an official sponsor and will decorate a Christmas tree for Easter and hide it somewhere along the path for children to enjoy.
Adding to the fun, some of the individual houses have themes like football or flamingoes.
But the event also has a deeper meaning.
Miller called the event "Hunt for Hope" to encourage children to look at the bright side and think about the good things in life even in this unique time of social distancing, Miller said.
"Easter's a time of hope no matter what the circumstances are, so our goal in this event is to bring that hope to our kids even though they might not be able to experience it in the same way," Miller said. "Obviously Easter is the celebration of Jesus rising from the dead, so even in death, there is celebration of new life. It's just clinging to that hope no matter what the circumstances. There's always light at the end of the tunnel, and there's always a reason to see the bright side."
The message has caught on with South County residents, as the event grew beyond what Miller initially envisioned it to be.
"It just kind of started evolving and changing as it went — it started as a little church thing and a lot of people heard about it," she said.
A list of churches across denominations, including Crestwood Baptist Church, St. Justin the Martyr, St. Thomas/Holy Spirit Lutheran Church and St. Elizabeth's, will also participate. Pastors will be available to pray or welcome people at churches along the way.
Miller asked small businesses if they wanted to decorate their storefronts, and restaurants who wanted to participate are listed as suggested lunch spots for people wanting to get some curbside or takeout food afterward.