Hulshof pledges not to raise state taxes if elected governor
State should be responsive, responsible with residents' tax money, Hulshof says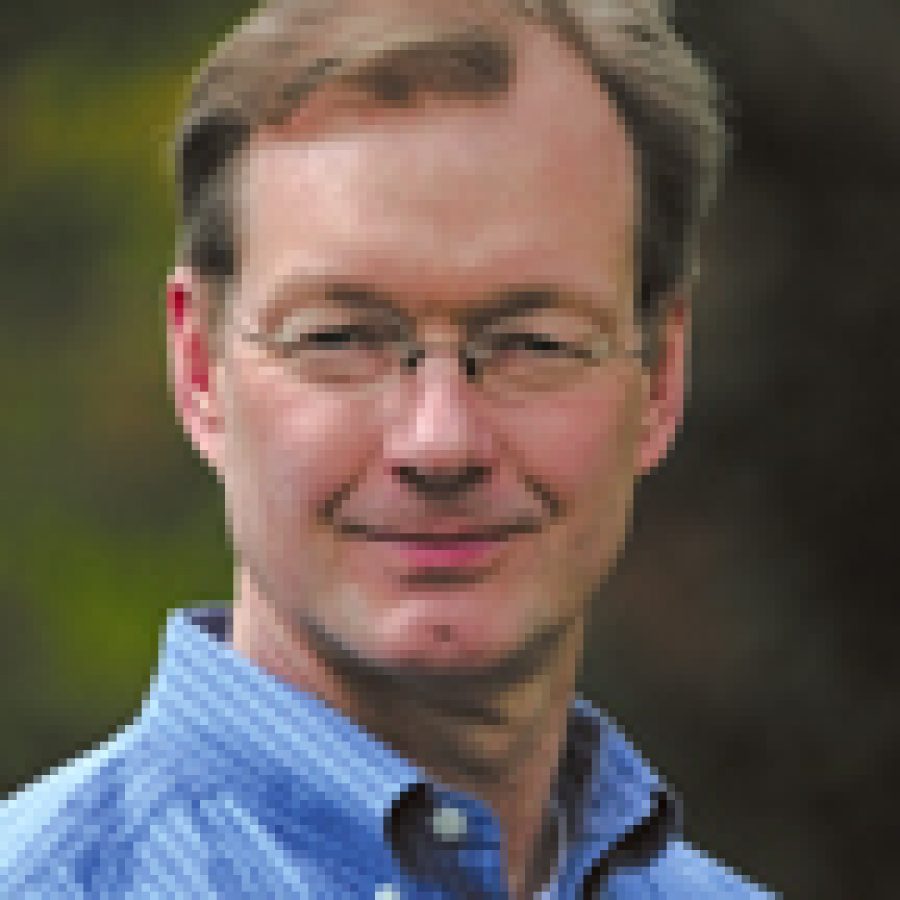 U.S. Rep. Kenny Hulshof pledges not to raise state taxes if elected governor and believes his economic proposals will strengthen Missouri's economy.
Sikeston native Hulshof, who is serving his sixth term representing Missouri's 9th Congressional District, recently visited the Call's office for an exclusive interview about his candidacy to succeed Republican Gov. Matt Blunt, who will not pursue a second four-year term in the Nov. 4 election.
In the Aug. 5 Republican primary for governor, Hulshof will face Missouri Treasurer Sarah Steelman of Rolla, Mountain View teacher Scott Long and Jennie Lee "Jen" Schwartze Sievers of Jackson.
On the Democratic side, candidates competing in the Aug. 5 primary are Daniel Carroll of Shelbina and Attorney General Jay Nixon of Jefferson City.
Hulshof, who served as a special prosecutor in the state Attorney General's Office before being elected to Congress in 1996, said his record in the U.S. House is that of a "tax-cutter," and he pledges not to raise state taxes if elected governor.
"I think that the amount of revenue that we collect from you for our budgetary priorities are sufficient and my record in Congress has been a tax-cutter. I was put on the Ways and Means Committee as a freshman congressman back in 1997 and that's the committee that deals with tax changes," he said. "And so we did things like eliminate the marriage penalty in our federal tax code. And we are making progress on repealing the federal death tax and we cut the rates, marginal rates, for all income payers all across the board …
"The power of letting people keep their money is a powerful concept. I'm a supply-sider and so I think as far as our state tax burden, it is sufficient for us to cover our central services," Hulshof added.
Asked if such a pledge was realistic given the current state of the economy, he said, "I do. It's about priorities and I know I've seen a number of different projections that vary across the map as far as are we going to have a shortfall? Are we going to have modest growth? Fortunately, we are one of 23 states out of 50 where our fiscal house is in order in Jefferson City and that's because of some very prudent decisions made by our state lawmakers on how they spend our money and that's appropriate.
"Government should be responsive, but responsible with our hard-earned tax money and so we are at a good place right now. And again, is the national economy in a recession? Have we seen a slowdown? Are we about to come out of it? … It is somewhat speculative, but the most important thing is to be aggressive on the job front in our state and then to be wise with those tax revenues that Missourians are sharing with the government."
Hulshof earlier this month unveiled an economic package designed to bolster the state's economic climate over the next decade.
"There are really three components to any economic development," he said. "No. 1, what sort of climate do we have within the state? Secondly, do we have a workforce that is ready to take jobs we want to recruit? And thirdly, do we have an aggressive CEO that's going to go out and try to bring businesses to our state as opposed to some other region? On the climate … I support efforts already on workers' compensation changes, for instance. That was something that Gov. Blunt did that I applaud.
"Beginning lawsuit abuse reform, tort reform, which I really support. I mean it's just not for health-care professionals where we see doctors looking elsewhere to practice medicine, but it drives up the cost of business when there's a concern about frivolous lawsuits being filed and having to hire counsel to defend these often nuisance-type suits. And I'm the only one in this race that embraces that idea of tort reform, for instance," Hulshof said. "But it's also more than just that climate. It is what can we do specifically to recruit businesses?
"And that's where I think a prudent use of tax incentives is a good thing … When we announced this the other day, we were standing in a business incubator that takes cutting-edge ideas and tries to find venture capitalists that are willing to invest in those ideas. Well, sometimes these are so cutting-edge innovations that starter investments — we call them angel investments — are a way to help provide some seed money then for others to choose whether or not to invest in that very knowledge-based idea. That, among many other things, is a way to have climate here … Helping provide that incentive sometimes is just enough then to have that business locate here in Missouri. So all of those things contribute to a stronger climate to grow our economy.
"Secondly then is the workforce, and this is where education comes into the mix and higher education particularly. But when I say higher education, it's not just the four-year research, land-grant college that I'm an alum of — University of Missouri in Columbia — but it's community colleges. It's technical schools. It's any higher education institution that helps our workforce get prepared for these new jobs, these knowledge-based jobs. And so one of the things I proposed is a funding formula for all higher education similar to the funding formula for elementary and secondary education so that higher education will have some confidence in their ability to have monies invested …
"It pains me when I see that Missouri is either 44th in the country or 47th in the country depending upon which of the two measurement tools that are typically used as far as our public commitment to higher education in Missouri, and so I think it's important that we re-emphasize, especially given the careers that I want to attract here as governor, we have to have a workforce that's prepared for them," he said.
Hulshof said his initiative also calls for more investment in math and science.
"I'm not reinventing the wheel here. These are ideas others have proposed, but I really want to emphasize them because I think it's really important for us to grow our state economy."
Hulshof also believes that a strong economic development team is needed to aggressively recruit businesses from throughout the United States and even overseas to locate here.
"The work ethic of our people is second to none, but what will make that business land in Missouri as opposed to Illinois or some other neighboring state or even West Coast, East Coast? You have to aggressively go out and recruit these companies to choose the state of Missouri and I think that, too, then is an integral component of trying to make sure we grow this economy."