Heroin use in south county an epidemic, Belmar says
St. Anthony's seeing two, three overdoses every day, county executive tells attendees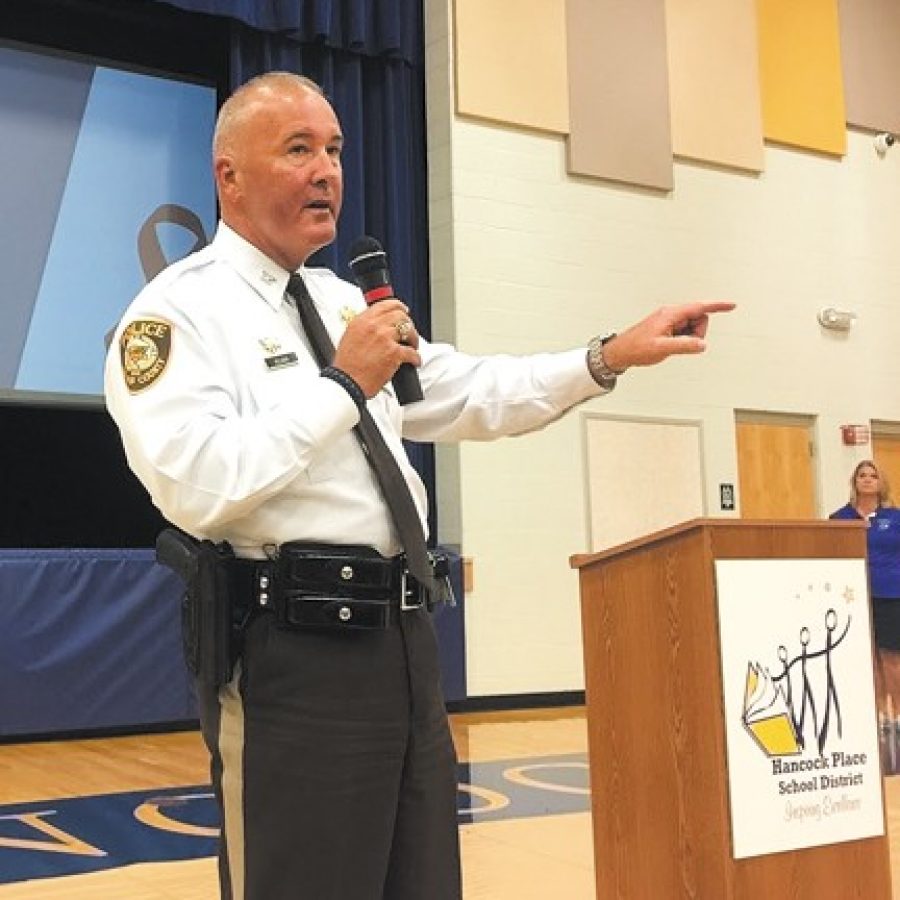 When county police Chief Jon Belmar served search warrants for the regional drug task force three decades ago, heroin was a rare sight in the suburbs of St. Louis County.
But now, it's an epidemic — especially in south county.
That was the message the chief, County Executive Steve Stenger, recovering heroin addicts and parents who have lost their children brought to the first South County Drug Resource Fair held last week at Hancock Place High School, co-sponsored by the Mehlville, Lindbergh, Bayless and Affton school districts.
Recovering addict Chase Taylor, 21, was living a seemingly perfect life in Sunset Hills until he became what he called a "suburban junkie" at 15.
"This disease can grab anybody," he told the crowd of 200. "It doesn't matter where you are, where you live, money, whatever. It's a disease, and I definitely have it."
He and his mother, Robyn Paino, spoke for the first time in public about his past addiction at the meeting.
Paino encouraged parents to take advantage of the opportunity, set up through Hancock, to start using free drug testing kits to preemptively test their teenagers and whether or not they're using drugs. People have no problem getting preventive screenings for cancer, Paino noted, but when it comes to drug use they're more hesitant.
"These drug tests will be your mammogram, your early detection of a possible addiction," she said.
Although long-term solutions to the heroin problem are difficult, the fair had an immediate impact on the problem: At least two opiate addicts walked into the event and told one of the 15 resource agencies staffing the fair that they needed immediate help to get off heroin.
It's a start for a problem that appears to be growing worse. In his remarks to kick off the event, Stenger noted that St. Anthony's Medical Center sees two to three heroin overdoses every day.
"And that's just one hospital in our region, that's just one hospital in south county," he said. "These are our kids."
And for the children in the audience, Stenger had a message.
"For the children in this room with us today — the choice of using heroin is the choice that will lead you down a path of death, it's just that plain and simple," he said. "And we can't stress that enough. We really can't."
Stenger's nephew Mitch Stenger died two years ago on Dec. 4, and after referencing Mitch's death, "right around this time of year," Stenger struggled to compose himself to describe the steps he has taken to help prevent similar tragedies since his nephew's death, which happened after he was elected but before he took office.
With Missouri as the only state without a prescription-drug registry, Stenger has spearheaded one in the county, and surrounding counties have followed.
"It's been two years since his death, and it's still difficult to talk about this," Stenger said. "It's a situation that's one of the reasons why we created the drug monitoring program, because we want to avoid this for every family in our region. No one should have to suffer the way my family has suffered, the way your families have suffered."
Working with Belmar and the Legislature, Stenger also took steps so that county police can administer Narcan to overdose victims. Since that program went into effect in April, 38 overdose victims who would have otherwise died have been saved, Belmar said.
Despite those measures, the epidemic is growing, and drug overdose is now the leading cause of injury death in America, above car accidents. Since 2014, 221 St. Louis County residents have died from heroin overdoses, Stenger said.
Besides dire warnings to stay off drugs, the fair offered hope for those already addicted.
Paino noted that she was finally able to help her son once she started attending Al-Anon meetings and learned that her tendencies to try to fix everything, help everyone and solve every problem were enabling Chase, not helping him.
"They say in Al-Anon don't rob everyone of the dignity of doing things for themselves," she said. "So parents, please don't be afraid to take the car away, the phone away, don't fight their battles, don't bail them out. Do let them accept their own natural consequences. Doing things for them only enables them and grows their disease. To me doing Al-Anon is like chemo treatments — he's been three years clean and sober and I still go every week."
Being proactive by drug-testing teens is the method advocated by Test My Teen owner Mike Peterson, who bought the company after his son Benjamin, 26, overdosed 249 days before the south county event.
"Don't ever say your kids won't take drugs," Peterson said. "Please do not love your child to death. You don't know pain until you've lost a child."
As shown by Taylor, who has been sober for three years, lives can be turned around, DEA Agent Juan Wilson said.
He supports Narcan because "every day I go to sleep with the visions of mothers being pulled off as they're trying to breathe a last bit of life in their child," he said.
The list of users has included his own brother.
"It can happen to anyone," he said.