Heavy lifting
Mehlville firefighters participate in training exercise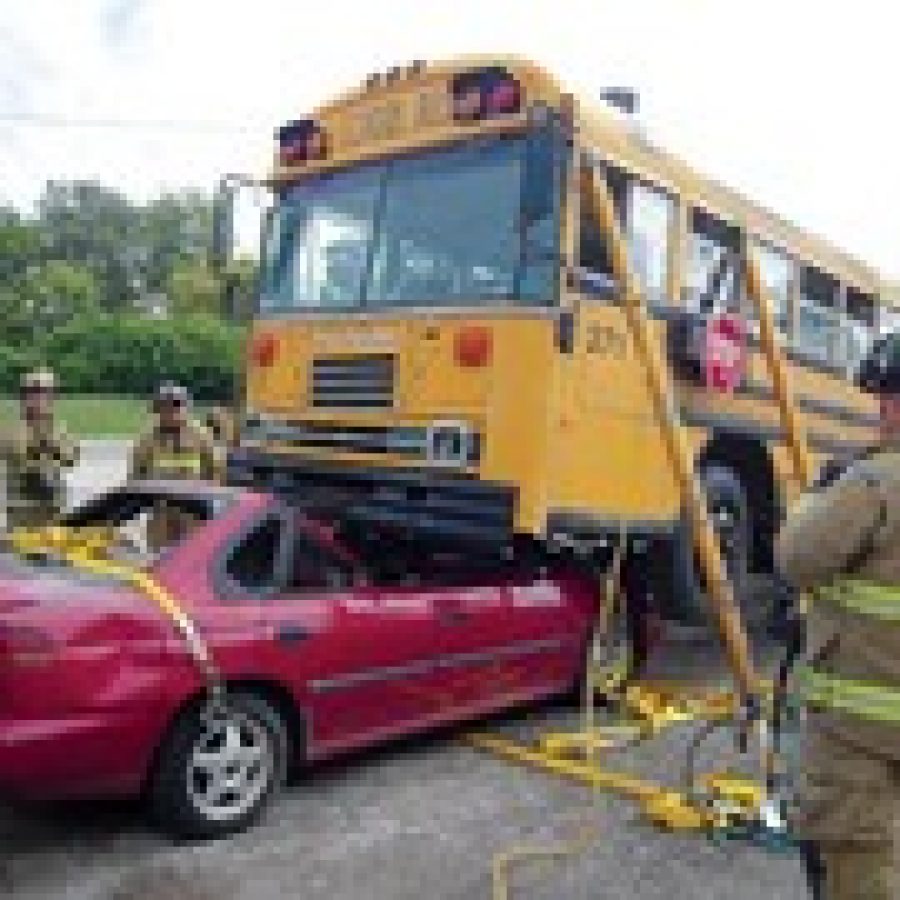 Mehlville Fire Protection District firefighters used struts to lift a school bus off a car during a training exercise last week in the parking lot of the Mehlville School District's South County Opportunity for the Purpose of Education/South St. Louis County Management School building on Will Avenue.
The struts and other tools utilized during the exercise came from the fire district's heavy rescue squad, which Mehlville took delivery of in September 2011. Mehlville is one of the few fire protection districts in St. Louis County that operates a full-time heavy rescue squad.
The 2011 Pierce rescue truck has more than 500 pieces of equipment, including specialized tools and equipment used for specific rescue situations. It also contains its own electric power plant, air compressors and light tower.
The scenario utilized in last week's training session, according to MFPD Capt. Dave Waser, involved a motorist who made the "bad choice" of texting on his cellphone while driving, colliding with the school bus with the front half of the vehicle ending up underneath the bus.
"It's all about choices," Waser told the Call.
While it may appear that the driver and a front-seat passenger may not be able to survive such a collision, that's not the case, according to Waser and Deputy Chief Dan Furrer.
The driver and a passenger certainly could survive the crash, they said. The goal then is to stabilize and raise the bus, so the vehicle's occupants can receive the medical attention they need.
The bus used in the training scenario was one no longer needed by the Mehlville School District, and MFPD officials said they were very appreciative of the school district's generosity and cooperation.
During the Oct. 17 training session, Waser told firefighters he participated in a similar training exercise in Chicago.
"When I did the training up in Chicago, we lifted a bread truck with a car inside of it off of a car similar to this," he said. "We lifted a bus straight in the air with their equipment. We don't have what they have, but we were able to lift a school bus six foot off of the ground that had cars underneath it — in front and back.
They had a cement truck rolled over on top of a car …," he said, adding the training in Chicago involved numerous scenarios.
Of the struts involved in the training exercise, Waser said each one is capable of holding up to 80,000 pounds. Four struts were utilized to raise the bus off the car, while wood cribbing was used to stabilize the back end of the bus.
"… Basically, what we want to do is put it in the back of your head that we have another resource that we might be able to use for something …," he told firefighters.
To view a gallery of photos from the training exercise, visit