Heavier police presence sought by Baebler, Fribis after incident with Furrer
Svoboda asked to call 911 by Fribis; ex-mayor declines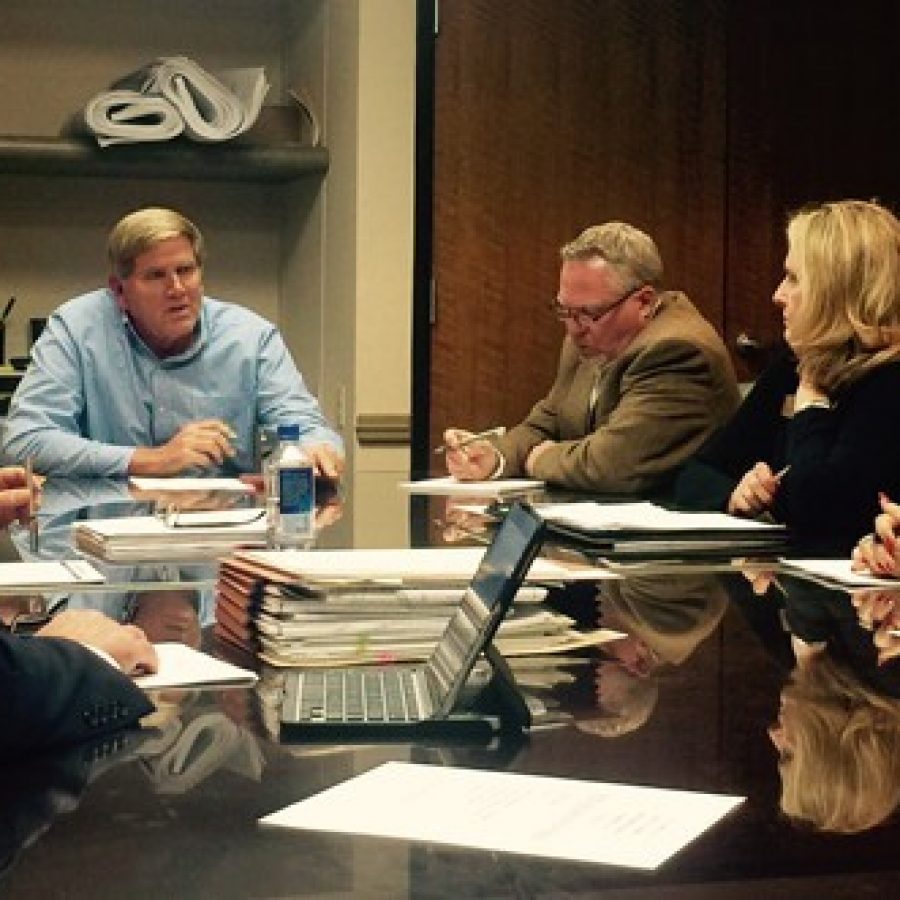 Two Sunset Hills aldermen are requesting a heavier police presence at city meetings after one of them called 911 to ask police to intervene in a "verbal disturbance" with Mayor Mark Furrer.
Police responded on Jan. 6 to the Community Center after Ward 4 Alderman Pat Fribis requested they escort the mayor out of a city employee's retirement party, where Fribis said Furrer was "out of control and verbally assaulting" Ward 1 Alderman Dee Baebler.
"He actually physically scared me," Baebler told the Call. "Now we will request a police officer to attend all committee meetings to feel safe — not from angry residents, but from our mayor."
Furrer did not respond to a request for comment about the incident. Due to a back injury, he did not attend last week's Board of Aldermen meeting, the first with extra police presence.
In the police report, Sunset Hills Police Department Sgt. Steven Lucas wrote that the mayor told him that he "did not yell at anybody or cause any disturbance of any kind."
While Fribis waited for a committee meeting to start at 6:30 p.m., she sat down at Baebler's table at the retirement party in the gym to chat about their children.
As Furrer headed their way, Baebler thought he might want to talk about the city's efforts on behalf of flood victims, which she was organizing.
But instead, the mayor appeared to be "desperately looking for a fight," Baebler said.
"He comes in, gets right in her face — right in her face — and starts yelling at her," Fribis said. "I said, 'This is not the place. Leave.' And he ignored me."
As Furrer's chief city critic, Baebler said she has seen the mayor angry many times, but this was the first time she feared it might actually turn physical.
"I thought he was going to hit her," Fribis agreed.
As the 6-foot-4-inch Furrer bent down toward Baebler, she said, she had to lean back in her chair to get some distance from the mayor, who was shaking and clenching his fists. She thought he was going to grab her, she added.
To police, Baebler alleged the mayor called her a series of expletives directed toward women.
"When he first walked up, he was leaning over me and he was pretty loud — I don't know what all he said in between, but it ended in 'lying (expletive),'" she said. "A lot of people turned their heads like, 'Oh my God.'"
And although Fribis was not the target of the name calling, she said she left to call 911 because she'd heard enough.
"He threatened that he's going to sue us, and he looked at me and said, 'I'm going to sue that, too.' He called me a 'that,'" she said. "I thought, that's it, I'm not putting up with this anymore. I have never been treated so poorly in my entire life. It was so uncalled for. What have I ever done to him?"
Fribis said she asked former Mayor Mike Svoboda, who was sitting at the next table, to call 911, but he declined. Svoboda did not respond to a request for comment.
Furrer is slated to go on trial for the second time Feb. 22 on two felony charges of assault and property damage for a 2014 incident with a bicyclist. Furrer's first jury trial ended in a mistrial last month. He has pleaded not guilty and denies eyewitness accounts that he intentionally swerved his car into Fenton resident Randy Murdick.
The latest incident is not Furrer's first with Fribis on the City Hall campus: Three witnesses, including a resident, a former alderman and Baebler, told the Call last year that they heard Furrer yell an insulting name directed toward women at Fribis as she drove away from a meeting.
Another alderman at the retirement party, Ward 3 Alderman Keith Kostial, said he saw Baebler and Fribis talking by themselves and turned away for a few minutes.
The situation never grew loud enough that it disturbed the rest of the party, and he was unaware what was going on while it was happening, he said.
"I'm not defending him, because it could have happened before I stepped back there," Kostial said. "But I didn't hear anything derogatory or negative."
By the time Kostial made his way back to their table, Fribis had left to meet police outside.
As he waited nearby to interrupt, Kostial could hear Furrer and Baebler's intense, quiet conversation, which was focused on Furrer's trial.
"I was waiting for a pause, but the pause never happened until the police came," he said. "I heard Mark explaining his trial, different happenings or witnesses. The only thing I heard Dee say to him was, 'Why didn't you just stop and pull over?'"
Furrer was upset because Baebler had posted a Call article to her Facebook page outlining the police investigation and how he washed his car after the incident, she told police.
"He was trying to tell me about the bicycle incident and how those witnesses were lying and physics tells the truth, and physics shows he didn't do it," she said. "I said you're trying to tell me to believe physics over four sets of eyes telling me the same thing? That didn't make him happy. I said that's between you and your jury and God — he just kept wanting to talk about that, and I'm not sure why."
The first indication for Kostial that anything was out of the ordinary was when a police officer came up behind him.
"I said, 'Everything OK?' and he said we got a call and looked in Dee and the mayor's direction," Kostial said. "I said is there a restraining order I'm not aware of?"
Lucas wrote in his report that as he walked in with Officer Kenny Scheetz, he did not hear any screaming or yelling but thought Baebler looked upset.
"I heard Furrer say to Baebler that he was not a felon because he did not hit that guy and then tell her that she was the one who screams at police," Lucas wrote.
Furrer willingly went outside to discuss what happened, and according to Lucas' report, he denied that he yelled at the aldermen. Instead, "it was Baebler that called him a felon, so he was explaining to her why he was not a felon."
At the request of the aldermen, Scheetz escorted Fribis to her meeting and Baebler to her car. Furrer left without returning.
"I was shaking like a leaf, he really scared me this time," Baebler said. "I have been appalled and disgusted and upset and disappointed, but this time he scared me.
"The way he was looking at me and shaking and sweating, he was very angry — and that's very uncomfortable."