Green Park official's complaint against fellow alderman dismissed
Aldermen vote down request by Broughton for legal fees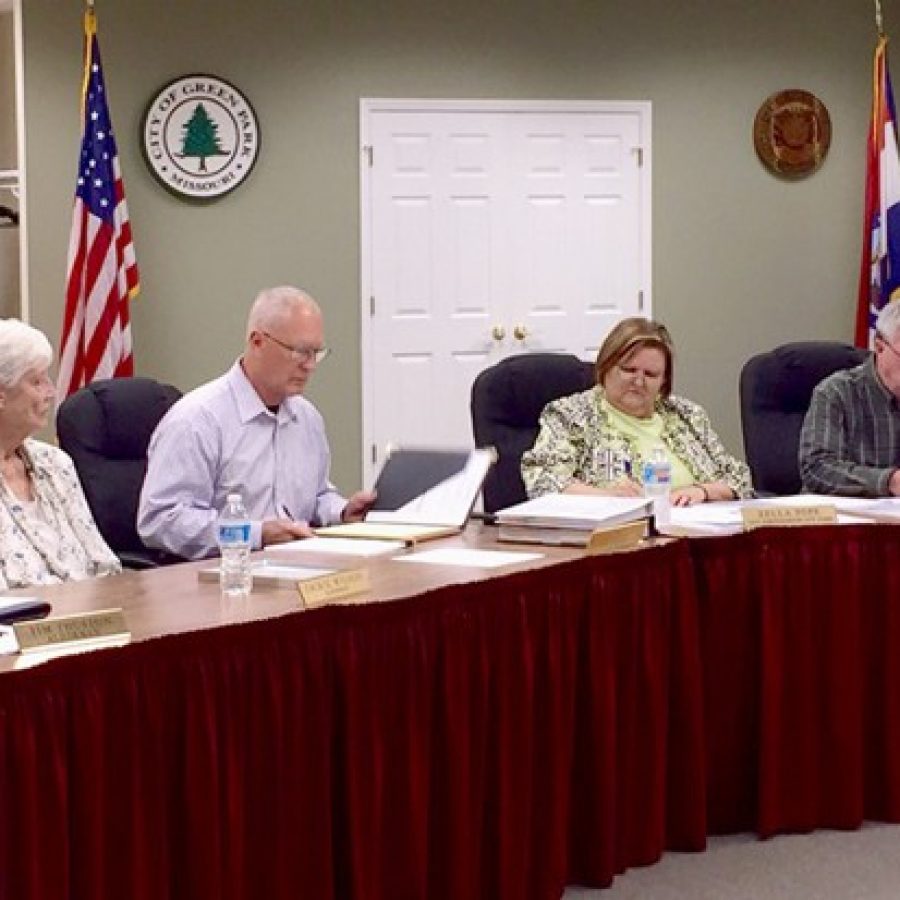 The Missouri Ethics Commission voted last week to dismiss a complaint filed by one Green Park alderman against a fellow alderman.
Recently elected Ward 1 Alderman Michael Broughton filed the complaint April 2 against Ward 1 Alderman Carol Hamilton, who has served on the board since January 2008.
Broughton, who was unopposed in the April 7 election, alleged Hamilton violated state conflict-of-interest laws and shared confidential information with the owner of rental property regarding complaints submitted about the property.
The Ethics Commission voted last week to dismiss Broughton's complaint, after "finding no reasonable grounds to support a violation," Ethics Commission Executive Director James Klahr wrote in a July 20 letter to Hamilton.
Broughton unsuccessfully ran for alderman in 2005 against now-Mayor Bob Reinagel, who then held the seat.
Broughton was unopposed for election in April after Ward 1 Alderman Tony Pousosa, who had served on the board since 2007, withdrew his candidacy after Republican officials selected him to seek the 6th District County Council seat formerly held by County Executive Steve Stenger, D-Affton. Democrat Kevin O'Leary prevailed in the council race.
Broughton filed his ethics complaint against Hamilton on April 2, the day after a lawsuit filed against Broughton and his wife, Marilyn, by a Green Park property owner was dismissed in Circuit Court here. Also on April 1, Broughton and his wife dismissed a counterclaim they had filed against Jean-Pierre Henrotay, who owns four rental properties in Green Park, including one on Timothy Lane that abuts the back of the Broughtons' Jan Drive property.
In a May 28 letter to City Attorney Paul Rost, Broughton requested $9,111.25 from the city of Green Park as "reimbursement" for legal fees and "related expenses" he and his wife incurred defending Henrotay's "frivolous lawsuit."
Aldermen voted 5-0 July 20 to deny Broughton's request for reimbursement.
Broughton recused himself from the board's discussion and did not vote.
In his letter requesting the city reimburse him for his legal fees, Broughton wrote, "But in the event our request is rejected by city officials, we will seek and retain counsel adroit in the art of suing municipal government and will file suit."
In his 2013 lawsuit, Henrotay sought in excess of $25,000 from the Broughtons because of their alleged "incessant harassment, complaints, letters and emails" regarding his rental property at 9939 Timothy Lane.
In his ethics complaint, Broughton wrote, "The events that prompted the lawsuit and the unlawful behavior of Green Park officials occurred during the time frame of the summer of 2008 through June 2013, roughly …"
Regarding Henrotay's suit, Broughton wrote that the "allegations were based almost exclusively on email communications that I directed to my Ward 1 Aldermen Carol Hamilton and Tony Pousosa, Mayors Tony Konopka and Bob Reinagel and City Administrator Zella Pope, which concerned various complaints of property maintenance and other issues regarding Henrotay's property and tenants at 9939 Timothy Lane."
In his complaint, Broughton also alleged that Hamilton, who works as a real-estate agent, "maintained a financially productive business relationship with Plaintiff Henrotay while she was involved in code-enforcement activities concerning his rental property and tenants, which was obviously a conflict of interest. Alderman Hamilton also failed to act in her lawfully empowered enforcement capacity as a city official while investigating reported violations concerning plaintiff's rental property and his tenants; actions which resulted in Henrotay — Hamilton's real-estate client — avoiding summons, court fines and other official actions."
But the Ethics Commission disagreed with Broughton's allegations.
"Staff review of the complaint filed with the commission established that, while you (Hamilton) were involved in two previous real-estate transactions involving the property owner, one transaction occurred in 2003 and the other in 2004. Both transactions occurred well before you were appointed to the board in 2008," Klahr wrote. "Staff also reviewed the city of Green Park's process for handling alleged violations of its property maintenance code. From the materials reviewed, there is no evidence that you failed to follow that process in your role as alderperson."
Ethics Commission staff found no evidence that Hamilton "acted on complaints to provide a special monetary benefit to yourself, your spouse or dependent child" or "disclosed any confidential information with an intent of financial gain for yourself, spouse or dependent child or any associated business," Klahr's letter stated.
Ward 2 Alderman Tim Thuston noted last week that Broughton has been a longtime critic of the city of Green Park in letters to the editor that Broughton has written to various publications over the years.
Regarding Broughton's reimbursement request, Thuston said, "I'm disgusted by it … After continuous badgering of all the city officials in the past, I don't know, 10 years, 15 years, however long you've been writing your articles — you've bashed many good people that have served the city finely and represented us very well. And I think it takes a tremendous, tremendous amount of — I want to say this in the nicest way — it's really embarrassing for me that somebody as an elected official would ask the city to reimburse them for something that they've taken on as a personal matter …"
In a statement to the Call, Broughton contended city officials "continue to do little or nothing to bring" Henrotay's Timothy Lane property into compliance with city ordinances.
"At present, the property is basically in the same deleterious condition that it's been in every summer since Mr. Henrotay became the owner," Broughton wrote. "So, my wife and I have been fighting a property maintenance battle with Henrotay for nearly 10 years."
He added, "So I must presume that Carol Hamilton continues her business relationship, bird dogging potential rental property for him …"
Hamilton told the Call she is pleased the Ethics Commission "has dismissed Alderman Broughton's accusations of unethical behavior by me."
"The aldermanic board of the city of Green Park has unanimously rejected by vote to make any reimbursement of any kind of Alderman Broughton," she said. "I am in complete agreement with this decision."