Green Park alderman won't answer if he intends to sue city
Broughton's ethics complaint against Hamilton dismissed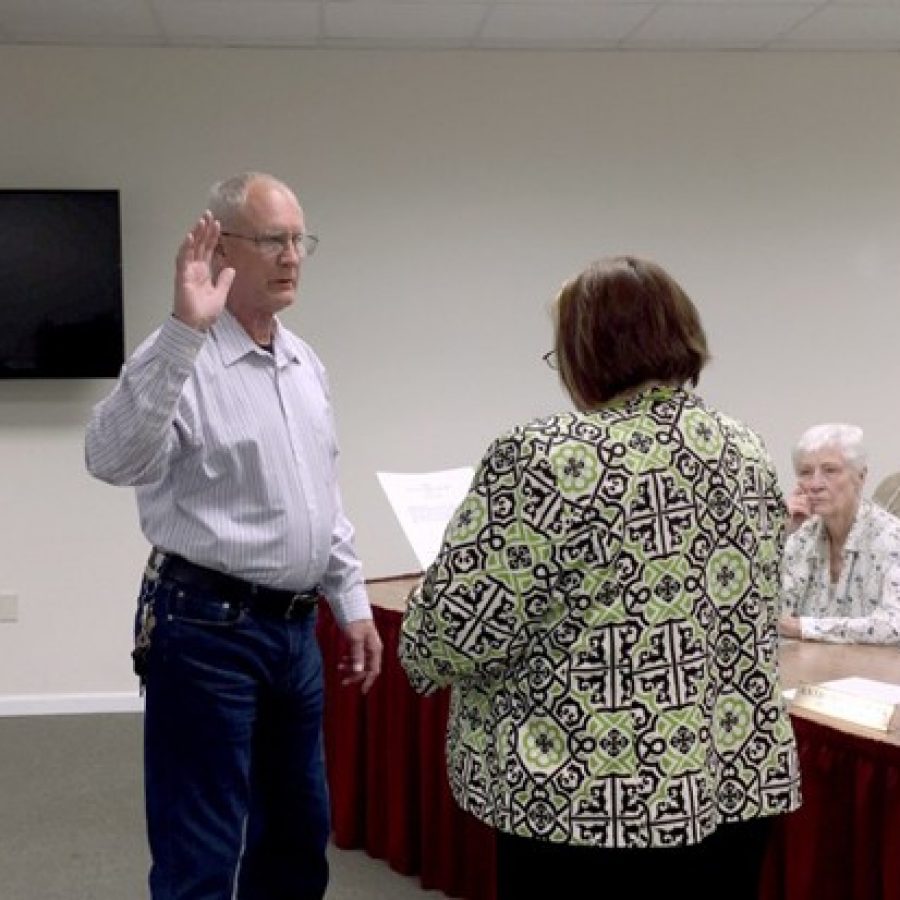 A Green Park alderman who said he would sue the city recently declined to answer a fellow alderman's question about whether a lawsuit had been filed.
Ward 1 Alderman Michael Broughton told city officials that he and his wife, Marilyn, would sue Green Park if the city did not reimburse them $9,111.25 for legal fees and "related expenses" they incurred defending a lawsuit filed against them.
The Board of Aldermen voted 5-0 July 20 to deny Broughton's request for reimbursement. At the Aug. 17 Board of Aldermen meeting, Ward 2 Alderman Tim Thuston cited Broughton's May 28 letter seeking reimbursement, which stated, "But in the event our request is rejected by city officials, we will seek and retain counsel adroit in the art of suing municipal government and will file suit."
Thuston said, "… I was wondering if you had taken any steps to file against the city or sue the city?"
Broughton replied, "That's none of your business."
Thuston said, "Pardon me?"
Broughton said, "That's none of your business."
"OK. Thank you," Thuston said.
Broughton said, "You're welcome."
Thuston said, "You're still an ass."
Mayor Bob Reinagel said, "I think that brings us to adjournment. May I have a motion to adjourn?"
Aldermen voted unanimously to adjourn the meeting.
Broughton, who won office unopposed in the April 7 election, filed an ethics complaint earlier this year against Ward 1 Alderman Carol Hamilton, who has served on the board since January 2008.
Broughton alleged Hamilton violated state conflict-of-interest laws and shared confidential information with rental property owner Jean-Pierre Henrotay regarding Broughton's complaints submitted about the property. The Missouri Ethics Commission dismissed Broughton's complaint, after "finding no reasonable grounds to support a violation."
Broughton filed his ethics complaint against Hamilton on April 2, the day after Henrotay's lawsuit filed against Broughton and his wife was dismissed in Circuit Court here.
Also on April 1, Broughton and his wife dismissed a counterclaim they had filed against Henrotay, who owns four rental properties in Green Park, including one on Timothy Lane that abuts the back of the Broughtons' Jan Drive property.
Earlier during the Aug. 17 meeting, City Administrator/City Clerk Zella Pope addressed a question Broughton asked in an Aug. 13 letter to the editor in the Call: "Which city official(s) provided city documents and other information to non-resident landlord Jean-Pierre Henrotay?"
Pope said, "In May of 2013, the property owner at 9939 Timothy Lane, Mr. Henrotay, came into City Hall requesting to view the file of his property, which is a public, open record. While viewing printed documents of email complaints of his property, he verbally asked for copies of those documents, which he was presented with. Emails received at City Hall pertaining to properties are printed and placed in the property file as an open record."
She also said that the state's Open Meetings and Records Act, also called the Sunshine Law, does not require Sunshine Law requests to be made in writing, "although it may be helpful for a requestor to do so. So he gave a verbal request for those records, which he was presented with. So I just wanted to clarify that with the board."
At the Call's press time, Broughton had not initiated any legal action against the city, according to Pope.