Grant Mabie will serve as Crestwood's mayor
By Gloria Lloyd
News Editor
glorialloyd@callnewspapers.com
There's no maybe about it — Ward 3 Alderman Grant Mabie will serve as Crestwood's next mayor.
In a rare November special election for mayor, Mabie was elected with more than 70 percent of the vote in a three-way field versus two newcomers to city government, Christopher Court and Neil Brown.
Mabie earned 72.73 percent of the vote to 18.13 percent for Court and 8 percent for Brown. Mabie earned 4,605 votes to 1,148 for Court and 505 for Brown.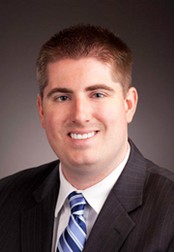 The new mayor will likely be sworn in at the Board of Aldermen meeting Tuesday, Nov. 27, after election results are certified. He will take over day-to-day mayoral duties from acting Mayor Tony Kennedy, the president of the Board of Aldermen.
To fill his Ward 3 seat, he said he plans to appoint Economic Development Commission member Greg Hall, a former Arnold director of administration. Hall could also be sworn in at that meeting after Mabie takes over as mayor.
An Oakville native and graduate of Oakville High School and the Missouri University of Science and Technology in Rolla, Mabie is an attorney who has lived in Crestwood for about a decade. He and his wife, Patty, have two children, Anne and Claire, who attend Lindbergh Schools.
With more than 4,000 votes, Mabie received more votes than the totals in the last contested mayoral election combined between former Mayor Gregg Roby and former Mayor Jeff Schlink in 2014.
Roby resigned in June for health reasons, which means Mabie will serve out the rest of Roby's term, through April 2020.
Mabie has served as an alderman since 2015, and was re-elected in April by a rare margin of victory in Crestwood. Court and Brown are new to city service.
"It was November, you had a lot of people voting, and I'd like to think people liked the message I had," Mabie said of how he won. "I'm sure I had a leg up on some prior name recognition compared to the other two candidates… If you're going to run as someone who hasn't served as an alderman or served on a city commission, you really have to try that much harder to convince voters."
The race itself focused on issues and never ventured into negativity as far as Mabie could tell. The candidates all said they thought the city was headed in the right direction, supported City Administrator Kris Simpson and respected Roby's service.
Court called Mabie to offer his congratulations on election night, and Mabie hopes to sign his opponent up as a volunteer on a city board. Court was actively out knocking on doors during the campaign.
"If someone cares enough about the city to pound the pavement every weekend, it would be good to have that person put their time and energy on city boards and commissions," Mabie said.
At a meeting of the Concord-Lemay-Gravois Republican Club during the campaign, Mabie outlined his five priorities for the city in depth.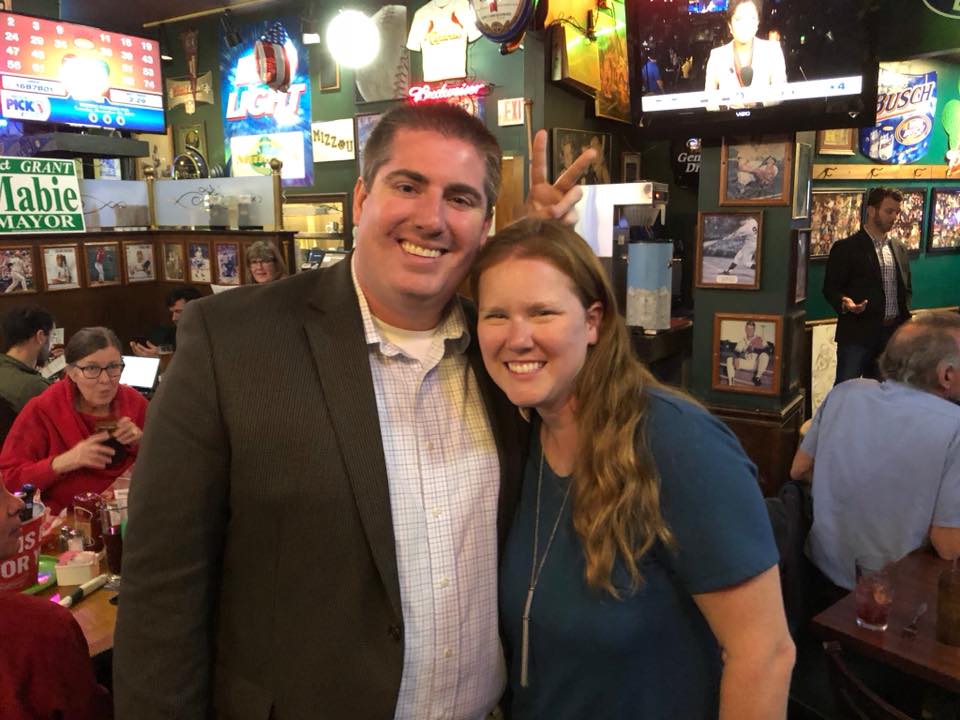 First, he said his primary focus as mayor would be getting the mall redevelopment off the ground.
"We're knee deep in trying to sort out the Crestwood mall development," he said. "We think we've got some positive momentum there, and there's some other things kind of percolating. We hope to see some cranes up and down Watson Road in the next few years."
The city is also rewriting the zoning code to make it more business friendly and easier for residents to follow, the first substantial rewrite of the code in 40 years. The city is also working on implementing some of its comprehensive plan.
Secondly, Mabie said he wanted to continue "governmental efficiency" in Crestwood. The city has done a lot of studies comparing its budget to other cities.
"I would put us up against almost anyone in the region for how efficient our departments are — the Police Department, the Fire Department, Public Works," Mabie said. "When you look at revenue and expenditures per citizen, we really do a good job overseeing our taxpayer dollars."
With budget season coming up, the city is on an easier financial path since voters approved Proposition C last year, the first permanent tax-rate increase in city history, he said.
Third, Mabie said he wants to maintain the city's infrastructure. In recent years, the city has improved the average quality of its roads as measured on an independent scale, and Mabie said officials want to continue that trend.
The city started a sidewalk repair program for the first time in 13 years and is examining ways to fund it without raising taxes.
"We're exploring ways to expand the sidewalk network by where it's underserved next to schools and churches and parks," Mabie said.
He also hopes to find ways to connect more neighborhoods to Whitecliff Park through the woods, plans that have been drawn up in the past by city consultants but never happened.
Fourth, "I just want to make sure we maintain a professional demeanor, make sure we conduct our business fairly and as a city, we're respectful when people come talk to us and we explain city decisions clearly and answer citizen questions," Mabie said. "Right now we've got some divergent views on the Board of Aldermen, but the debate's respectful. We also run the meetings well, and I want to absolutely continue that. People should demand professionalism from their government."
And lastly, Mabie said he wants to investigate what he can do to protect the city from increasing crime.
"I don't know any city that's been immune from it, it seems anecdotally there's been kind of a spike in petty crimes, people stealing from cars and garages and things like that," Mabie said. "We've been talking with our Police Department, how can we solve this?"
One idea Mabie suggested is mounting license-plate scanners at the entrance to the city to automatically scan incoming cars into Crestwood. If a car was stolen or a person is wanted on a felony warrant, the police would get an alert. Other cities, especially in north county, have adopted that system.
"It's not a done deal, but it's something being explored because we want to have a safe, vibrant community," Mabie said.
And Mabie already has his first critic.
"I could actually challenge almost every point you made about what's going on in the government," Ward 3 resident Martha Duchild told him at the meeting.