Gau intends to fight call for new election
Outcome could change with new election, Hardy states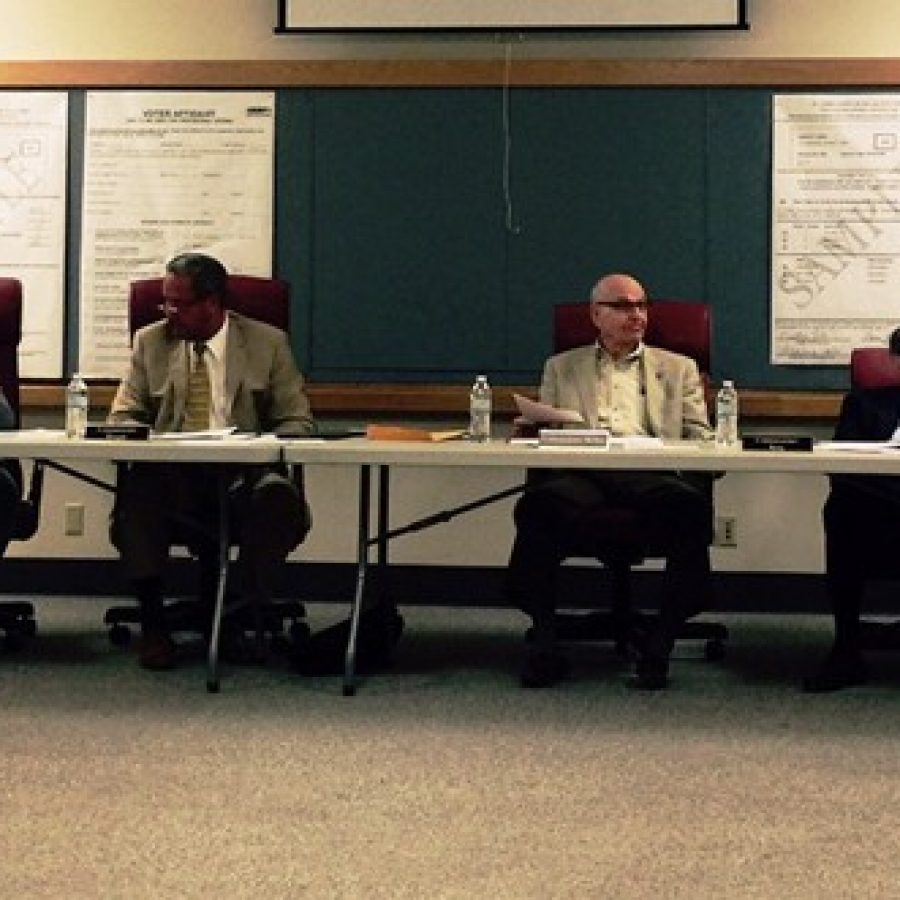 A Sunset Hills alderman will fight a decision by the county Board of Election Commissioners to ask a judge to re-run the April 5 Ward 1 aldermanic election in Sunset Hills, after a countywide ballot shortage fiasco during the election called the results into doubt.
The election board voted unanimously last week to ask the court for special elections in August to redo races for Ward 1, where Alderman Richard Gau defeated former Alderman Frank Hardy by 73 votes, and Berkeley mayor. Two of the three Ward 1 precincts ran out of ballots on Election Day. Countywide, shortages disenfranchised voters in up to 63 precincts.
A judge will decide whether a redo happens for both cities after weighing the evidence for new elections. The board was set to file the Sunset Hills case earlier this week, said Democratic Election Director Eric Fey. Gau — who had not yet been served with the court order at the time the Call went to press — promised to contest it at a formal hearing.
"I had to find out through a news reporter," Gau told the Call. "I don't know what the basis was that the election board made its decision. I can make the same argument, that my voters were disenfranchised. Let's say 100 more people voted — we've never had 500 people vote in the election, the turnout was as it's always been. Shouldn't that data be brought to the light of day? I'm going to pursue this."
Fey and Republican Election Director Gary Fuhr concluded that if all voters had been able to vote in Berkeley, they could have changed the outcome, but not in Sunset Hills, Town and Country or Overland, where they did not recommend new elections.
At least 35 voters could have been turned away in Ward 1, they said, which would not be enough to pull Hardy ahead even if they all voted for him. Voter turnout was higher in Ward 1 than it had been in the last several elections, according to the report.
Hardy served three terms on the board before he was defeated by Gau in 2012, then lost to Alderman Dee Baebler in 2013.
This time around, however, Hardy believes the results in Ward 1 could change if the race is held again since the ballot shortage affected the Community Center and Truman Middle School, the polling places he sees as his base of support, while Gau's precinct at Friendship Village was the one poll unaffected.
"How many voters does it take to grant a special election? Is it 10? Or 20? Or 30? It's very possible if I had had more time and information, I could have found those voters for you," Hardy told the board before the vote at the May 10 meeting. "These voters ask you … to grant them a fair and honest special election to resolve their ballot shortages issue. In the end, all these voters want is their voice to be heard through their votes."
In a letter Gau sent to election board Chairman Dick Kellett May 2, the alderman said it is unlikely that every voter denied their vote would have chosen Hardy.
Even with the problems plaguing two of the three Ward 1 precincts, the ward saw higher turnout than the citywide total, which was in turn higher than surrounding areas, Gau noted. If 73 more votes had been cast, the ward would have seen its highest turnout in the last five years, he said.
"If Mr. Hardy's claim was accurate, then the voter turnout would have been lower," Gau wrote. "Secondly, Mr. Hardy's allegation also assumes that he and only he would have received all of these additional votes. That is just not statistically possible … To suggest that any remaining votes would have changed the outcome is not plausible."
With a motion on the table to hold a new Berkeley election, Commissioner Trudi Foushee asked for the state statute governing a revote to be read twice, then made a motion to also hold a new race in Sunset Hills.
The four-member election board, half Republican and half Democrat, is appointed by Gov. Jay Nixon. Kellett and Foushee are Democrats, and John King and John Maupin are Republicans. All members are attorneys except for Kellett, who is a retired pipefitter and the former longtime head of the North County Labor Club.
Although the directors did not conclude the ballot shortage affected the Gau-Hardy race, Foushee said, state law does not mandate that a new election should only be held if a different outcome is certain, but if a faulty election casts doubt on a result.
"I know the numbers don't look like it made a difference, but I think there's enough evidence that there's doubt," she said.
Maupin noted that the court could decide there's not enough evidence to redo Sunset Hills, and Foushee added, "But we would have put it in front of the court — we would have done all that we can do."
Election supervisor Clifford Underwood told Fey and Fuhr for the report that in the six hours that Truman went without ballots, 90 percent of the voters turned away were able to return later and vote because election workers took their names and phone numbers. The Democratic supervisor and deputy supervisor at Truman did not return phone calls for the investigation, Fey said.
In all the cities, election workers went to extraordinary lengths to help voters vote and were the "heroes of Election Day," Fuhr said: They photocopied ballots, improvised ballots by crossing out and writing in races and diligently took down contact information to personally call voters to tell them when they could vote.
When Fuhr personally delivered ballots to Truman at noon that day, "I got more hugs there than I do from my grandkids," he said.
The list of disenfranchised Truman voters was thrown in the trash at the end of the night, however, which Foushee said also adds doubt on how many voters were unable to later return.
The night of the election board's vote, the Board of Aldermen held a public hearing on a development proposed for Court Drive by Dr. George Despotis, who is represented by real-estate attorney King.
In response to questions from Underwood, City Attorney Robert E. Jones clarified that votes leading up to a special election — including a contentious final vote in June on the Despotis development that King has said could lead to litigation — will not be declared invalid even if a judge determines that the Ward 1 race should be held again.
"There is no reason that the board cannot continue to hold meetings and entertain legislation … The person involved in that new election will serve until a successor is elected and qualified, so nothing that the board does is undermined in any way by that process," Jones said.