Furrer plans 'vigorous' defense against felony charges
Funkenbusch terms incident 'a classic case of road rage'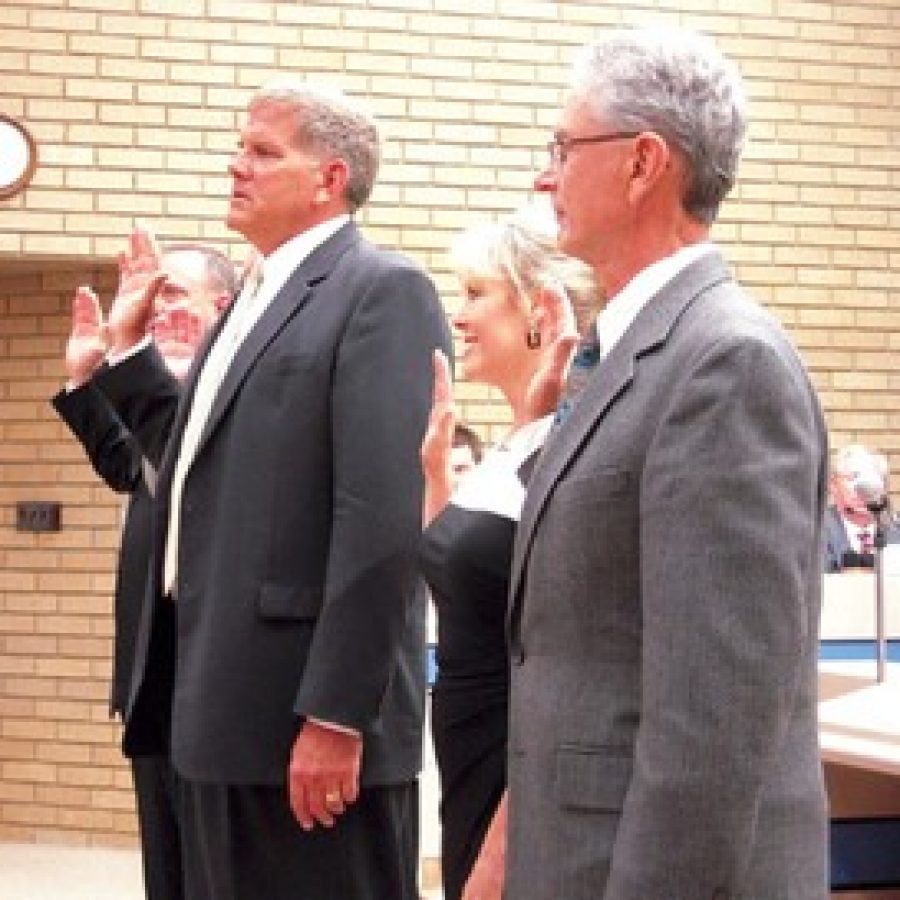 Sunset Hills Mayor Mark Furrer will mount a "vigorous" defense against felony charges that he intentionally ran a Fenton bicyclist off the road in a hit-and-run, according to the mayor's attorney.
On the recommendation of the county Police Department, Furrer was charged last week with two felonies in connection with the July 29 incident.
Furrer was charged Oct. 1 with one count of second-degree assault, a class C felony, and one count of first-degree property damage, a class D felony — charges that could carry up to 11 years in prison. His first court date is Oct. 30.
Furrer denies hitting Fenton bicyclist Randy Murdick, who said he is glad Furrer was charged and that the two-month wait to see what would happen in his case is over.
"It was frustrating thinking how slow the justice system worked, but I'm just happy now that everything is moving forward, and it seems like (the county has) done the right thing up to this point," he told the Call.
Murdick said three eyewitnesses to the incident back his account that Furrer intentionally swerved his 1991 red Mercedes convertible into Murdick's $13,000 training bicycle.
Furrer said that after he pulled alongside Murdick, Murdick grabbed onto Furrer's convertible of his own volition, then fell.
In 911 recordings from the incident first obtained by the Call, a witness reported the incident as a "hit and run" and another witness can be heard yelling at Furrer in the background that he hit the bicyclist and then drove off.
Furrer did not respond to a request for comment. Although he initially spoke freely about the day of the incident, he later told the Call that on the advice of his then-attorney Chuck Billings, he would talk about city business but would no longer discuss the incident.
Furrer's new attorney Thomas Magee wrote in a statement, "We will vigorously defend this case, we will take it to trial, and we expect to win. While Mark would like to give a statement, we have advised him to wait until the trial."
Furrer took office in April in a write-in victory against former Mayor Bill Nolan, for a term that runs until April 2016. City Attorney Robert E. Jones told the Call that the city does not have any ordinances prohibiting a felon from holding office, but Missouri state statute prohibits convicted felons from holding office.
Sunset Hills resident Mike Hogan started a Change.org petition asking residents to urge the Board of Aldermen to ask Furrer to resign. The petition was up to 156 supporters at the time the Call went to press, including signatures from several former aldermen.
"It's just a black eye for the city, but the city had nothing to do with it — he just happened to be the mayor," said acting board President Scott Haggerty of Ward 2, who would become acting mayor if Furrer resigns.
Haggerty and other aldermen, including Dee Baebler of Ward 1 and Donna Ernst of Ward 4, urged Furrer to do what is best for the city and resign. Haggerty met with some aldermen and talked on the phone with others to see how they want to move forward if the mayor does not resign.
Other options could include an extended leave of absence or impeachment.
Although the story initially made national news and at that time, some of the people angry with Furrer accused him of attempted murder, Murdick's attorney and fellow cyclist Michelle Funkenbusch said the charges issued were exactly what she was hoping for.
The charges "hit the nail on the head in terms of what occurred here" and are themselves a victory, regardless of what direction the case takes, Funkenbusch said.
"To me, what happens after this is up to the judge, is up to the attorneys who represent him, and whether he gets jail time will depend on whether he has any priors," she said. "But it sends the message that they're not going to tolerate this kind of assault."
Furrer does not have any prior criminal convictions, Magee told the Call.
"But then he's got to be good for two years," Funkenbusch noted.
Citing previous altercations Furrer had that never resulted in any charges, including incidents first reported by the Call involving an elderly Friendship Village resident and construction workers who repeatedly alleged that Furrer was recklessly driving through their construction zone, Funkenbusch said that since the incidents show a pattern of targeting weaker people on the road, the mayor had to be stopped at some point.
"This is a classic case of road rage from someone who has a history of road rage," she said. "And this time it's a vulnerable user that is a cyclist, and previously with him it's been construction workers on the road, our elderly who are driving who we need to be patient with. Who would it be next? Would it be a child that's walking home from school or riding their bike who he wants to run off the road? It's got to stop, and hopefully this will calm him down."
A strong message like Furrer's two felony charges has never been sent in the St. Louis region to anyone who has hit or attacked a cyclist, since such drivers are usually charged with misdemeanors even when the assault justifies felony charges, Funkenbusch noted.
"It was a felony assault. We were worried it was going to be (charged as) a misdemeanor peace disturbance or something that really didn't justify the intentional criminal nature of what happened," she added.
The investigating officer, Det. Matthew Wilson of the Crimes Against Persons Unit, wrote in his complaint recommending the charges that Furrer intentionally "attempted to cause physical injury" to Murdick and described the incident.
"Defendant (Furrer) engages a bicyclist in a verbal altercation then swerves his car into him knocking him from his bike and damaging the bike. The victim suffered a contusion on the buttock and a strain of the knee and leg," Wilson wrote.
Wilson is also the lead detective investigating the Aug. 9 killing of Michael Brown by Ferguson Police Officer Darren Wilson, which pushed the Furrer case on the backburner for the month of August as county police focused instead on the civil unrest on the streets in north county.
Ernst, who also was elected as a write-in candidate in April, said she believes that Furrer will do the right thing and step down, for his city and fellow residents.
"I know Mark was raised in Sunset Hills, and I think when it really comes down to it, he'll do the right thing for the city, I really do believe," she said. "I don't know how productive he could be now, and that's probably all of our fear is how productive can we be as a city government getting everything done? It's going to be hard circumstances."
In the meantime, aldermen are receiving messages from residents, including people who say that although they voted for Furrer, they now want him out of office.
"Certainly we're not going to sit back and do nothing," Baebler said. "I've had several emails where people have said if this board does nothing, there's a group that is going to flip the entire board and you should just never seek office in Sunset Hills again."