Furrer looking forward to end of mayoral term
Criminal, civil cases dropped: Sunset Hills mayor now sees urgent need for court reform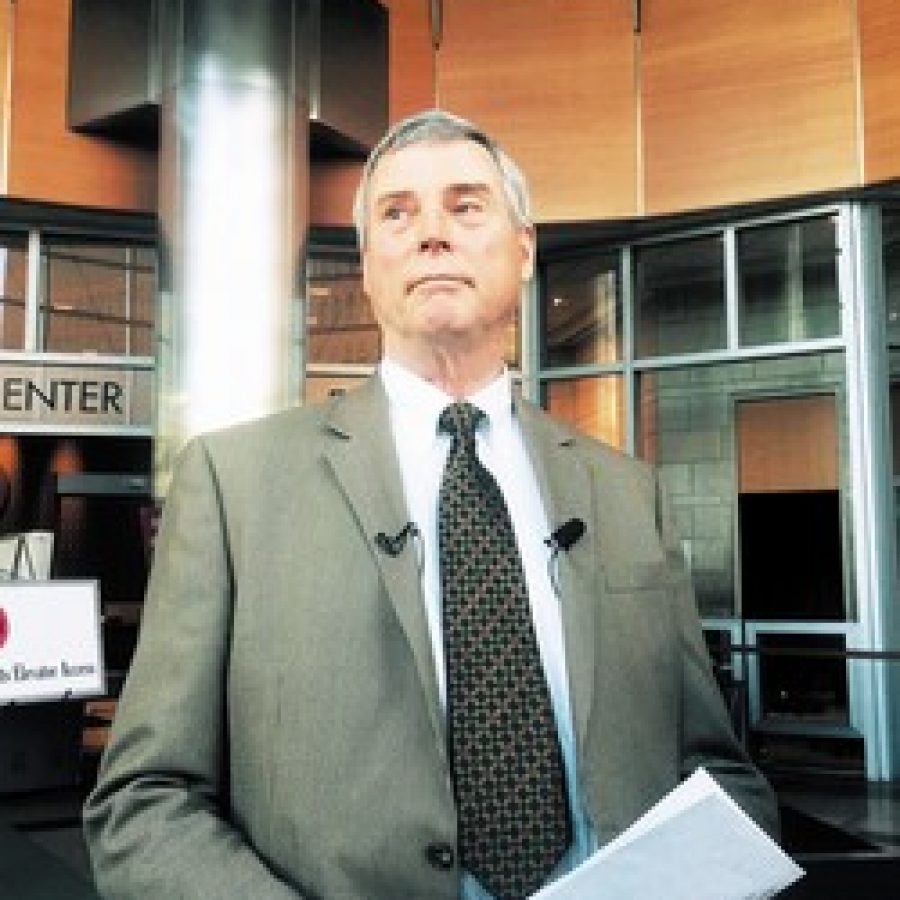 Sunset Hills Mayor Mark Furrer says that when his term of office expires in April, he looks forward to "slipping quietly back into obscurity."
Both the criminal and civil cases against Furrer for his 2014 incident with a bicyclist were dropped last week, but the mayor still intends to keep his promise not to run for re-election.
County prosecutors were forced to drop the two felony charges Furrer faced for allegedly swerving his car into Fenton bicyclist Randy Murdick due to questions around the credibility of Murdick, the case's star witness, Prosecuting Attorney Robert McCulloch said.
After a four-day jury trial ended in a mistrial in December, Furrer was set to be retried Feb. 22 on felony charges of assault and property damage. As prosecutors prepared for the second trial, however, they discovered Murdick "severely embellished" the extent of the damage to his $12,000 bike during his testimony at the first trial, McCulloch said.
Despite the latest development, however, Furrer told the Call he has no plans for a repeat write-in run for mayor.
"I couldn't even imagine doing that again," he said about a second run for mayor. "I've done that once, I've been mayor, I've been charged with two felonies, I've been acquitted — my bucket list is just about full. Just slipping quietly back into obscurity and taking care of my horses is fine with me. That would make me very happy. Once you've been through what I've gone through, nothing will bother me again, ever."
A grand jury indicted Furrer in December 2014 for allegedly intentionally swerving his car into Murdick on Old Gravois Road in Sunset Hills July 29, 2014, but the mayor always denied eyewitness accounts that he hit Murdick and said he was confident he would win at trial. The allegations led the Board of Aldermen to attempt to impeach Furrer last year, but aldermen ultimately rejected articles of impeachment that accused the mayor of hitting Murdick.
The day after Judge Thomas Prebil signed an order dropping the charges, Murdick dismissed a separate civil case he had filed against Furrer in September that sought more than $25,000. The lawsuit's dismissal "without prejudice" means there was no settlement, Furrer's attorney Tom Magee told the Call.
"It feels good to not have that over my head anymore — it's nice that the truth finally came out," Furrer said. "I'm glad it's behind me."
The news felt even sweeter because it came out on Jan. 27, the birthday of his wife, Kim, the mayor said.
From the start, competitive mountain biker Murdick said that after Furrer hit him, the custom carbon frame of his racing bicycle could have up to $7,500 damage.
The bike would not be safe enough for anyone to ride until it was sent away for sonar testing in California, he testified.
What turned out to be Furrer's trump card at trial came through a series of Facebook pictures Furrer's attorney Daniel Bruntrager confronted Murdick with on the witness stand that appeared to show Murdick racing the same bike from the Furrer incident in the Colorado mountains last summer.
Murdick quickly countered that he borrowed the bike in question from a teammate on his Korte Hammer Down race team.
The explanation appeared to make sense since team members often buy the same bikes. But when prosecutors followed up with the teammate, they found that Murdick used the bike from the Furrer incident in at least one race, McCulloch said. The team member was set to be deposed Feb. 5 by Furrer's attorneys.
The "real tragedy" in the case is that the bike had more than $750 in damage, just not as much damage as Murdick testified that it did, McCulloch said. Because the compromised testimony was not about the central aspect of the case — whether Furrer hit Murdick — the prosecutor said he would not pursue perjury charges, but could no longer put Murdick on the witness stand in front of a jury.
"The victim has no credibility," McCulloch said. "That credibility is gone. It was pretty clear after we looked into it with further investigation: That's his bike sitting in the courtroom, and it certainly appears to be his bike in Colorado."
Murdick told the Call after the incident that he tore his Achilles tendon. At trial, he testified that he had gone to St. Anthony's Medical Center, where emergency room doctors told him that his Achilles tendon could be torn. But X-rays and other medical records introduced by Furrer's attorneys showed that the tendon was not torn.
At times, the trial resembled a civil trial, with Furrer's attorneys focused on the extent of Murdick's injuries in an attempt to paint him as a money-hungry opportunist. Magee and Bruntrager repeatedly brought up the civil lawsuit, but Prebil declared a mistrial after Assistant Prosecuting Attorney Alan Key asked Furrer a question that implied that the mayor had made a settlement offer to Murdick.
Despite any questions about Murdick's credibility, McCulloch said there is still no doubt in his mind that Furrer swerved his red 1991 Mercedes convertible into Murdick's red Specialized Venge bike, as told by the state's two other "unassailable" witnesses. At trial, Sunset Hills residents William Freeman and Randy Spaethe testified that they were driving on Old Gravois Road when they witnessed Furrer drive into Murdick, in what Freeman called an "attack on a bicycle rider" and Spaethe called an "intentional hit."
"I certainly have no doubt that yes, that's what happened — intentionally," McCulloch said. "Based upon their testimony, (Furrer) turned into him, intentionally intending to cause physical injury."
Prosecutors debated moving forward with testimony from just the independent witnesses, but the hole left in the case from Murdick not testifying would leave enough reasonable doubt for a jury to acquit Furrer, McCulloch said.
When the witnesses learned that the case would be dropped, they were upset, he added, because they know what they saw.
If Furrer didn't have the money to hire his attorneys, he said he might have fallen victim to McCulloch, a "politically motivated, overzealous prosecutor." He now sees the urgent need for court reform to protect defendants who don't have as much money as he does.
"For disenfranchised folks who are wrongfully accused, an overzealous prosecutor can just destroy somebody's life," he said. "There were several points during this where if I didn't have the attorneys I had, I would have been forced to plead to something I hadn't done just to make it end."
Now when Furrer hears about people in prison who insist that they're innocent, he believes them.
"For people with poor representation or no representation, the justice system just chews 'em up," he said.