Furrer leaves Sunset Hills mayoral post; says he's planning 'to slip into obscurity'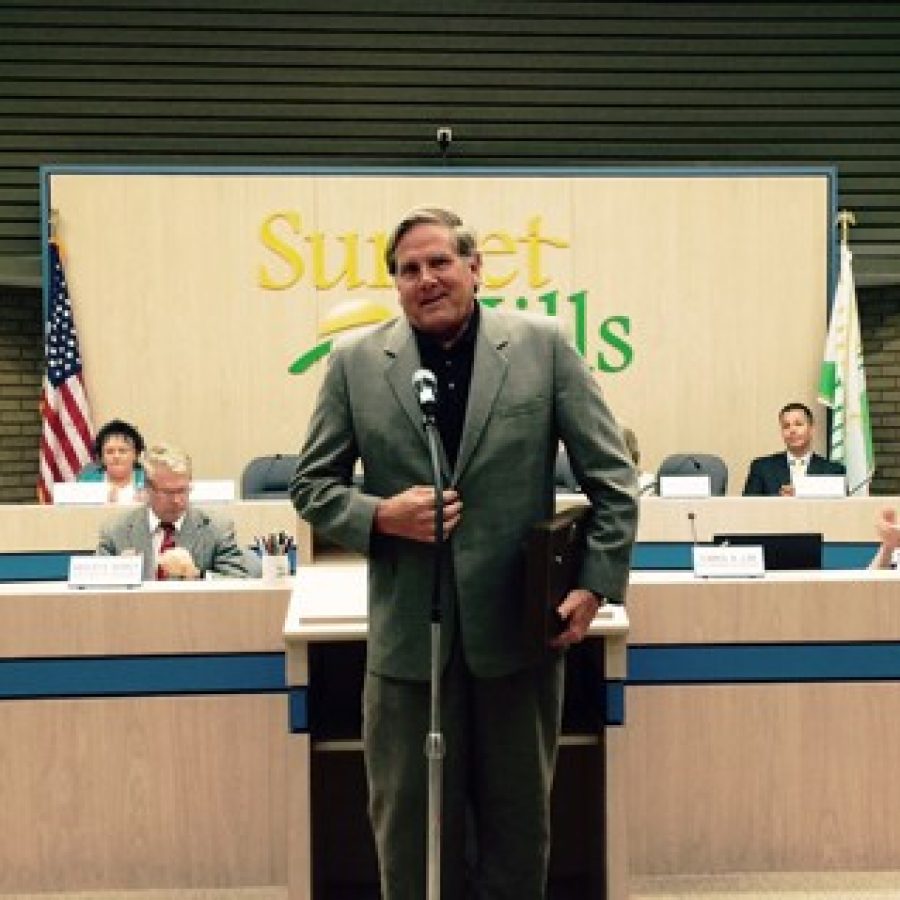 Sunset Hills Mayor Mark Furrer left office last week without any of the fireworks that often marked his two-year tenure in office and told residents not to expect to hear much from him once he returns to private life.
In his last major words as mayor, Furrer accepted a plaque from then-acting board President Tom Musich and said, "As I promised my friends at the Call, I'm now going to slip into obscurity. Thank you for a pleasurable two years."
After Ward 4 Alderman Pat Fribis was sworn in as the new mayor and Thompson Price was sworn in as Ward 4 alderman to replace outgoing Alderman Donna Ernst, Fribis asked city officials to respect each other's opinions going forward.
Presenting a plaque to Furrer, acting board President Musich said, "Well, it's been a memorable two years … We've had ups and downs, but I believe this evening, Sunset Hills is better than it was in April of 2014 under your leadership and service."
After accepting the plaque, Furrer shook hands with each reporter, city employee, department head and alderman present.
As Furrer walked down the middle aisle to leave City Hall, he pointed at members of the audience and, in his final words as mayor, told residents to go to Nesby's, the barbecue restaurant in the Econo Lodge that Furrer has frequently endorsed since it opened at the beginning of the year.
Furrer also congratulated the candidates who won and welcomed them to the city, except for Ward 1 Alderman Richard Gau.
"I'd like to congratulate Mayor Fribis on her win, same Tom Price — welcome to the city," Furrer said. "Pat's been here forever, but welcome to the city as mayor. And welcome back Alderman Musich and (Ward 3) Alderman (Kurt) Krueger, who ran unopposed, so they had to win. Maybe next time somebody'll run against them."
In the race for acting board president, Ward 2 Alderman Steve Bersche nominated his fellow Ward 2 Alderman Musich to serve another term this year, and Ward 1 Alderman Dee Baebler nominated Gau.
Last year, Furrer broke a tie to choose Musich as president over Gau.
This year, Gau won the position 4-3, with his own vote along with Baebler, Krueger and Price, and Bersche, Musich and Ward 3 Alderman Keith Kostial voting for Musich.
Fribis' Ward 4 seat is vacant until she appoints someone to replace her.
The board also unanimously approved Fribis' appointment of Gau to replace her as chairman of the Finance Committee. Furrer had removed Gau from most of his committees last year.