Furrer intentionally struck cyclist with car, Murdick, eyewitnesses testify
Sunset Hills mayor's trial to resume Wednesday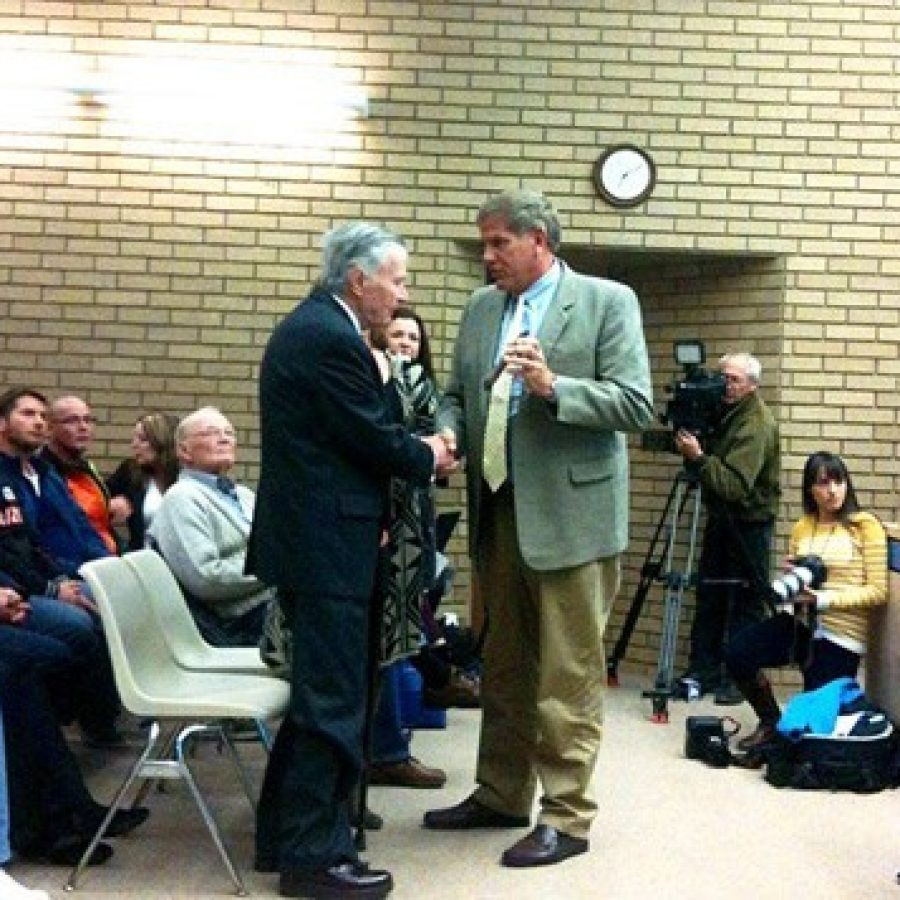 As Sunset Hills Mayor Mark Furrer's jury trial for allegedly hitting a bicyclist with his car kicked off with the first day of testimony Tuesday, two eyewitnesses and cyclist Randy Murdick told jurors that the mayor intentionally hit Murdick.
Furrer is on trial for two felony charges of assault and property damage from the July 29, 2014, incident on Old Gravois Road in Sunset Hills, in which he allegedly hit Murdick's $12,000 training bike with his red 1991 Mercedes convertible. The mayor pleaded not guilty when he was charged a year ago and vowed during attempted impeachment proceedings earlier this year that his innocence will be shown at trial.
The prosecution will continue its case when the trial reconvenes at 9 a.m. Wednesday in Judge Thomas Prebil's courtroom on the fourth floor of the St. Louis County Courts Building, 105 S. Central Ave., Clayton. The trial is expected to run at least through Thursday, and Furrer's defense attorney Daniel Bruntrager has hinted that Furrer will testify.
Next in line to testify for the prosecution is the Sunset Hills Police Department officer who took Furrer's statement at the scene, Corp. Jeff Senior — who waited outside the courtroom for most of the day Tuesday — and bike shop owner Jeff Greenstreet.
Prosecuting Attorney Robert McCulloch also made an appearance outside the courtroom Wednesday, but Furrer's case is being tried by veteran Assistant Prosecuting Attorney Alan Key. Roughly two dozen people packed the courtroom audience, including reporters, prosecutors, Sunset Hills residents, former Sunset Hills Ward 2 Alderman Scott Haggerty, family members of witnesses and Murdick's former attorney Michelle Funkenbusch.
Furrer's wife, Kim, was in the courtroom for all of Monday's jury selection, but was not at the trial on Tuesday since she could be called as a witness.
During hours of testimony, Murdick told jurors that he was near the end of a 40-mile training ride on his bicycle when Furrer drove next to him, screamed "Get off my f***ing roads," and hit him — the same version of events he told police and the Call after the incident. Sunset Hills residents Bill Freeman and Randy Spaethe were driving by and witnessed the event, and both testified that they saw Furrer move his hand to the right on the steering wheel and drive his car into Murdick.
Randy Spaethe was driving with his son Andrew, then 28, in the passenger seat. Andrew looked down at the moment of impact, but in other details, his testimony backed up the accounts by his father and Murdick. He testified for the shortest amount of time Tuesday.
In Key's opening statement, he emphasized that his three eyewitnesses, Murdick, Freeman and Randy Spaethe, all agree Furrer intentionally plowed into Murdick and all agree that Murdick did not grab onto Furrer's car, a key contention of Furrer's since the beginning.
None of the four men knew each other except for the father and son, but all saw Furrer do the same thing that day, Key said.
"They all see that it was intentional, it was 'bam, bam, bam,' he immediately accelerated and drives away, he's aggressive when he comes back," Key said. "By the end of this, it's going to be no doubt that it's assault second degree, a felony, and property damage over $750."
In an opening statement, Furrer's attorney Thomas Magee said the defense testimony will show the opposite and that Furrer's statements about the event are the "only story consistent from Day 1."
"Let me make it very clear: He never attempted to hurt anyone," Magee said. "He never attempted to injure anyone. He was on his way home to see his wife and son."
And to counter anyone who would make the argument that it was a case of road rage against a cyclist, Magee said that Furrer grew up riding bicycles, and he and his daughter had ridden bikes on the same stretch of Old Gravois as the incident.
"The idea that Mark is anti-bike or hates bikers could not be further from the truth," Magee said. "He's never taken a public stand that he's against bikes."
When Magee began talking about Furrer's campaign against the QuikTrip gas station proposed for the commuter lots next to where the incident took place and how it got him elected as mayor of Sunset Hills in April 2014, Prebil sustained Key's objection that the story was irrelevant to the events on trial.
Despite Magee and Bruntrager's attempts to chip away at their testimony under cross-examination, all three direct witnesses kept to the accounts they had previously told police — that they saw Furrer driving into Murdick and that it was an intentional hit.
Under heavy questioning, Freeman decisively termed the event an "attack" and emphasized that he knows exactly what he saw, despite telling county detectives two days later that the incident could have been an accident and that he didn't know the motivation.
Freeman said he was driving home from work in his 1978 Oldsmobile Cutlass Supreme when he noticed a red convertible driving close to a bicycle in front of him, as he drove down the hill on Kennerly. The driver swerved into the bicyclist, then "gunned it and took off," Freeman said.
"His story has changed, and we have some reasons why we think it happened," Magee said of Freeman during opening statements.
But when Magee played audio of Freeman telling a detective that the situation he saw could have been an accident, Freeman fought back from the stand against the idea.
"I used 'accident' because it's a common word," Freeman said. "In actuality, it was not an accident. It was a deliberate act to hit a bicycle rider."
Magee prodded Freeman on whether he was sure Murdick's hands had stayed on the bike's handlebars during the incident, and Freeman said, "I'm absolutely certain of that, yes."
Randy Spaethe testified he was driving in his white Chevy pickup truck after buying a gun at a gun store with his son Andrew, who was in the passenger seat next to him, when he saw Furrer and Murdick and was immediately struck by how dangerously close the two were to each other.
Spaethe testified that he told his son, "Holy s***! Look how close that red convertible is to that bike."
Furrer was "within inches" of the bicycle, and they were "hollering" at each other, although he could not hear what they were saying, Spaethe testified.
"I was nervous for the guy on the bike," he added.
Then Spaethe saw the convertible driver — whom he pointed to in the courtroom as Furrer — hit Murdick, who flew over the handlebars, and then the driver hit the gas, the witness said.
"He was on it — he was speeding along pretty good," he said. "I said, 'Holy s***, he just hit that guy, call 911, he's running!'"
Bruntrager pointed out during cross-examination that Spaethe had not seen the actual impact between the car and the bike.
Making a U-turn to chase down what he thought was a hit-and-run driver, Spaethe said he "stood on it to catch up" to Furrer, who passed the Delta Dental entrance and a Friendship Village service entrance before turning around at the main Friendship Village entrance — which is also Pointe Drive, the road that leads to Furrer's house.
He followed Furrer back to the scene, where they parked at Delta Dental, and the elder Spaethe parked his truck behind Furrer's convertible so Furrer could not get away again, Spaethe said.
When they got out of their cars, Spaethe said he was upset about what happened and confronted Furrer, saying, "Hey a**hole, when you hit somebody, you're supposed to stop."
Furrer replied that he had not hit anyone, to which Spaethe said he replied, "Bulls***!"
At that point, Bruntrager objected to the narrative form of the testimony, but Spaethe was allowed to continue and said Furrer told him at the scene, "You were so close to me that you pushed me into (Murdick)."
Key noted that at the time of the incident, Spaethe's truck and Furrer's convertible were separated by the "suicide" lane.
Bruntrager noted that Spaethe's son Andrew had told Furrer's legal team that his father later told him that he was so upset with Furrer at the time that when he went back to the scene, he wanted to provoke Furrer into a fight so he could hit him. Spaethe said that was true.
He did not know Furrer was the mayor until later, he said.
"Why were you so angry?" Key asked during re-examination.
"I just saw an intentional accident — it wasn't even an accident, it was an intentional hit," Spaethe replied.
In the police report, more than one Sunset Hills officer vouched for the veracity of Randy Spaethe and said they had known him for years. Key noted that Randy Spaethe met the officers through his former job as the service manager of Sunset Ford, where he serviced the city's police fleet.
During a deposition last month, the elder Spaethe called Furrer's car a "late-model Mercedes," and Magee pointed out that Spaethe's observation was in error since the car is a 1991 convertible. Furrer inherited the convertible from his father, and it has little monetary value but great sentimental value — so much that Furrer would not risk damaging the car by hitting someone with it, Magee said.
Andrew Spaethe backed up his father's account, but he said he looked away at the moment of impact between Furrer and Murdick to either look at a text message from his girlfriend or to look at the gun he had just purchased, which was in his lap.
For cross-examination, Magee focused on Furrer's demeanor once he returned to the scene, when Randy Spaethe was yelling at him.
"And Mr. Furrer, the man who is charged here with assault, did not take the bait?" Magee said. "He shrugged it off."
The younger Spaethe said he didn't hear any of the content of the conversation at the scene because he was on the phone with 911.
The day concluded with nearly three hours of testimony from Murdick, who said he stopped at the stop sign at Weber Hill Road, unclipped his shoes and when he turned right onto Old Gravois, the driver of a red convertible pulled up to him and started yelling.
"'Get off my f***ing roads,' four or five times," Murdick said. "After he stayed next to me, I told him to go f*** himself, and that's when he jerked over and hit me."
Key rolled the bike — a customized $12,000 Specialized Venge — into the courtroom as evidence. Since the incident, it has stayed in Murdick's possession.
Murdick's various training bikes, how much they cost and what races he used them in became a point of contention during his testimony, as Bruntrager attempted to show through Facebook pictures that the cyclist had used the same bicycle in other races since the incident. Murdick said he borrowed a nearly identical bicycle from a member of his bike team for those races.
"He is a true, true cyclist," Key said in his opening statement about Murdick, and the cyclist told jurors that he had driven the stretch on Old Gravois Road where the incident happened hundreds of times on 40-mile rides from Fenton to Jefferson Barracks and back.
Furrer's legal team also focused on Murdick's civil lawsuit against Furrer, which he filed in September. The suit asks for more than $25,000 for lost wages and medical bills.
"What he's doing is using this unfortunate incident to try to put as much money in his pocket as he can," Magee said.
Murdick was off from work as a union electrician for three months due to injuries from the incident. However, he took a month off from riding but then resumed his regular training schedule, with dozens of long rides during that time.
Bruntrager pointed out that Murdick could have stopped his bike at any point during the incident, but the cyclist said the mayor could have done things differently, too.
"He was screaming at me," Murdick said. "Stop? It never crossed my mind. I was shocked."
"You could have stopped at any time," Bruntrager noted.
"He could have stayed away from me," Murdick said. "I never took a pedal stroke, as we've discussed before."
"You had brakes, didn't you?" Bruntrager asked.
"He had an accelerator, didn't he?" Murdick responded.
In response to Bruntrager's contention that the laws of physics would not have allowed him to almost fall into the car after he was struck from the left side, Murdick imitated the situation with a piece of paper, which fell the same way he said he did.
In Magee's opening statement, he told the jury that besides the mayor and his wife, potential defense witnesses include Sunset Hills Police Department Lt. Greg Zveitel and experts who will say that the mayor could not have possibly hit Murdick the way Murdick says he did.
"That would violate the laws of physics," Magee said, as Key shook his head.In addition to Day 3 below, read the Call's comprehensive coverage of Furrer's trial:
and Day 2
.