Furrer impeachment takes step forward, a step back
Mayor's attorney says if impeachment proceeds, aldermen face slander suits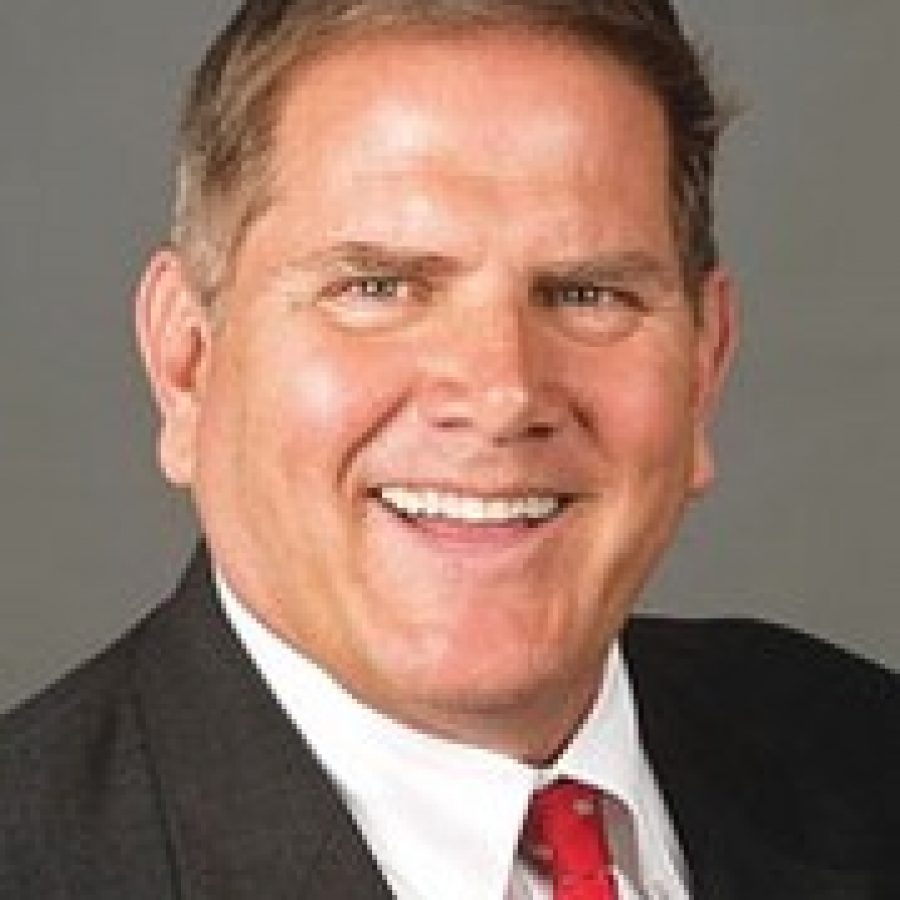 The Sunset Hills Board of Aldermen took a step toward impeachment and a step back from it last week, hiring an attorney for legal advice but declining to endorse articles of impeachment that accuse the mayor of crimes of "moral turpitude," as called for in state law on impeachment.
Aldermen voted 5-3 to hire attorneys Mary and Rob Schultz from the law firm Schultz & Associates for outside legal advice on impeachment, but they voted down the articles of impeachment themselves, also on a 5-3 vote.
Aldermen voting against hiring Schultz & Associates were Tom Musich of Ward 2, Kurt Krueger of Ward 3 and Donna Ernst of Ward 4. Aldermen who voted in favor of the articles of impeachment were acting board President Scott Haggerty of Ward 2, Dee Baebler of Ward 1 and Jan Hoffmann of Ward 3.
The ordinance hiring the Schultzes caps the city's legal fees at $25,000, which Rob Schultz told the board would more than cover the city for all the firm's legal expenses during the entire impeachment process. The Schultzes drew up the articles of impeachment for free on contingency without a contract after meeting with Haggerty and Baebler.
Furrer could veto the bill, which would need six votes to override his veto, but he told the Call that he has not yet decided whether to reject the bill.
The articles of impeachment allege Furrer hit cyclist Randy Murdick July 29, for which Furrer faces a Dec. 14 trial on felony charges, and that Furrer conspired to pressure Police Department Chief William LaGrand to resign or be fired.
HeplerBroom attorney Thomas Magee, from Furrer's criminal defense team, told aldermen that he will also defend Furrer against impeachment at the mayor's own cost, and the attorney promised to make it as difficult, lengthy and costly as possible for city officials to force Furrer from office.
If impeachment moves forward, Magee promised to file appeals, restraining orders and sue aldermen for slander, personally and professionally. Longtime lawyer Magee added he "knows all the judges." As part of the impeachment defense, Magee said he would question aldermen for 50 hours under oath and hire forensic experts to comb through all the files on their personal computers for any emails they may have sent about the mayor.
"When we see these articles of impeachment and these slanderous statements, as Mark's attorney we are going to make a statement to you to let you know what you have in store for you as this goes forward," Magee told aldermen, ending his 10-minute speech with, "This is not meant to be a threat."
At his last statement, laughter and clapping erupted in the audience.
"Intimidation!" a man yelled out from the audience.
Magee's warning echoed statements aldermen said Furrer made to them in closed session, after which all of them except Musich agreed to pool their aldermanic salaries together to hire an attorney on their own if they had to.
When the Call asked Furrer if he threatened to "bankrupt" aldermen in closed session, he said, "I told them I'd sue them, not bankrupt them … I said I'm going to fight it, I'll sell my house, I'll spend every dollar. I told them money ain't nothing to me."
Although Magee predicted the city would face a $150,000 legal bill if aldermen impeach Furrer, Rob Schultz was short and to the point that he believes it will take far below the $25,000 cap.
"I've done this (impeachment) twice in the last 18 months," he told the board. "It's not very expensive."
When resident Kermit Starnes spoke in favor of hiring Schultz to look into impeachment, the audience laughed again when he said, "I sincerely hope that even though this individual (Magee) wasn't trying to intimidate you, you understand that if you let him, you'll have folded before you really know what you're doing. I'm in business, I deal with attorneys all the time. You could trot 200 attorneys up here and get 200 different opinions. Some will tell you, you can do it, some will tell you, you can't. I sincerely hope you find out."
Starnes went on to note that aldermen should not judge whether to impeach Furrer based solely on the comments of residents commenting at the meeting, who may not represent the views of Sunset Hills residents as a whole. Residents urging the board not to impeach Furrer outnumbered residents pulling for impeachment, 10 to 6.
"This is a very small section of Sunset Hills — there are a lot of people who aren't here because they don't like to sit and listen to all this," Starnes said. "You know what they want, and I hope you react to what they want because that's who you represent. If the majority of the people in the wards want this to go through, it should. If they don't, it shouldn't."
Two of the candidates running against incumbent aldermen in the April 7 election spoke against impeachment.
Ward 4 candidate Tom Hammelman and Ward 2 candidate Steve Bersche are running against Pat Fribis and Haggerty, respectively.
"This is not student council," Bersche told aldermen. "You guys need to act like grownups."
Although attorney Michelle Funkenbusch, who represents Murdick, said Furrer was bullying the board, Furrer supporters said it was the other way around.
"Mayor, I support you, I support everything about you," Kathy Tripp said. "You have more integrity in your little finger than this whole board has in their entire bodies."
The felony charges are a private matter that only a jury can judge, Ernst noted.
"This shouldn't even be talked about, even by the media, until Dec. 14," she said. "Who keeps bringing it up and who keeps putting it in our agenda and keeping it alive?"
Considering articles of impeachment against the mayor made it a "sad day in Sunset Hills," Haggerty said, but his constituents had overwhelmingly told him they support ousting Furrer.
Like Musich, Haggerty represents Ward 2.
Hoffmann, the city's longest-serving alderman, is retiring from her seat in April. She was recently named the "Citizen of the Year" by the Crestwood-Sunset Hills Area Chamber of Commerce, but a resident protested when Hoffmann said the majority of Ward 3 residents who contacted her told her that they want Furrer impeached.
"Everyone is against her and they support Mark," Ward 3 resident Jane Petree yelled from the audience about Hoffmann. "This is still (former Mayor Bill) Nolan's finger in this pot … Jan Hoffmann, you don't represent me."
"Why didn't you contact me?" Hoffmann asked Petree.
"You've never asked me what I thought about this," Petree replied. "We know who you are, and all of us are glad you're leaving."