Furrer delivers last-minute veto of impeachment-related measure
Longtime alderman attends last full Sunset Hills meeting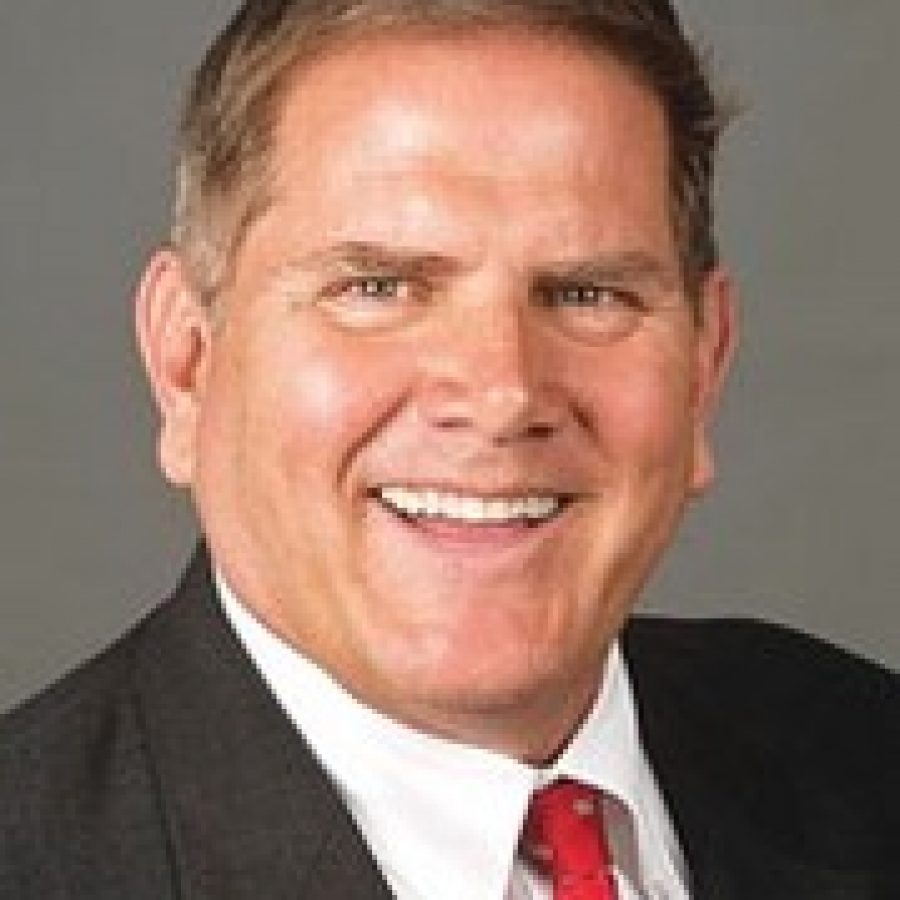 With the April 7 election approaching and some of the aldermen in favor of impeaching Sunset Hills Mayor Mark Furrer up for re-election or leaving the board, the mayor vetoed an impeachment-related measure at the last minute last week.
Just before the Board of Aldermen met March 10, Furrer vetoed a bill to hire an attorney to look into impeaching him, with a $25,000 cap. The bill was approved Feb. 10 on a 5-3 vote, with Ward 2 Alderman Tom Musich, Ward 3 Alderman Kurt Krueger and Ward 4 Alderman Donna Ernst opposed.
The board would need a supermajority of six votes to override Furrer's veto, and no one made a motion for an override.
Of the aldermen who voted for the bill, only Ward 1 Alderman Richard Gau is certain to remain on the board after next month's election. Ward 3 Alderman Jan Hoffmann is retiring from the board next month after 24 years, and Lori Scarlett and Keith Kostial are running for her seat.
Ward 1 Alderman Dee Baebler is running for re-election against Dan Werner, acting board President Scott Haggerty of Ward 2 is running against Steve Bersche, and Ward 4 Alderman Pat Fribis is running against Sal Frisella and Tom Hammelman.
The board next meets April 28, after results of the April 7 election are certified and Kostial or Scarlett and any other new aldermen will take their seats.
In Furrer's veto message, he gave three reasons for rejecting the bill as written. First, he said the bill specified an hourly rate of $250, while the contract submitted by the law firm, Schultz & Associates, called for $200 an hour. The mayor also questioned language around the $25,000 cap.
"Bill 42 and the law firm contract do not address what happens if there are expenses that are incurred after the cap is reached," he noted. "As mayor, I have a fiduciary responsibility to the city to monitor and control expenses. The board voted against the articles of impeachment. Therefore, it does not seem prudent to sign a bill authorizing expenditures of money for something that will not go forward."
Furrer has been charged with two felonies that stem from a July 29 incident in which the mayor allegedly hit Fenton bicyclist Randy Murdick with his car on Old Gravois Road. Furrer maintains his innocence and plans a "vigorous" defense against the charges.
Furrer did not note that it was Hoffmann's last full meeting, so Ward 3 resident Jim Jesse got up during public comments to mention Hoffmann's service to the city.
"I just want to express my appreciation for Jan Hoffmann for being my alderman for 24 years," Jesse said. "Thank you, thank you, thank you."
• The board gave preliminary approval to a bill hiring attorney Alex Lantos Jr. as the city's public defender for municipal court, on advice from City Attorney Robert E. Jones, who is also the city's prosecutor.
It is rare that court cases in Sunset Hills are serious enough to require a public defender, but Jones recommended it even though to date, the city's judge has been able to convince attorneys to serve pro bono as a public defender when the need arises.
• The city was named a "Tree City USA" for the eighth year in a row, Parks and Recreation Director Gerald Brown announced.