Furrer breaks board tie against impeachment-related measure
Mayor decides against letting residents speak at meeting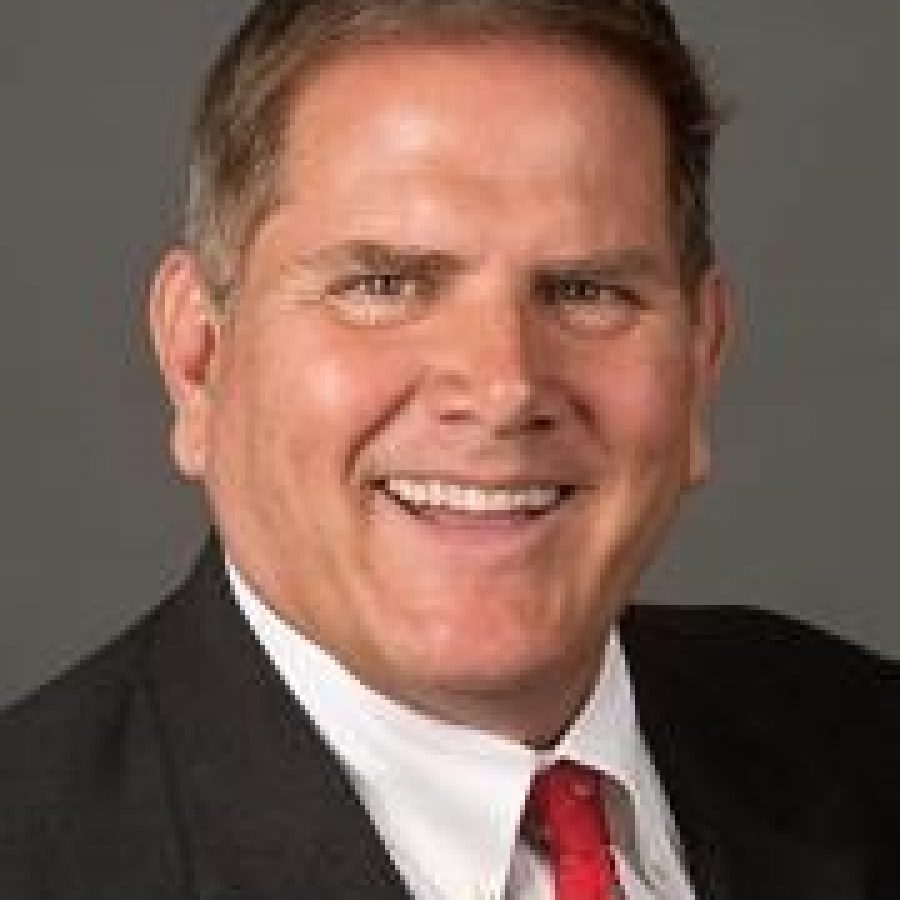 Sunset Hills Mayor Mark Furrer broke a tie against a measure related to his own impeachment Tuesday night, ending the hopes of some aldermen to impeach him — at least for now.
If any Sunset Hills residents had opinions on that outcome, however, they did not get to tell the mayor or Board of Aldermen because Furrer bucked city tradition and never opened up the meeting to residents for comments. Acting board President Scott Haggerty and Ward 4 Alderman Patricia Fribis said they told Furrer they objected to that decision.
The board held the meeting in the Community Center instead of City Hall so that anyone could attend, unlike the overflow crowd that waited outside last month's meeting. Among the more than 100 people in attendance Tuesday night were a large group of cyclists from the city and around the region who came to speak against the mayor.
Furrer is charged with two felonies for allegedly hitting Fenton cyclist Randy Murdick with his car July 29 on Old Gravois Road in Sunset Hills. That case will go to a grand jury that decides Wednesday whether he goes to trial (see
in Impact News).
So far, Ward 2 Alderman Tom Musich had been the sole dissent against a vote of no confidence and previous impeachment-related votes, but Tuesday night other aldermen joined him.
Ward 4 Alderman Donna Ernst objected to the idea that Furrer's felony charges merit impeachment, telling the many cyclists in the audience that Furrer's criminal case is unrelated to city business.
"This is a different matter," Ernst said. "This isn't the grand jury."
Previously, Ernst
and joined all the aldermen except Musich to
after he was charged, requesting that he step aside for the good of the city, but she said Tuesday night the idea of impeachment is "ludicrous."
After a lengthy discussion whether the city should have an impeachment ordinance in the city code at all, aldermen voted 6-2 for a general ordinance on how to impeach a city official, with Musich and Ernst dissenting. The ordinance does not specifically mention Furrer.
In a second vote, the board deadlocked 4-4 on the final passage of an ordinance to hire attorney Mary Schultz of Chesterfield-based Schultz & Associates, who would have let the board know whether Furrer meets state criteria for impeachment of a public official. Haggerty, Ward 3 Alderman Jan Hoffmann and Ward 1 Aldermen Richard Gau and Dee Baebler voted to hire Schultz, while Musich, Ward 3 Alderman Kurt Krueger, Fribis and Ernst voted against hiring her.
Gau and other aldermen in favor of the impeachment-related measures said they sought to hire Schultz to gauge if Furrer meets the standard for impeachment at all. But Ernst said she wanted to reverse that process and first decide if Furrer should be impeached before hiring an attorney.
Before the final vote on hiring Schultz, the board also deadlocked on ending discussion, after Musich made a motion to end discussion on impeachment, seconded by Ernst.
Furrer also broke that tie, looking at Ernst and Musich to see how to vote.
"Am I voting 'aye' or 'nay'?" the mayor asked Musich.
To Ernst, he asked, "How did you vote? So I'm in favor?"
Half the votes against moving toward impeaching Furrer came from the aldermen from Ward 4, Fribis and Ernst. Furrer
last April primarily due to heavy support from Ward 4, where Furrer lives and where residents supported his campaign platform against a
. Ernst was elected alongside Furrer as a write-in candidate against the QuikTrip in April, defeating former Ward 4 Alderman Art Havener. Fribis is up for election this April, and filing for her seat
.
Fribis told the Call she voted against hiring Schultz to move forward with impeachment because she received many emails leading up to Tuesday's meeting in which her constituents told her they did not want to spend city money on impeaching the mayor.
After the meeting, Furrer first deferred media questions to his attorney, Thomas Magee, but then said of aldermen's plans to impeach him, "It was sort of not well thought out."
All along, Furrer has denied that aldermen have any cause to impeach him and has said of Murdick, "I did not hit the bicycle guy."
At least one Sunset Hills resident is among the three eyewitnesses Murdick says witnessed the event and back his account.
Baebler previously told the Call that aldermen looked to impeach Furrer less for the alleged felonies than for a series of other events that have happened since Furrer took office.
Among the series of allegations are that Furrer asked Police Chief William LaGrand to first
, then work night shifts instead of day shifts, that Furrer wanted to
and that Furrer and City Attorney Robert E. Jones
without consulting with aldermen or the Finance Committee, a decision that cost the city more than $50,000, among other issues.
Furrer has declined to discuss the resignation allegation with the Call because it is a personnel issue, has said the night shifts request was a misunderstanding with the police chief, has denied wanting to dissolve the Police Department and has said that it was a "win for everybody" to reclassify New Balance's business license.
Musich and Ernst both insisted Tuesday night that they had not seen Furrer do anything impeachable.
"I am very uncomfortable spending taxpayers' money and hiring an attorney on something that we haven't even seen," Ernst said. "It's ludicrous."
Haggerty asked if Ernst had been in a closed-door meeting with the rest of the board — referring to a meeting where aldermen have told the Call Furrer threatened each member of the board who voted to impeach him with lawsuits and bankruptcy.
Furrer told the Call he did not threaten to bankrupt the other aldermen at that meeting, only sue them, and that he would sell his house if he had to in order to keep his mayoral seat.
In response to Haggerty, Ernst said she was at that closed meeting, "And it was very unpleasant."
Haggerty noted that after that experience, aldermen had agreed they would pool their aldermanic salaries together to pay for an outside attorney to look into impeaching Furrer.
"I would be happy to agree to that," Ernst said.
"You already did," Haggerty replied.
Ernst asked why the board could not just meet with an attorney on their own time and pay with their own money without passing an ordinance, but Jones noted that legally the board could not meet with an attorney other than him unless it had adopted an ordinance to do so.