Furrer breaks aldermanic deadlock against bill to advance impeachment
Sunset Hills mayor continuing to contend aldermen have no reason to impeach him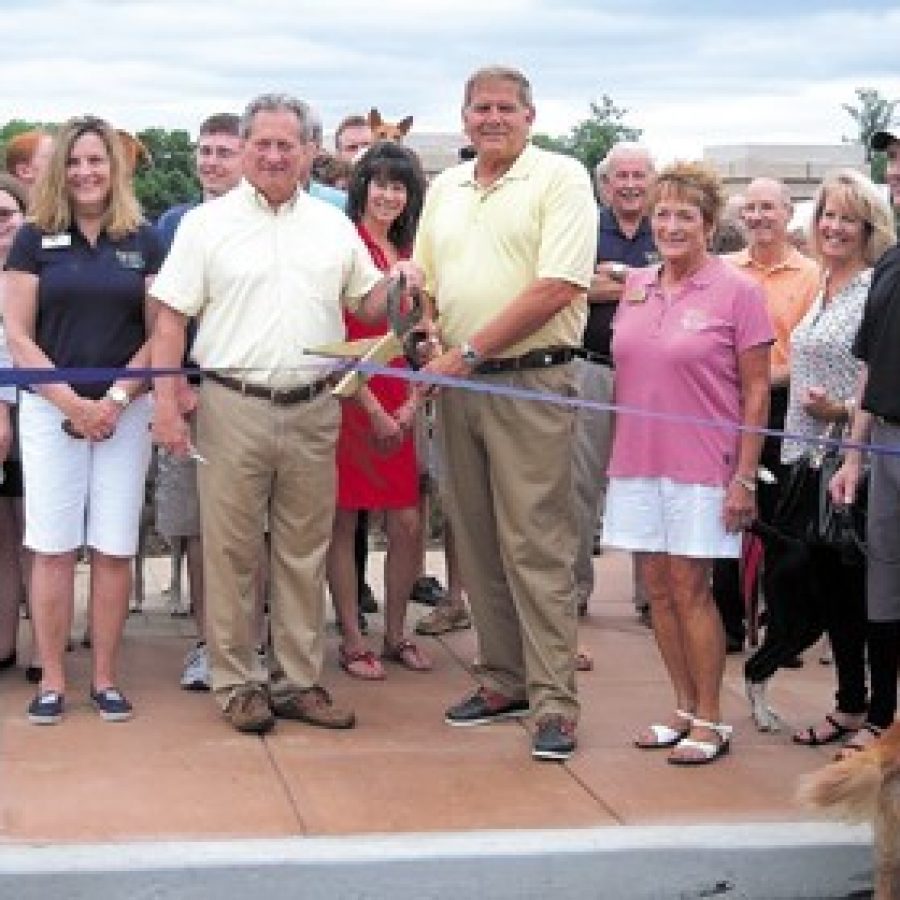 Sunset Hills Mayor Mark Furrer broke a tie last week against a measure that would have advanced an effort by the Board of Aldermen to impeach him, but if aldermen want to pursue impeachment they will have to find an alternate route.
In previous votes, Ward 2 Alderman Tom Musich was the sole dissent against impeachment-related measures, but he was joined last week by enough aldermen to split the vote down the middle.
"I am very uncomfortable spending taxpayers' money and hiring an attorney on something that we haven't even seen," said Ward 4 Alderman Donna Ernst, asking aldermen to give her a list of Furrer's impeachable offenses. "It's ludicrous."
A grand jury decided last week that there is probable cause for Furrer to go to trial on the two felony charges he faces for allegedly hitting Murdick with his car on Old Gravois Road in Sunset Hills July 29.
All along, Furrer has said that aldermen have no cause to impeach him and has said of Murdick, "I did not hit the bicycle guy." But aldermen have said if they decide to impeach the mayor, it would be for a series of events since he took office previously cited by the Call, rather than the felony allegations.
Ward 1 Alderman Richard Gau has noted throughout the course of talk about impeachment that an outside attorney would decide if Furrer's alleged offenses are impeachable, a role the city attorney played in Ellisville but that City Attorney Robert E. Jones has bowed out of due to a conflict of interest.
"I know we've all read things in the papers," Ward 3 Alderman Jan Hoffmann said. "Not being a lawyer, I don't know what is impeachable and what is not impeachable. Maybe there is nothing, but I think it's important to find out one way or the other and then be done with it …
"This has been hanging over everyone's head for several months. I think we need to move on with city business, and we can't do that with this hanging over everyone's head."
Ernst told the Call she does not agree with Furrer's manner or the way he has treated aldermen at times, but she does not believe his actions rise to the level of impeachment, either.
"I have always said that if we have a case, I would vote for these bills," she told the Call. "But if there was an impeachable offense, it would be known, and they would show it to us."
Aldermen voted 6-2 to add a general impeachment ordinance into city code outlining how the process works, but Musich and Ernst dissented on whether the city should have an ordinance for impeachment at all.
In a second vote, the board deadlocked 4-4 on final passage of an ordinance to hire attorney Mary Schultz of Chesterfield-based Schultz & Associates, who would have let the board know whether Furrer meets state criteria for impeachment of a public official.
Furrer voted against hiring Schultz to break the tie after Gau, Hoffmann, acting board President Scott Haggerty and Ward 1 Alderman Dee Baebler voted to hire her, while Ernst, Musich, Ward 4 Alderman Pat Fribis and Ward 3 Alderman Kurt Krueger voted against hiring her.
Neither ordinance mentions Furrer by name, but the bills could eventually provide a path to impeaching him. Although residents signed up before the meeting to speak about impeachment, Furrer never allowed any public comments on either bill.
Furrer also broke a tie to end discussion, looking at Ernst and Musich to see how to vote.
"Am I voting 'aye' or 'nay'?" the mayor asked Musich.
To Ernst, he asked, "How did you vote? So I'm in favor?"
Aldermen who voted against the bill to hire Schultz and talked to the Call said their votes came down to financial reasons, since the bill had no cap on dollars that could be spent.
Musich and Ernst noted that could open the door to a debacle on par with the Ellisville City Council's failed effort to impeach that city's mayor, Adam Paul.
When the city first interviewed Schultz, Paul sent an email to all the aldermen warning them against going down the long road to impeachment.
"So it could cost our city $250, or $250,000?" Musich asked. "Is that correct?"
Hoffmann, who has been in office since 1991 and is the longest-serving alderman, replied, "I don't think any of us would be irresponsible enough to want to cost the taxpayers $250,000."
"Tom, do you normally spend money needlessly?" Haggerty said. "I don't think we would, either. I think our integrity speaks well for itself, quite honestly."
Aldermen previously voted 7-1 to choose Schultz from two attorneys who gave presentations during an Oct. 28 closed meeting, where the mayor made statements to the board that multiple aldermen have classified as threats to sue each of them if they pursue impeachment.
After that experience, aldermen agreed they would pool their aldermanic salaries together to pay for Schultz to look into impeaching Furrer, Haggerty noted.
Ernst said she agreed to contribute to a fund to pay for the outside attorney, but she did not agree with a bill that could spend city dollars instead.
"I changed my tune because I saw something that I didn't like," she said. "I didn't like the way it went from spending our own money to passing a bill to spend taxpayers' money — that's not what was agreed upon. When people started changing things, I changed. And it's basically that simple."
Jones noted during the meeting that legally, aldermen could not meet with an attorney other than him without adopting an ordinance, and that they could pass a cap if they amended the bill, although a cap is not customary for such bills.
Just after Baebler asked if an amendment could be made to add a cap, Musich moved to table the measure, a motion that failed 6-2, with Musich and Ernst in favor.
When the Call approached Furrer after last week's meeting, he initially deferred any questions about city business to one of his private attorneys, Thomas Magee, but then briefly responded to a question.
"As Dr. Musich pointed out, it was sort of really not well thought out," the mayor said of the impeachment plans. "It could have gone to any amount, there were no caps on it. I think Dr. Musich made all the good points, I just had to jump in to be a tie-breaker. It's the board's decision."