Full amount of 45-cent tax hike levied by Crestwood aldermen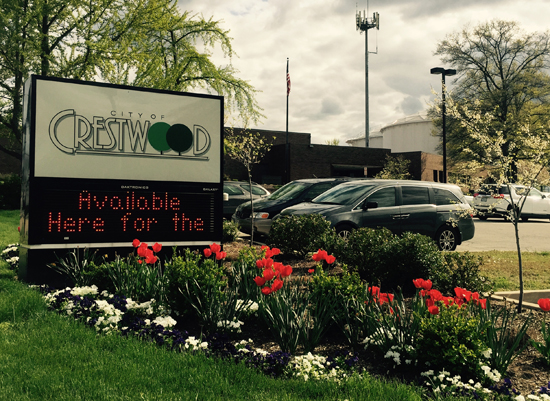 By Mike Anthony
Executive Editor
news1@callnewspapers.com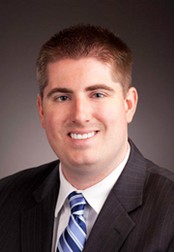 Despite a projected general fund deficit of nearly $855,000, the city of Crestwood will end 2017 with a surplus in that fund after aldermen voted last week to levy the full amount of a 45-cent tax-rate increase approved by voters in April.
The Board of Aldermen voted 6-2 Sept. 26 to adopt an ordinance levying all of the Proposition C tax-rate increase.
Board President Justin Charboneau of Ward 2 and Ward 1 Alderman Darryl Wallach were opposed.
The city's 2017 tax rates are 72.8 cents for personal property, up from 27.8 cents; 69.8 cents for residential property, up from 24.8 cents; and 86.4 cents for commercial property, up from 41.4 cents.
The 2017 budget adopted by the Board of Aldermen in December projected a general fund deficit of roughly $524,000.
Aldermen voted unanimously Aug. 22 to amend the general fund budget to reflect increased expenditures of nearly $331,000, bringing the projected surplus to nearly $855,000.
When voters considered Prop C in April, the tax-rate increase was projected to generate roughly $1.13 million annually. Due to a projected increase in assessed valuation, Prop C is now expected to generate $1.291 million annually.
A five-year financial forecast prepared by City Administrator Kris Simpson and Finance Officer Rick Jett, whose retirement was effective Friday, projects that the general fund will have a surplus of roughly $345,000 this year if the 45 cents is levied.
During a public hearing on the tax rates, the only speaker was resident Martha Duchild, who was critical of the board's fiscal oversight and warned that residents will have "sticker shock" when they receive their tax bills if the board levied the full amount of Prop C. She specifically noted that aldermen had quadrupled the budget for the city's Beautification Committee, increasing it to $10,000 in 2017, compared to $2,500 the previous year.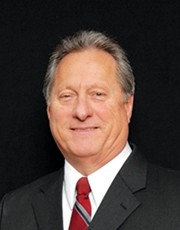 Duchild also cited the Beautification Committee's recent decision to spend $4,000 to install a sprinkler system at Whitecliff Park, a project "not listed in the 2017 budget for any of the park and stormwater capital improvement projects. This is a small example of a larger problem.
"You cannot keep spending taxpayer dollars unchecked and hope to tax your way into prosperity, especially when the choices you make regarding our tax rate will directly and negatively impact the Lindbergh School District, arguably the only taxing body with a power to keep Crestwood's housing market competitive and vibrant …"
She noted that the five-year forecast showed that even by levying the full 45 cents of Prop C, the general fund will have a deficit of nearly $105,000 in 2022.
"Why should we as taxpayers accept this projected deficit as evidence of good financial planning?" Duchild asked. "This administration has a spending problem, and no amount of money can fix that.
"The only way to fix that is to get your financial spending under control before you assess the full 45 cents and subject Crestwood taxpayers to sticker shock on their next property tax bill …"
During the board's discussion of setting the tax rates, Wallach said he was inclined to levy an amount less than the full 45 cents, perhaps 30 or 35 cents. He also lamented a lack of feedback from residents, saying he was "shocked" that just six residents were in attendance.
Simpson noted that the projected $345,000 surplus for the general fund is based on levying the full 45 cents of Prop C, but that number is simply an estimate.
Jett said that for the general fund to break even this year, the board would have to levy 33 cents of Prop C. He also cautioned the board that he considered $345,000 to be a "modest" surplus because the five-year forecast counts on surpluses in the early years to offset a long-term decline in the general fund.
Ward 3 Alderman Grant Mabie said he had hoped it would not be necessary to levy the full 45 cents this year, "but the budget is what it is. I'm hoping in the next few years economic development will let us take a little bit of pressure off the tax rates, but to me we're talking a 12-cent window here and probably less than that.
"You're probably looking somewhere in the 60s to account for the fact that you wouldn't want to cut it so close that we wind up in a deficit position. I think people expect us to be fiscally responsible, and part of that is having a balanced budget. So I'm open to something a notch less than the ceiling, but as a very practical matter, it's going to be somewhere in the 60s …"
Mayor Gregg Roby urged the board to assess the full 45 cents of Prop C.
"… We took this to the voters. They approved 45 cents in anticipating that we would use that. All we've done is talk about how we can't afford to fix this. We can't afford to fix this because we don't have the money. Now you've been given that gracious 45-cent increase by the residents and you're talking about cutting it back. If I were a resident, I'd be asking you: 'If you didn't need 45 cents, why did you ask for it? If you're not going to use it, why did you ask for it?' That's the other side of the coin."
Citing Jett's cautionary remarks, Ward 4 Alderman Tim Anderson said, "… We have to start out on this journey (with) the best foot forward. If we don't, we're not going to end up where we want to be, and when you look at the sales-tax revenues declining steadily — and I don't see anything that's going to reverse that in the near term — I think we're just obligated from a fiscal responsibility point of view to levy the full amount …"
Ward 1 Alderman Richard Breeding later said, "I just want to second what Alderman Anderson said. We need to start off strong. We cannot depend upon retail at this point …"
Ward 3 Alderman Jerry Miguel also cited the five-year forecast that projects a deficit in the general fund in 2022 and said, "… I'm not that all concerned about taking the 45 (cents). What I am concerned about is how this board's going to spend it …"
Charboneau said he was taking a different view from the majority of aldermen.
"… I do think this is something that was sold to be eased into. I think it's something we should ease into and curtail spending," he said. "So it appears that if I had to take a guess this evening, the full 45 cents will be passed. That's fine. The public did vote and give us authority to do that. I would caution, as Alderman Miguel has done, so that spending wisely will be a wise move on this board if the full 45 (cents) does pass.
"I just echo that during budget time that we don't view it as we're cash rich instantly and use it wisely for projects that need to be done and try to keep as much spending under control as possible …"