Friends, family, aldermen attend vigil for missing Sunset Hills woman
$20,000 reward offered for information on Linda McLaughlin's disappearance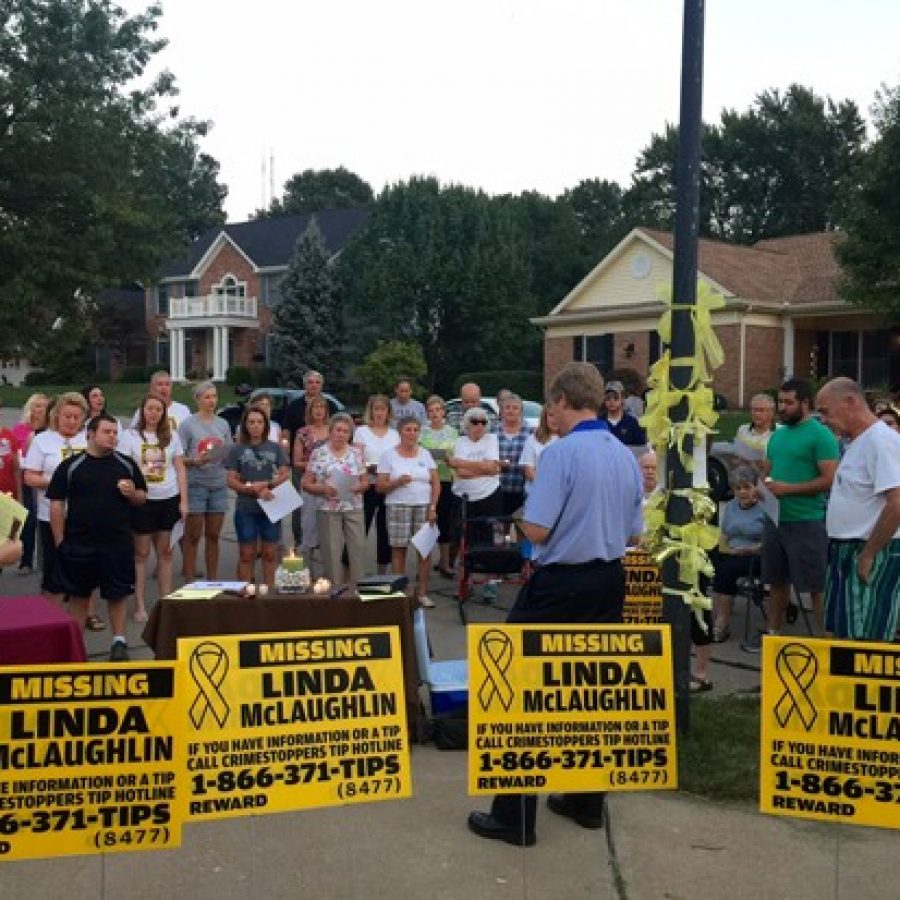 Police are still searching for a Sunset Hills woman three months after she went missing with no explanation, and friends and family members who held a third candlelight vigil for her Tuesday night said they still hope for a miracle.
Friends and family held the vigil Tuesday to mark three months since the disappearance of Linda McLaughlin, 57, of the 9700 block of Meadowglen Lane. McLaughlin has not been seen since 7 p.m. June 1, when she went to dinner with friends.
Led by McLaughlin's pastor, Joel Christiansen of the Lutheran Church of Webster Gardens, friends and family members told stories, sang "Amazing Grace" and prayed during the hourlong vigil outside of McLaughlin's house. They then passed out fliers and yellow yard signs publicizing McLaughlin's disappearance.
Five of the eight Sunset Hills aldermen — Dee Baebler of Ward 1, Tom Musich and Steve Bersche of Ward 2 and Pat Fribis and Donna Ernst of Ward 4 — attended the vigil.
"We're just missing her," McLaughlin's brother, Crestwood resident Richard Sexton, told the Call after the vigil. "If you didn't have the opportunity to meet her, you really missed out, because she'd do anything for anybody … This is the most caring, the most loving, the kindest person I've ever known in my life. And I would have said that a year ago, I would have said it four months ago, I would have said it three months ago and I'm saying it right now."
Crestwood native McLaughlin regularly babysat her grandchildren and was scheduled to watch them June 2. After her daughter-in-law arrived at her house that morning and couldn't find any sign of her or her car, the Sunset Hills Police Department found evidence that her disappearance could be linked to a crime and called in the St. Louis County Police Department's Crimes Against Persons Unit to investigate. She had not shown up the night before to take a walk with a neighbor after getting back from dinner with friends in Kirkwood.
McLaughlin's son John said soon after her disappearance that his mother would not have left of her own free will.
"She is a loving mother and grandmother and would never leave without letting family or friends know of her plans," he said in a statement. "We are all praying for her safe return."
Sexton reiterated after Tuesday night's vigil that McLaughlin never would have taken off by her own free will.
McLaughlin is the owner and registered agent for the family business, McLaughlin Hoist & Crane in Fenton. She filed for divorce from her husband, also named John, last December, and they were scheduled to meet for a final settlement conference June 4. After Linda McLaughlin disappeared, the conference was indefinitely postponed.
Linda McLaughlin's sons, father, brother, aunt and cousins attended Tuesday's vigil, but her husband, John, has not attended any of the events.
"Everyone but her husband," Sexton said when describing which family members were in attendance Tuesday night.
Police found McLaughlin's 2008 Buick Enclave undamaged in south city several days after her disappearance, the same day roughly 100 county police officers, Franklin County sheriff's deputies, divers and cadaver dogs went to the McLaughlins' second home in Gerald. Despite a full day of searching ponds and other areas on the 40-acre wooded property, police said they came up empty in the search for McLaughlin.
The reward for information on Linda McLaughlin's disappearance through CrimeStoppers is $20,000, and anyone with information can call (866) 371-8477 anonymously or call St. Louis County police at (314) 889-2341.
The family has set up a
to collect donations that they plan to use to add to the reward, rent billboards along highways or hire a private investigator to "focus where police are spread thin," according to the page.
County police have assured the family that they are still aggressively working the case, Sexton said.
"We know that the police are still working," he said. "Chris, Linda's son, talks to them every week, and they assure him that this is still a priority for them."
The focus of the vigil was Linda McLaughlin, but it was also held so her friends and family could get together to talk about her and cope with her disappearance, Christianson said.
"Linda's also a magnet, she would attract people around her. This is a way to be a magnet to help bring people together as well in her absence," the pastor said.
Despite their sadness around their friend's disappearance, McLaughlin's neighbors were all smiles after the vigil as they stood in the street and recounted happier times when they stood in the same spot with McLaughlin, talking and laughing in the street at the end of the day.
Despite the speculation of foul play in the case, Sexton is still hopeful a miracle will happen, as is her pastor, who emphasized God's strength in his prayers at the vigil.
"I want to see her again," Christianson said.