Forty people address TIF Commission at hearing on Crestwood mall proposal
TIF Commission scheduled to meet Wednesday evening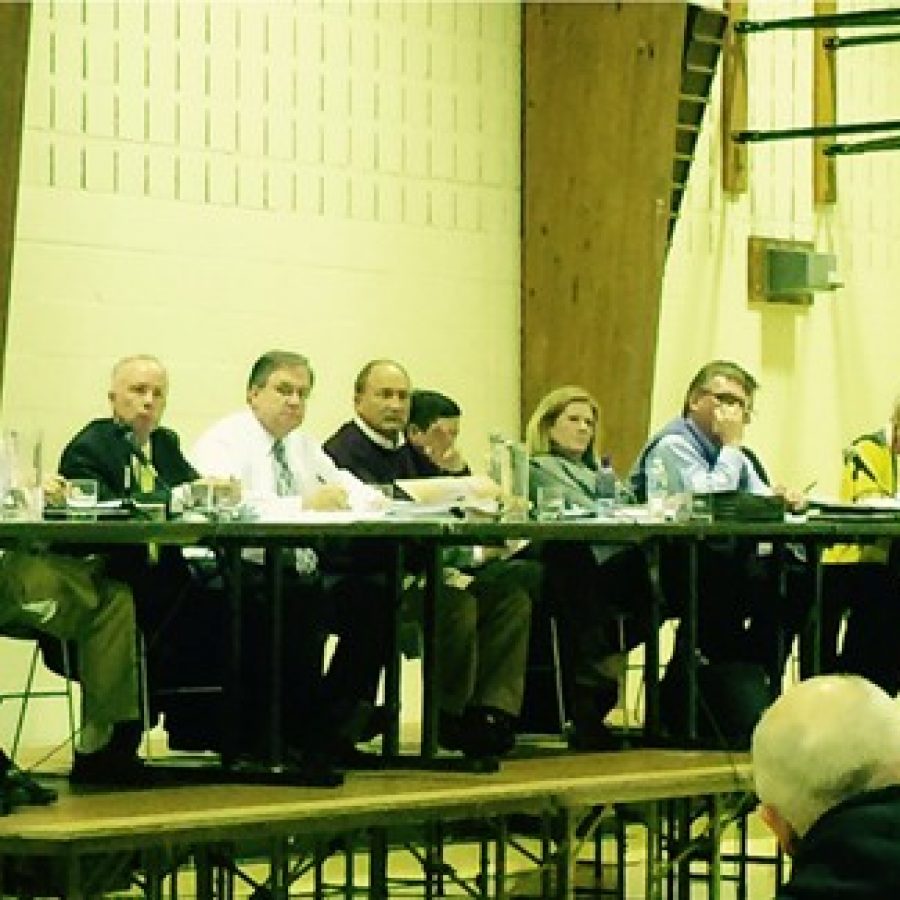 Forty people addressed the Crestwood Tax-Increment Financing Commission during a public hearing last week on a proposal to redevelop the former Crestwood Plaza.
Of the speakers, 20 were opposed or expressed reservations about the proposal, while 17 said they supported it. Three other speakers did not indicate their support or opposition. Roughly 200 people attended the Feb. 3 public hearing.
The hearing was the only opportunity for residents to address the commission, as the panel will take no public comment when it meets at 7 p.m. Wednesday, Feb. 10, at the Government Center, 1 Detjen Drive.
On Wednesday, the commission could make a recommendation to the city's Board of Aldermen on the mall owner's request for roughly $25 million in economic assistance to redevelop the 47-acre mall site at Watson and Sappington roads.
UrbanStreet Group of Chicago is proposing a $104.3 million mixed-use redevelopment of the mall site, and is seeking $15 million in tax-increment financing, or TIF, funds; $5 million in Community Improvement District, or CID, funds; and $5 million in Transportation Development District, or TDD, funds for the project.
The city's planner for the project, Peckham Guyton Albers & Viets, or PGAV, projects the $25 million in economic assistance could be retired in roughly 15 years, based on the project being "substantially complete" by Jan. 1, 2019. As proposed, the CID revenue would be generated by a 1 percent sales tax, as would the TDD revenue. The sales-tax rate of the redevelopment area would be 10.613 percent.
UrbanStreet's proposal for the mall site includes one large retail facility that could contain a grocery store, a multi-screen movie theater, a fitness center, two dine-in restaurants, an office building, a 225-unit apartment complex currently envisioned as senior housing and 11 to 13 acres of open space and community gardens.
Bob Burk, UrbanStreet managing partner, told the commission in December that no commitments from potential retail tenants for the proposed redevelopment can be secured until economic assistance is granted for the project. He also said the project will not proceed without the requested economic assistance.
Lindbergh Schools officials support the redevelopment of the mall, but have concerns about UrbanStreet's proposal, particularly the residential component and Burk's contention that no commitments from potential retail tenants can be secured until economic assistance is granted. School officials also believe that Crestwood's first-ever comprehensive plan should be completed before a decision is made on whether to grant economic assistance to UrbanStreet.
Regarding the residential component, Lindbergh Superintendent Jim Simpson has said he believes UrbanStreet's plan to construct 225 apartments "is the worst scenario for Lindbergh Schools," as it would exacerbate the aggressive enrollment growth that already is challenging the district.
During a presentation at the public hearing last week, Burk noted that if children would be permitted to occupy all of the residential part of the site, Lindbergh would receive an estimated average of $150,000 each year from the passed-through taxes.
But Lindbergh officials say the $150,000 figure was never mentioned before the hearing, and the developer has never shared that figure with them. School officials have no written agreement with UrbanStreet and are still waiting for Burk to respond to questions posed in a Dec. 15 email.
Among those who spoke against UrbanStreet's proposal at the public hearing were Simpson, Lindbergh Board of Education President Kathy Kienstra, former Mayor Jeff Schlink, former Ward 1 Alderman Mike Tsichlis and Forrest Miller, former chairman of the city's Economic Development Commission and a commissioner for the Missouri Department of Economic Development.
Among those who spoke in favor of UrbanStreet's proposal were former Ward 4 Alderman Mike Vincent, Ward 4 Board of Aldermen candidate Ismaine Ayouaz, Ward 3 Board of Aldermen candidate Spencer Talbott and Planning and Zoning Commission member Ken Lange, a retired professional city planner.
Both Ayouaz and Talbott voiced reservations about UrbanStreet's proposal at the April 28 Board of Aldermen meeting, according to the meeting minutes.
Retired teacher Virginia Harris told the commission, "… I strongly support the TIF. I'm a retired teacher. I've lived in Crestwood for over 25 years — hard to believe … I was here when the dime store was at the mall and I was here when the mall died, and we need a major successful operation in that huge area of the mall.
"Stores are empty simply because they don't have a magnet to call people …"
Many who support the redevelopment project said they were sympathetic to the school district's concerns.
Resident Jay Wiseman, who owns Ernie Patti Auto Leasing & Sales, said, "… I'm sympathetic to all the people with the Lindbergh comments. I don't care. I don't live there. I live in the annexed section (of Crestwood) where it's Affton High School, where it's the Affton School District. What I do care about is my business. What I do care about is the businesses in the city of Crestwood who are rapidly deciding to leave the city of Crestwood — myself being one of those …"
He said he fully supported the developer.
"… I don't care if they bulldoze it and leave an empty lot there. We just need to have something done and it's up to you folks to get that done for us and the administration of the city of Crestwood. Businesses have had enough …," Wiseman said.
In his comments, Simpson cited a number of "red flags" in UrbanStreet's proposal, including the possibility of the developer "flipping the property" after receiving the economic assistance. Simpson's comments later were echoed by Ryan Koppy, a former Crestwood resident and real-estate agent.
"… UrbanStreet will flip this property. There's no doubt about it. That's what they do …," he said.
Koppy also cited concerns about the lack of an anchor tenant and the residential component's ability to retire the TIF.
"… One thing with the development is that there's no anchor tenants in place. With any development, you have to get an anchor tenant …," he said, adding that he believes the site needs to be redeveloped, but one- and two-bedroom apartments "do not really fit the culture of Crestwood."
"… As a millennial, I'm not really going to come to Crestwood to pay for a one- or two-bedroom apartment. It's just not where they're going …," Koppy said, adding he believed senior housing "is a great option."
"But the crucial aspect of that is either the apartments or senior housing, those don't provide for paying back the TIF …," he said.