Football Panthers fall to Fox 28-7
Mehlville to face Northwest Friday night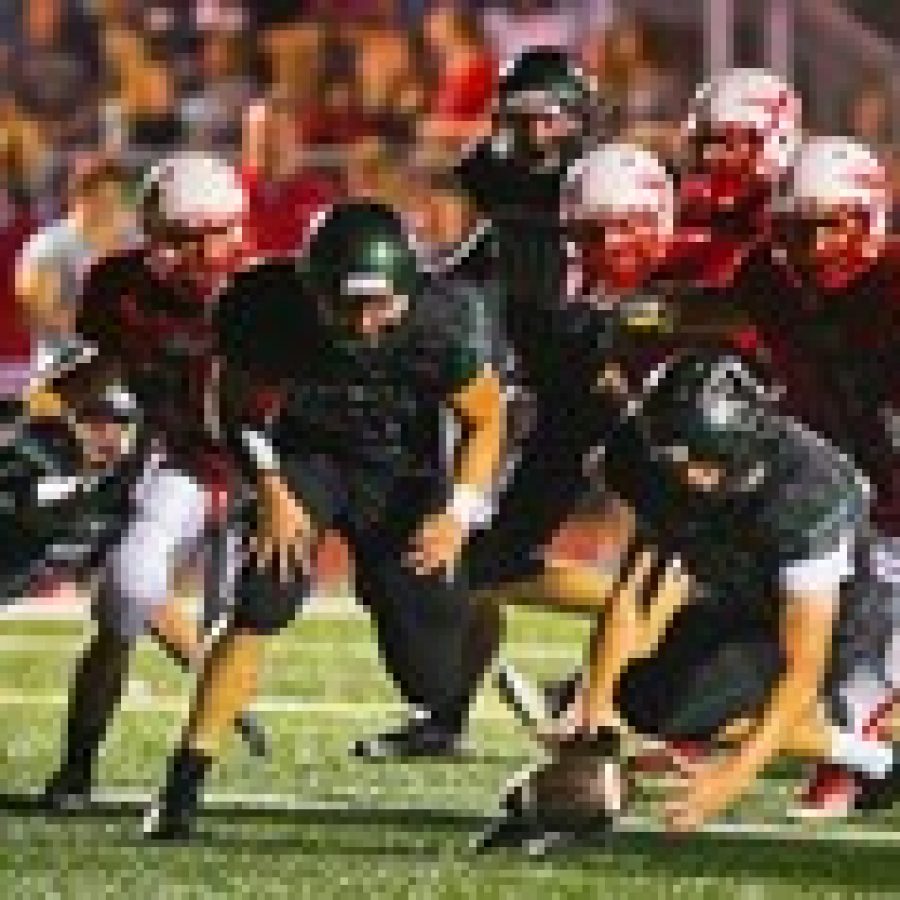 Before Friday night's game against Fox, the Mehlville Senior High School varsity football team was in first place in the Suburban West N conference with a 1-4 record because its sole win was against the only conference opponent it faced.
Fox was the Panthers' second league opponent they faced this season and with a 28-7 loss, Mehlville dropped to fourth place, ahead of only Seckman. The Warriors now lead the division.
Despite the lopsided score, it was actually a very close game until the fourth quarter.
Fox running back Tony Pisoni got the Warriors on the board at the end of the second quarter, scoring the first of three touchdowns on the night.
The halftime score was 7-0 in favor of Fox. The Panthers allowed Pisoni his second score early in the third quarter before Mehlville running back Jabari Shelton got his team on the scoreboard early in the fourth quarter. That tightened the score to 14-7 and set the stage for a fourth-quarter game that favored Fox.
Fox's Austin Mayer answered right back for the Warriors and Pisoni added his third score of the night to seal Mehlville's fate.
Mehlville head coach Kent Heinemann told the Call that time of possession was an obstacle in the Fox game.
"It's been the same recurring theme of just, you know, mistakes. Fox was pretty good at what they do," he said. "They run that tight splits and triple option, and they grind at you. They gain a yard here, three here, four there and they convert first downs, and the next thing you know, they've had the ball for an entire quarter.
"We couldn't get them off the field, and we really couldn't get anything going offensively."
It's been a frustrating year for the Panthers, no doubt. While the team is putting forth the effort, the Panthers just can't get over the hump, Heinemann said.
"Again I don't ever feel like our kids give up. I don't ever feel like they quit. They keep grinding. They're just not getting it done," he said.
On Friday, the Panthers will face Northwest Cedar Hill, a team that has been equally unfortunate the past few seasons. However, Northwest did beat Mehlville in the 2013 season opener, but Heinemann believes the Panthers will fare better this time.
"One positive is they run a similar offense to Fox. Again, it's tight splits. They run inside the tackles," he said. "So seeing it two weeks back to back, I think is a little bit of an advantage rather than seeing them like last year. They were the first game of the season and then we never saw anything like that again all season."
"So they're going to be physical. We are going to need to be more physical … I like our chances, but we are not going to come away with a win if we keep doing what we are doing."