First Route 66 Bike Cruise deemed a success
The first-ever Sunset Hills Bike Cruise delivered all 183 participating riders a Route 66-inspired experience for their memory books.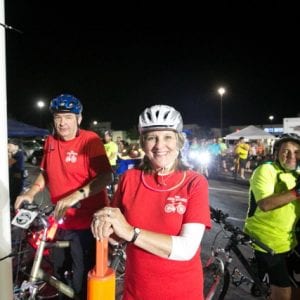 Initiated by Sunset Hills Mayor Pat Fribis, shown above right, the idea of a nighttime bike cruise down Route 66 seemed impossible to some. But she worked with surrounding communities to make it happen.
The Oct. 5 ride kicked off from Sunset Hills Plaza and was led onto Route 66/Watson Road by police Chief Stephen Dodge. Riders traveled down Route 66 reminiscing and admiring the historic road with no safety issues, and the city is already planning to make the ride an annual event.
'We're planning a bigger and better one next year already,' Fribis said.