First listening session set next week by Mehlville school board
Board looks to be accessible to residents, president says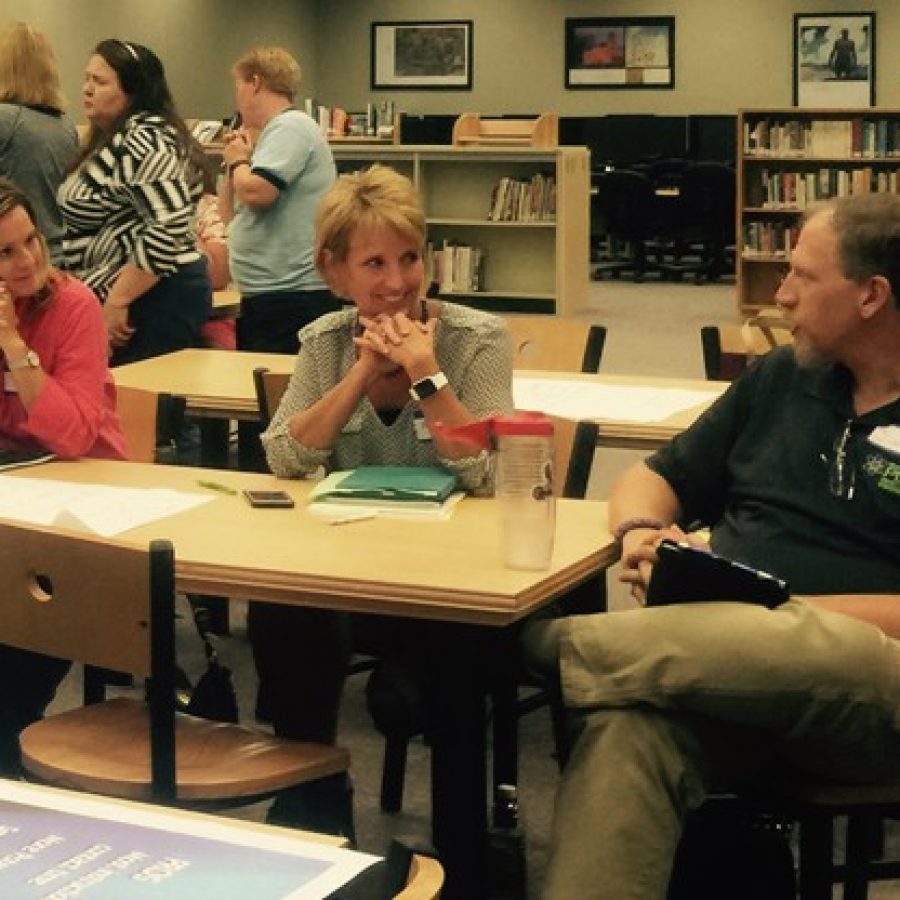 With Mehlville School District residents buzzing around possible changes in the district including block scheduling, redistricting and innovation, the Board of Education will debut its new listening sessions to hold one-on-one conversations with the public next week.
Up to now, the only face-to-face opportunity the public had to talk to the board happened during a public-comment period at board meetings, which didn't allow for a back-and-forth conversation to develop between the board and constituents.
The board's listening sessions, to be held quarterly, are something entirely new, Superintendent Chris Gaines told the Call.
"It's not going to be like a board meeting, it'll be more like a dialogue with the board," Gaines said.
The first listening session is scheduled for 6:30 p.m. Tuesday, Sept. 20, at the Margaret Buerkle Middle School library, 623 Buckley Road. The listening sessions, set for September, December, March and May, will be held at each of the district's four middle schools, which also distributes the meetings regionally around the district, on both the Oakville and Mehlville sides.
"There are people who like face-to-face conversation — they don't want to send you an email, they like that interaction," board President Samantha Stormer said. "So we want to make sure that we're completely accessible to the community."
The format of the listening session could change depending on how many citizens show up to speak with the board, Gaines said.
Plans call for three tables, where board members will sit in groups of two and three, with groups chosen by random drawing. Central Office administrators and Gaines will be on hand to answer questions, too, with a member of Gaines' Cabinet at each table to keep track of what themes are discussed and answer questions if a board member can't.
The rest of the Cabinet will be at a separate table, also available for dialogues with the public. Residents will rotate among the tables so that residents can talk to as many board members as they want to, with the rotation time depending on how many residents attend.
"It's kind of like speed dating, but for board members," Stormer said. "It's completely random who's sitting with who."
Stormer wanted to come up with a new way for the district to take public comments since residents addressing the board at regular board meetings are "talking to these seven people that are looking at you, and you get no response. But this is actually being able to sit down and have a back-and-forth conversation. I'm so excited about it."
Unlike regularly scheduled board meetings, the listening sessions are not mandatory for board members to attend, but Stormer believes the entire board will be there.
It could also be a learning opportunity for board members, a rare opportunity to ask questions and dig deeper into topics with residents face to face, she added.
"The first thing I want to do is listen to their concern, but then I want to start asking questions," she said. "Some people just want to vent to us, they're not looking for a solution, they just want to vent. If somebody is looking for more of a response and a change and something more detailed, we want to be able to take that as well."
As for what will be discussed, that is wide open, Stormer said.
"I want it to be more about the needs of the community that they bring to us," she said. "I want people to talk about whatever is on their mind. That's what this is for."
With Gaines initiating conversations on redistricting, innovation and block scheduling this year, residents have no shortage of questions to ask board members, Stormer said.
"Right now for the district, we're in a pretty good spot, we're moving in a good direction, but that doesn't mean that people still don't have questions," she said. "We have a lot of changes going on right now, and change is scary for a lot of people.
"They may not understand that our three big programs that we're looking at, how all of those work together."
Although the session is scheduled to end at 8:30 p.m., Stormer said, "I'll stay there for an extra hour if I have to, if it means getting to talk to everybody that wants to talk."
Some board members have suggested at meetings this summer that certain topics would be perfect to talk about at the listening session, including block scheduling and a proposed new school of innovation in the former St. John's Elementary and potentially moving South County Opportunity for the Purpose of Education or SCOPE, to the Witzel Learning Center next to Mehlville High School.
Block scheduling meetings start
The district kicked off one of its community-engagement initiatives last week with the first of a series of public meetings on block scheduling, at Oakville High School. Another meeting is set for 7 p.m. Wednesday, Sept. 21, in the Mehlville High School library, 3200 Lemay Ferry Road.
Parents and grandparents attending the first public meeting were surprised at the format, which was more of an open house than a public question-and-answer session on block scheduling. Scheduling Committee Chairman John DeWalle, director of the Witzel Alternative Academy, encouraged attendees to write down their reactions to the committee's top priorities in a high-school schedule, which were written out on posters. An online survey sent out to parents afterward gave them the same opportunity.
Residents could ask the assistant principals on the team their questions, and DeWalle encouraged them to use the new Let's Talk! feature on the Mehlville website to send him an email with any feedback or questions.
Meetings at Oakville High and Mehlville High slated for Oct. 10 are not a joint meeting, but separate meetings that will be held during each high school's conference night in order to encourage more attendance from students and their parents.
At the first meeting of the Scheduling Review Committee that preceded the public meeting, committee members introduced themselves and developed their top priorities in a schedule by working in groups to come to a consensus.
After thanking the committee at the beginning of their two-hour meeting, Gaines said no one from Central Office would attend any of the committee meetings so that they can work independently, then left.
Nineteen years into block scheduling at Mehlville, "we want to make sure we're still doing right by the kids," DeWalle said.
The committee chairman emphasized that the committee's recommendation is not predetermined.
"This is something that probably needs to be said 45 times at every meeting — no decision has been made, contrary to what you read in the paper or on Facebook," he said. "That's the purpose of our group, to make a recommendation. And our elected officials will ultimately make the decision."