Financial outlook grim for Lindbergh schools, according to Simpson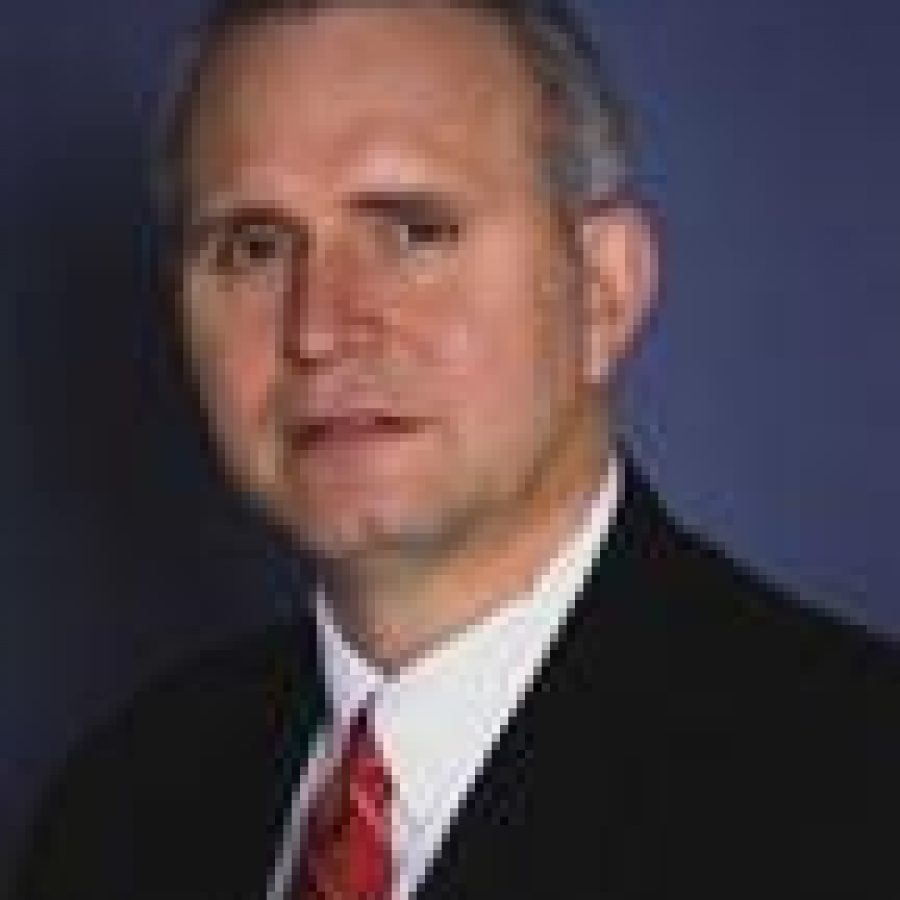 Superintendent Jim Simpson envisions the Lindbergh School District is facing several years of financial pain.
"… I think we've got several years of pain. I can't see any bright financial news for schools even if the economy turns around …," Simpson told the Call during a recent interview.
Simpson's comments were made the day after Chief Financial Officer Pat Lanane told the Board of Education he was projecting a nearly $1.17 million loss in operating revenue for the 2009-2010 school year as a result of the revised assessed value of commercial real estate within the district.
The timing couldn't be worse, Lanane said at the time, noting the board voted in June to adopt a 2009-2010 operating budget that projected a deficit of $3 million.
On March 10, commercial real estate within the district was assessed at slightly more than $432 million, 18.8 percent more than the previous year.
But Lanane said the commercial valuation dropped to roughly $387.5 million July 1, a 10.33-percent decrease from the $432 million projected in March.
While the majority of local taxing districts can roll up their tax rate through the Hancock Amendment to regain lost property-tax revenue, Lindbergh cannot roll up its operating tax rate because it's set at $2.75 per $100 of assessed valuation — the state minimum.
During the July 21 Board of Education meeting, Simpson said, "One way I think you can visualize this is a school district is made of personnel and programs … In '08, (it was) just about a break-even year for us and we were running — in other words, our revenue was just about paying for that entire package of our school district."
For nearly the past two decades, school officials have worked under the assumption assessed valuation would rise each year, resulting in an increase of revenue that would fund employee salaries and benefits and educational programs. But that paradigm has changed as a result of the current economic recession, the superintendent said.
"… The way that it's been working for the last really two decades almost is that we go up a little bit every year and that runs raises and that keeps the same programs and that keeps the same personnel. So every year you count on a 3, 4 percent increase or better … But you count on that increase," Simpson said. "It's a new paradigm now. What if '08 was the high-water mark? What if it's a step down of 3 and 4 and 5 percent every year for the next four or five years? What does that really mean?
"It means you have a different school district because you can only afford programs and personnel that your revenue meet … unless you have a tax increase. And of course then as the revenue rises, you can maintain those programs and personnel because you have a new revenue stream based on that tax increase," he said.
But seeking a new revenue stream is off the table at this point. Cognizant of the financial difficulty residents and businesses currently are experiencing, district officials pledged last November not to seek a tax-rate increase for at least 24 months.
As a result, Simpson said, "… When you look into the near-term financial picture, it's hard to see new revenue in the next three or four years. As a matter of fact, everything points to a step down and '08 being a high-water mark and every year after that stepping down. Now it will turn the corner some day. We have to believe that and we think it will. But it's slow to turn that corner. I don't want anybody to believe that … somehow we'll get our economy roaring again …
"We are a lag-the-economy operation. In other words, if the economy comes back to life in two years, we won't see a nickel. It's got to be going pretty good before it catches up with us. On the other side of it, it takes a while for us to lose revenue after it winds down. So we already have done that now. So now we're into that we'll have to wait a couple of years before we get new revenue …," he continued.
"I wonder about '08 being a high-water mark for us and I wonder what the district will look like and what we can do to meet that revenue if we have four or five years of decline in that revenue. So you really have to think in those kind of terms because I don't believe the economy is coming back enough, quick enough that it can really get us out of that in the next three or four years. So we're really in for it the next three or four years …"
The district's reserves of roughly $24.6 million will help Lindbergh weather the economic storm. The district's long-range financial plan calls for a planned spend down of those reserves with a deficit-spending cap of $3 million per year. But the projected deficit for 2009-2010 now could range from $4.1 million to $4.5 million as a result of the drop in commercial valuation because the $3 million deficit was reached by making more than $2 million in reductions for the 2009-2010 school year.
Given the difficulty in cutting that much more from the 2009-2010 budget, it is more than likely district officials will be forced to dip into the reserves beyond the $3 million cap.
During the interview with the Call, Simpson elaborated on the financial pain he foresees for the district.
"We are at a 24-month lag for schools and the economy. So even if the economy comes back strongly, if the stock market comes back strongly, job loss moderates, even if companies start hiring again, that will not throw money into the thing that makes us have money … The only way that gives us money is if that translates to people building their savings up to where they can buy houses and where people then feel comfortable enough to go into debt to buy houses and where banks feel good enough to give loans for houses.
"And if you say: Well, that seems like a lengthy and slow process. That's exactly right. We're not like a merchant that 10 people walk into the door more every day than did last year and you're having a better year. It doesn't work that way for us. For us, it's housing values and real-estate values in our community have to start rising again. Well, they're falling. They have to stop falling and start rising and people who understand that understand that is a multiyear kind of process."
Because of that lag, Simpson said, "We're really three years out … and what we know is that so many things are propped up right now by stimulus money — meaning the state, not us. We're a loser in the stimulus. We applied for every stimulus grant you can get and only got one … A lot of people are saying: 'I got stimulus money,' but it's not Lindbergh. But when the state runs out of stimulus money — that's going to be decreased greatly in '011 and unless there's another infusion, which is not expected, '012 will be solo again — that's not going to be a pleasant year.
"2011 is shaping up for state revenue to be a very painful year and '012 is just a fervent prayer for the economy to roar back to life … So really '013 is our first look at some kind of hope. If everything goes to plan, if everything goes well, it's still '013 before we can really feel like we're back on the upswing. And so we're going to have to get through that time.
"As I tell our staff, don't think there's a white knight or a magic wand or some kind of short-term fix for us. It's a long-term fix and we've just got to ride it out and we've got to make our best decisions to protect our educational programs at their core. Better times will occur, but they're not on the immediate horizon in any way. So we'll see how that plays out …," he continued.
"And that scenario I just mentioned, I don't think anybody that looks at the numbers and has some experience in that would say — they'd probably say: That's a little rosy …"