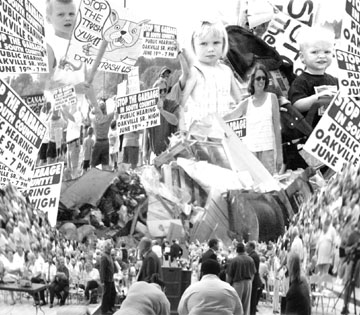 Opponents of the solid waste transfer station at the intersection of Baumgartner and Old Baumgartner roads June 19 came from both sides of the political aisle and all walks of life.
Conversations throughout the gymnasium noted how no issue in recent memory has united the people of south county as much as opposition to Fred Weber's proposal.
"I remember when the election for a new city called South Pointe took place, the County told us they'd take care of us," said Capt. Dennis George, former commander of the South County Precinct of the St. Louis County Police Department, now retired. He said his home would be within 500 yards of the facility.
"Boy, they sure took care of us," George said.
"We're bringing 2,000 to 3,000 new commuters to this community," said Lori Thompson, director of Physical Facilities for St. Louis Community College. "We would ask that the Department Of Health consider the safety of our students and staff."
"I came here from Florida," said Rev. Bruce McCoy, of Canaan Baptist Church. His church operates a day care center near the proposed waste transfer facility. "If you think it won't smell, I know of swamp land in Florida that's for sale."
A resident of one subdivision presented a petition with 803 signatures to health officials in opposition to the site.
"Apparently in St. Louis County it's not against zoning regulations to locate a solid waste station next to a day care center, but I'll wager a day care center is not allowed to locate next to a solid waste transfer station," said Bob Beckman.
"There should have been some type of dialogue between the community and Fred Weber," said Councilman John Campisi.
Former Chamber of Commerce President Dave Thompson asked those present to indicate their support for the facility by saying yes, but no one spoke.
"How many people are opposed to this, say no," Thompson asked.
"No," roared the crowd.
"I'm a naive American," he said. "I always thought that in a Democracy the majority rules."