Ferguson protesters call for Stenger to denounce McCulloch
Stenger offers conciliatory statement, but drowned out by protesters' chants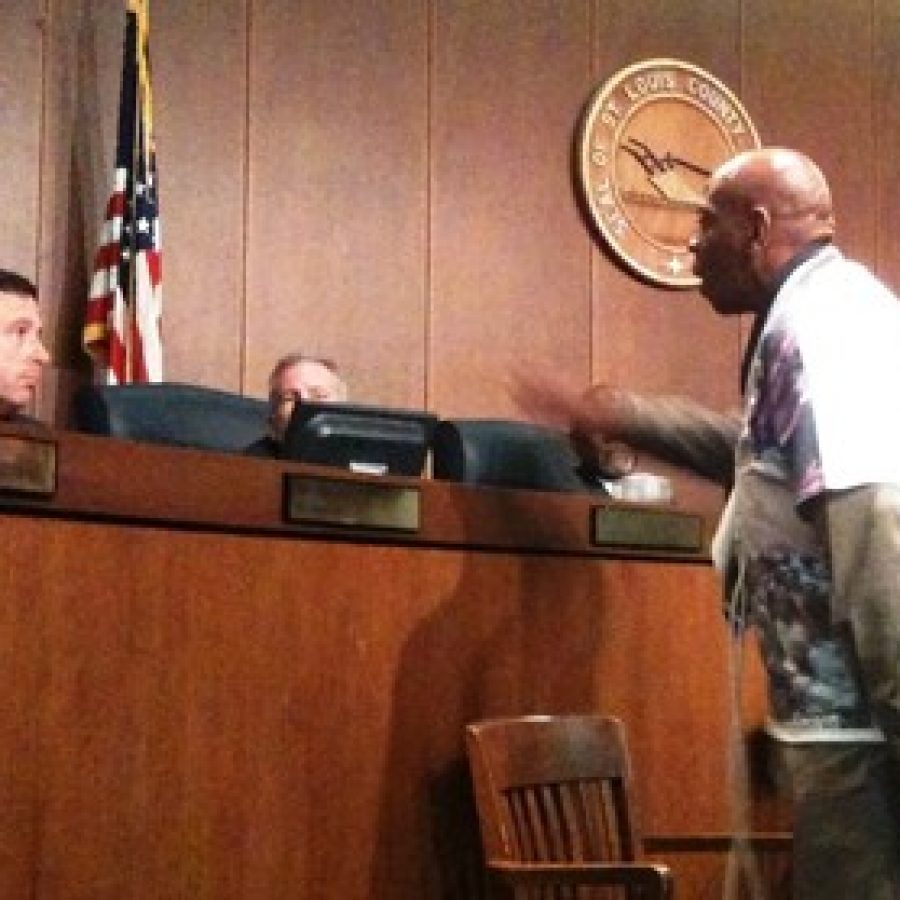 At a County Council meeting like no other, Ferguson protesters packed the chambers last week with an overflow crowd that targeted 6th District Councilman Steve Stenger, D-Affton, to demand that he denounce county Prosecuting Attorney Robert McCulloch or lose their support in the November county executive election.
Along with that ultimatum, hundreds of protesters attended the meeting to demand an immediate arrest of Ferguson Police Officer Darren Wilson, who killed unarmed teenager Michael Brown Aug. 9, sparking last month's protests.
During two hours of public comments, some speakers demanded the council fire county Police Chief Jon Belmar or take action to apprehend alleged "war criminals" Wilson, Belmar and Ferguson Police Chief Tom Jackson.
Protesters interrupted the meeting more than a dozen times as they erupted in chants: "Hands Up, Don't Shoot!", "No Justice, No Peace, No Killer Cop Police," "Don't Vote for Stenger" and "12 Noon, Stenger!" — the next-day deadline imposed by the organizers of the Justice for Mike Brown Leadership Coalition for Stenger to denounce McCulloch, his political mentor.
Stenger kicked off the meeting with a conciliatory statement, noting that he hoped the council and the protesters could "open up a productive dialogue … The country and the world are looking to see if we can bridge this divide."
However, Stenger was forced to stop after that sentence when he was drowned out by "Arrest Darren Wilson" chants. That trend continued for hours with Stenger as the protesters' prime target, drawing the ire of dozens of speakers outraged at McCulloch, who is overseeing the grand jury that is currently meeting every Wednesday to analyze evidence in the Brown case.
Since McCulloch's police officer father was killed 50 years ago by a black suspect he was chasing, McCulloch cannot be unbiased in a case involving a white police officer and a black man, the protesters argued.
A vote for Stenger is a vote for McCulloch since they are "attached at the hip," said University City cabbie and activist Umar Lee, echoing the sentiments of many other speakers.
"We know that Steve Stenger didn't just run with the support of the south county Dixiecrats, he ran with the support of the old north county political machine, of (the late Florissant) Mayor James Eagan … and the other white racist forces in North St. Louis County that have been pushed aside," Lee said. "If we want a new St. Louis County, if we want a St. Louis County based on justice … we don't need Steve Stenger in office."
Council Chairwoman Hazel Erby, D-University City, told the protesters early in the meeting that she agrees with them, but she also warned them twice that she would disband the meeting entirely if they brought the meeting to a halt again.
"I have to say, and I'm going to say this, that I agree with you, but let's please listen to the speakers," she said after chants of "Arrest him now" and "Hey hey, ho ho, Bob McCulloch's got to go."
Council members mostly sat silent and expressionless during the meeting, where some speakers called them out directly for their purported role in the events leading up to or happening in Ferguson, including the newest member, 2nd District Councilman Sam Page, D-Creve Coeur.
Page was elected Aug. 5 to succeed Kathleen Kelly Burkett, who held office since 2002 and died in April. He is a physician and a former three-term state legislator.
The chants were mostly led by longtime activist Anthony Shahid, who wears a noose around his neck to symbolize lynching and carries two stuffed dogs with him to symbolize when he was attacked by police dogs during the civil rights movement. Shahid repeatedly derided Stenger as "boy" and compared the County Council and the St. Louis region to "ISIS for black people."
"Look how red this boy done got," Shahid said, pointing at Stenger from the podium. "You've got till 12 noon."
Earlier in the meeting, Shahid announced the next-day deadline and yelled at Stenger, "You're either with us or against us, boy!"
One of the key claims of speaker after speaker was that they had been abused and discriminated against by police, before and during the Ferguson protests, because they are black. At the meeting, however, the heavy police presence and the council gave protesters wide leeway for outbursts that typically would get someone removed from the chambers.
At one point, Shahid left the podium to get face-to-face with Stenger from a foot away, jabbing repeatedly at the councilman while chanting "Arrest Darren Wilson."
After 40 citizens spoke, most on Ferguson, County Clerk Genevieve Frank began to move on with the council's regular business. Shahid, however, wanted to lead the protesters in a march outside to observe four and a half minutes of silence for Brown.
"Shut up! Don't talk!" Shahid yelled at Frank, then led the raucous crowd outside, where they observed the minutes of silence, marched around the escalators outside the chambers and moved out onto Central Avenue in a march to the Justice Center, where McCulloch's office is located.
Stenger did not respond to calls from reporters the night of the meeting, but he said the next day that he will not renounce McCulloch — the man protesters repeatedly derided as his "BFF," or best friend forever, during the meeting — or ask McCulloch to recuse himself from the case. McCulloch, who has been county prosecutor since 1991, appeared throughout the summer in Stenger's campaign ads, railing against what he alleged was corruption in County Executive Charlie Dooley's administration.
Like McCulloch, Stenger is closely tied with police and labor unions, and his campaign kicked off last year when McCulloch withdrew his support of Dooley and threw his allegiance to Stenger instead. At Stenger's victory party after the Aug. 5 primary, the councilman credited the prosecutor nearly single-handedly with his decisive victory over Dooley. That same night, McCulloch also won handily against primary challenger Leslie Broadnax.
"To the very best friend and mentor a public servant could have, in St. Louis County or anywhere, I want to thank our county Prosecutor Bob McCulloch — because I can tell you this would not have been possible in any way, shape or form without him," Stenger said that night, four days before Wilson shot Brown. "I can't thank you enough, Bob, for your guidance and your support."