Failed write-in candidate drops request for order of protection against Mehlville fire chief
Skelton's County Police complaint against Silvernail still on file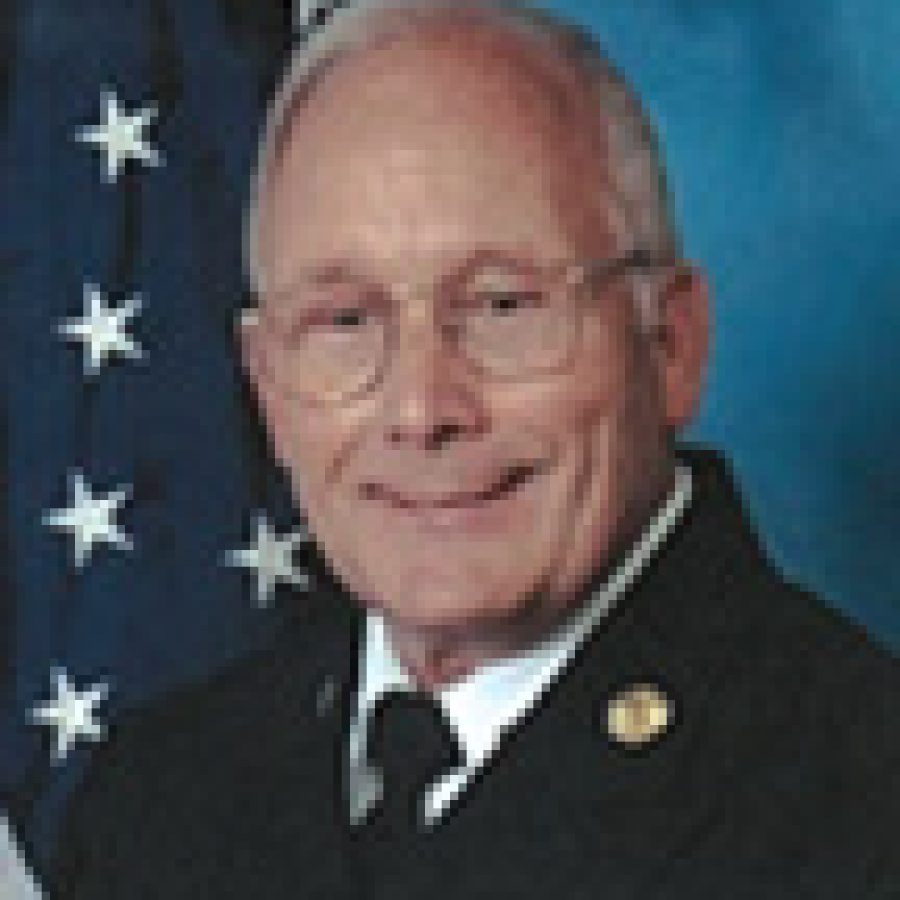 An unsuccessful candidate for the Mehlville Fire Protection District Board of Directors agreed Monday to drop a request seeking an order of protection against the district's fire chief.
Concord resident Dennis Skelton, who unsuccessfully challenged Ed Ryan as a write-in candidate in the April 3 election, halted his efforts to acquire an order of protection against Chief Jim Silvernail.
Skelton agreed to dismiss his request for an order of protection provided that Silvernail does not visit Skelton's home, call Skelton's home phone or cell phone and does not carry a gun while in the employ of the Mehlville Fire Protection District.
While he has agreed not to pursue an order of protection, Skelton said he has not dismissed his complaint against Silvernail filed with the county Police Department.
Skelton's request for an order of protection stems from an incident after an April 12 fire-board meeting in which Silvernail and Skelton engaged in a reportedly contentious exchange in the training facility at district headquarters.
Skelton contends that Silvernail directed "foul language" at him after Skelton mentioned Silvernail's pension from the chief's former employer, the Metro West Fire Protection District.
Based on Metro West pension-benefit calculations, Silvernail earns $103,065 per year in pension from that district on top of $134,036.16 per year in salary and benefits paid by Mehlville.
"The only thing I did was I used the words of the famous (board Chairman) Aaron Hilmer," Skelton said. "And I told him, I said: 'Chief, I'm going to expose you for the money-grabbing little guy you are. As Mr. Hilmer would so lightly say, you know, you're sucking from the public taxpayers' trough.'
"And he became enraged. He called me everything in the world. I never cursed him. And then when they restrained him and took him to the front of the room, I said: 'If somebody can control him, I'm going to leave the room. I'm scared.' And he jumped up out of the chair and took about five steps toward me like a rugby player and had to be restrained for the second time. And I'll put my hand on a Bible and wire me up on a polygraph test and tell that story and deny anybody and challenge anybody to tell anything different. Because that's exactly what happened."
Silvernail, who has been using crutches the past several weeks because of a knee injury, wrote in a report to the Board of Di-rectors that he did "not recall using any vulgarity" and said that Skelton confronted him first.
"After the board meeting was adjourned, I followed (former Secretary) Dan Ottoline, who was retiring from the board, to thank him for serving on the board," Silvernail wrote. "At that time, Dennis Skelton waved his hand for me to come over to where he was sitting. He started a conversation about the election. I had no intent at that time to talk to him about that subject.
"He then made a remark that I was raping the fire district. I informed him that I took a pay cut to come to MFPD from what I was making at Metro West. Skelton, at that time, tried to contradict me. He pulled out a file that he had on me from Metro West Fire Protection District and started discussing the pension that I was receiving from Metro West. At that time, I informed Skelton that my pension was none of his business.
"At that time, fearing that I might injure my knee, my wife, Marian, and Assistant Chief (Steve) Mossotti helped me back to my chair because I did not take my crutches with me across the room. On the way back, I did make a few comments to Mr. Skelton, none of which were threatening in any way. I do not recall using any vulgarity.
" … I would like to note that after I left the boardroom, I felt the matter was over. At the time of the incident, most of the firefighters were out of the room and in the hallway with only a few people left in the room. This is not the first time Dennis Skelton has tried to confront me in a public meeting."
Skelton said Silvernail had previously made discouraging remarks about him during his candidacy for the April 3 election and simply wanted to "thank" him.
"Silvernail made it back there to speak with Ottoline," Skelton said. "And while he was back there, I said to him: 'Chief.' I put my hand out. He shook my hand. I said: 'I want to thank you for all the nice things you said about me during the campaign,' He goes: 'What?' I said, 'Yeah, telling people stuff like I was a criminal and stuff like that and they shouldn't work the polls for me. Those are all nice things.'
"I said, 'Thank you.' And I said: 'I just wanted to look you in the eye and tell you now that I know how low you will stoop, I'm going to take every opportunity I can to expose you for the money-grabbing little guy that you are …'"
Silvernail contends that because the Board of Directors sets Mehlville employees' benefits and pay, employees' compensation is not his responsibility.
"I had nothing to do with those changes on that pension plan," Silvernail said. "And as far as that goes, my pension plan, that's what I earned. I was there for 35 years and I earned that pension."
Ottoline, who attended Monday's hearing on the order of protection, said because women were present at the time of Silver-nail's comments to Skelton on April 12, the fire chief should apologize.
"A woman is a woman until proven differently," Ottoline said. "He owes those women an open apology."