Entire Mosaic student body assists in ribbon-cutting ceremony
New elementary opens with 250 K-4 students for 2017-2018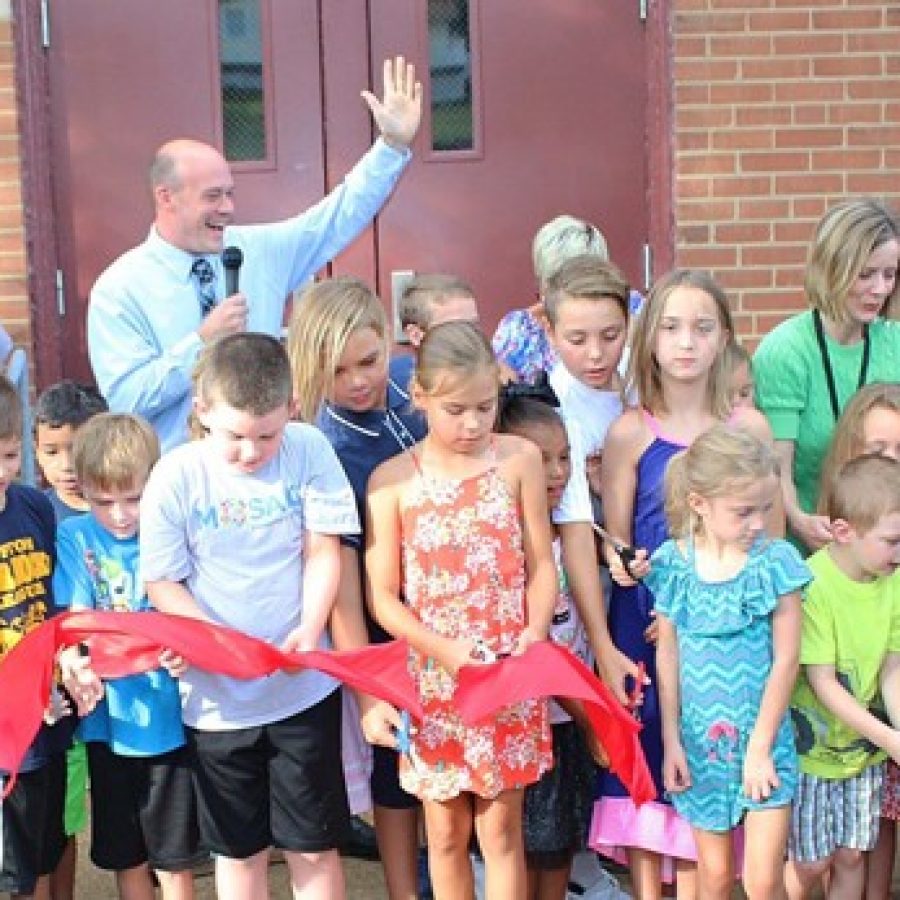 The entire student body from Mosaic Elementary helped cut the ribbon on the school at its recent grand opening, just days before the first days of class in a school unlike any other in the region.
The only thing old about the Mehlville School District's brand-new school of innovation, 3701 Will Ave., is its building, the former St. John's Elementary. The school will focus on personalized and project-based learning, and unlike in more traditional classrooms, students can learn at their own path and pace.
"The building behind me was built in 1922, and there's a lot of history in this building," Principal Scott Clark said at the Aug. 14 ribbon-cutting ceremony, where all the school's children helped cut the ribbon marking its grand opening. "And the great thing is we're going to continue to make history here."
The school starts out with 250 K-4 students this year and next year will add fifth grade to expand to 300 students. Students from every other Mehlville school applied to attend by lottery. Transportation is routed through the students' home schools in the morning and not provided in the afternoons.
Reaction from students and parents to the first weeks of the school's existence has been positive, Superintendent Chris Gaines said.
"Some of the anecdotal stuff we're hearing is that kids talk a lot more about what they did in school that day than what parents have experienced in the past," he said.
Among the parents who agree is Board of Education President Samantha Stormer, whose two daughters transferred to the school from Rogers Elementary. Board member Lisa Dorsey's son also attends the school.
"The first week of Mosaic has been nothing short of amazing," Stormer said. "We have already had parent volunteers in the school helping with projects, excellent communications from the teachers, and the kids seem to be adjusting well to their new school. My daughters absolutely love it there, and I know in speaking with many parents they are glad that they look a leap of faith and applied for their children to attend Mosaic. Dr. Clark is one of the best, and we look forward to seeing what else he has in store for the new school."
True to Gaines' vision for the school, a traditional desks-in-rows education is literally impossible at Mosaic, where neither the students nor teachers have desks. Students instead use a variety of flexible seating options, including balls, sofas and the floor during their school day, which focuses on lessons in the morning and hands-on makerspace projects in the afternoon.
Each grade consists of two classrooms, most of which have walls knocked out between them to allow students to move between classrooms. Each grade's two teachers will work together to teach roughly 50 students, giving individualized instruction and working in groups with children when needed.
"It really is a community of third grade," third-grade teacher Christine Huettenmeyer told parents, with both teachers grading papers and holding parent-teacher conferences for all students.
But aside from the mechanics, the real difference at Mosaic is the focus on problem-based learning starting as early as kindergarten.
"Your children will be problem-solvers," first-grade teacher Marilyn Donaldson told first-grade families at the open house. "We're teaching them that they can be citizens out there making a change in the world."
Instead of standing front and center at the grand opening, Gaines let Clark, teachers and students take center stage. As the students cut the ribbon, they chanted, "We are Mosaic."
The "Mosaic" name, chosen from a naming contest, stands for "Mehlville Oakville Achieve Inspire Create" and signifies what the school aspires to do, along with the new community it created that draws from both sides of the district.
"We are Mosaic" is the school's motto and signifies another unique aspect of the school, at least among Mehlville schools: It will have no mascot.
"We are Mosaic, and our mascot is our students," Clark said. "You root for a mascot, you root toward a mascot. Well, I'm rooting for our students … Ourselves and our community, that's who we're rooting for. Our mascot is Mosaic, that's who we are."
Just as other Mehlville schools might root for the Beasley Jaguars or the Forder Falcons, "I think it's just as great to say, 'We are Mosaic,'" Clark said. "And people understand what that is. And our philosophy sits and fits within Mosaic, to 'achieve, inspire, create,' right? So our purpose is right there in our name. Most places don't have that, and that's why they have a mascot."
And just as Beasley Elementary recently celebrated its 50th anniversary, Clark hopes the "Mosaic mindset" lasts through generations of students.
"Hopefully we're around in 50 years — I probably won't be in any capacity," Clark said. "But when a child comes here now and if their child or their grandchild comes here, in 2017 they'll say, 'We are Mosaic,' and 50 years from now, they'll say, 'We are Mosaic,' and it stands for something.
"And this school's bigger than just us too, it's really the Mehlville School District. It's Mehlville-Oakville students. So our mascot is ourselves."
The school is teaching students to "be respectful, be safe and have a growth mindset," Donaldson told first-grade parents.
Although the district has fielded inquiries from other districts that want to tour Mosaic and see what it's about, Gaines has promised teachers that, with few exceptions, there will be no tours of the school until after Christmas. Mehlville teachers who want to see how Mosaic works will be welcome to visit, however, Clark said.
"We want our Mosaic community to be as open with the community and our families as we can — that's not even a question," first-grade teacher Rachael Arens said.
The one snafu so far was student pickup on the first day, which took more than an hour. Gaines climbed onto the roof of the multi-story school to analyze the traffic patterns and see how they could be improved, and he came over the next few days to personally direct traffic. With the first-day kinks worked out, pickup is now averaging roughly 20 minutes, he said.
Although the district has not pulled together finalized numbers on demographics of the school, initially the school had higher numbers of special-education students than other district schools, Gaines said.
Mosaic's Special School District teachers will not pull children out of classrooms, but will work inside the classrooms with any children who need help. That is a growing trend across the district, Gaines said.