Election officials say they're ready for Tuesday
Election cannot be 'rigged,' GOP commissioner asserts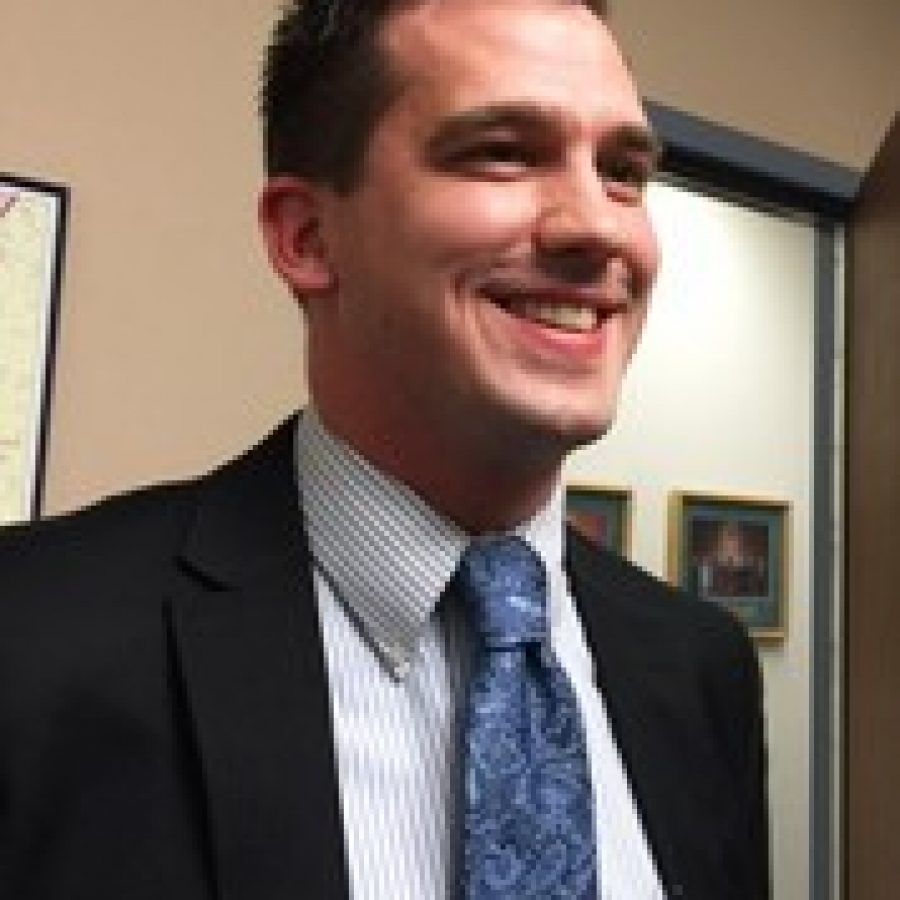 With the stakes high in the looming Tuesday, Nov. 8, election from president to governor on down, election officials pledge that county voters will not see a repeat of the ballot shortage debacles of recent years.
With more than double the voters expected Tuesday compared to the turnout in the botched election last April, Democratic Election Director Eric Fey and interim Republican Election Director Christian Tolbert are promising that all voters will be able to cast ballots.
At the Oct. 18 meeting of the Board of Election Commissioners, Commissioner Trudi Foushee reassured the public, "We are 100 percent confident the problem has been rectified."
"It better be," Commissioner John King replied.
Early voting continues through Monday at a temporary satellite office at 3232 Laclede Station Road, Deer Creek Plaza, Maplewood.
Truman Middle School election judge Clifford Underwood is encouraging residents to vote absentee by the last day, Monday, Nov. 7. He noted the length of time it will take to vote for five Constitutional amendments, judges and a long list of other offices. It took him almost eight minutes to vote and he knew exactly what he was doing, he told the Sunset Hills Board of Aldermen Oct. 11.
"This is going to be the most interesting election in history, and it'll probably go down in the history books," the former history teacher said.
To speed things up, electronic pollbooks — iPads that take digital signatures — will debut Tuesday after a successful test run in the Aug. 5 primary. The upgrade means sign-in lines should move faster, but lines could form at voting machines.
A court case in St. Louis city determined that absentee ballots have to be placed in an envelope, so all absentee voting is on paper. Personnel costs are skyrocketing 60 percent due to the switch, Fey said. By law, the 70,000 to 80,000 ballots already cast cannot be counted until Election Day, but bipartisan teams will start working around the clock today — Thursday, Nov. 5 — to slice them open.
The County Council unanimously approved a $914,335 transfer from the county emergency fund Oct. 28 to cover unexpected costs beyond the $1.2 million election budget. Compared to past elections, fewer fire districts, cities and school districts placed measures on the ballot, which means fewer governments are sharing the cost of the election, Fey said.
During the "perfect storm" that led to hundreds of county voters unconstitutionally being denied the right to vote in April, unprecedented back-to-back elections meant that electronic voting machines could not be recalibrated quickly enough after the March presidential primary, so only paper ballots could be used. Late filings allowed human error to creep into the ballot database at the last minute, causing too many ballots ordered for some polling sites and too few for others.
"I think we've addressed those problems, haven't we?" board Chairman Dick Kellett said at the Sept. 27 meeting. "And there shouldn't be any problems in the future. Things between then and now have completely changed, and the board has met with both directors. And I think we've taken care of it."
Fey was suspended without pay for two weeks for the errors. Soon after, former Rep. Gary Fuhr, R-Concord, announced his retirement as Republican election director, which the commission emphasized was unrelated.
Unlike that election, touchscreen voting machines will be available Tuesday and can be used as backup in case of a ballot shortage, Republican Commissioner John Maupin said.
"We put in an additional safeguard to make sure the proper number of ballots are available for each location — double check," Maupin said. "Both directors now sign off on the order for paper ballots, and so we have a triple check on that. So that's how we've addressed that issue, and we have remedied that. And we don't think that's going to happen again."
The behind-the-scenes election process is front-and-center not just in St. Louis County, but nationally, as Republican presidential candidate Donald Trump has questioned whether the entire election process is "rigged" on a national scale, but in St. Louis especially. Discussing voter fraud at a rally in Colorado last month, Trump said, "Take a look at Chicago, take a look at St. Louis. Take a look at some of these cities, where you see things happening that are horrendous."
The county election board is split between the major parties, and Maupin addressed the issue of fraud head-on.
"Now that the legitimacy of the election is being questioned at the highest levels, the idea that there could be an election stolen in St. Louis County is abhorrent to all of us," he said. "And it simply cannot happen through manipulation of electronic ballots — it doesn't happen."
The county's electronic voting machines are never connected to the Internet, he noted.
"There's no way in the world that anyone can fiddle with the electronic ballots being cast, so anyone who would suggest the contrary simply doesn't know what he is talking about," Maupin added.
Trump has said on the campaign trail that he would accept the results if he wins.
But if he loses to Democratic candidate Hillary Clinton, he broke with tradition by not committing to accepting the outcome.
To rig a St. Louis County election, both parties would have to work together to circumvent Missouri's checks and balances, an unlikely scenario, said Kellett, a Democrat.
Speaking to Fey and Tolbert, he said, "For anybody to fool with any of the other stuff, you two guys would have to be in cahoots — and we know that's not going to happen … Each party has faith in their own man. And we know that you would never do that."
But while the election board has faith in its personnel, voters themselves might be a different story.
Due to unspecified incidents during early voting that involved the Maplewood Police Department, Fey and Tolbert asked the board to give them the authority to seek extra security at the polls Tuesday.
The directors have already met with police Chief Jon Belmar, who said police will already be stretched thin on Election Day. If police are too tied up to work security, election officials were in discussion with county officials to provide equal numbers of Democratic and Republican county workers to open absentee ballots and serve as plainclothes security.
The move is a necessary one because "I'm sorry to say there's a lot of nuts in this country," Kellett said.