Election 2016: Former Webster Groves City Council member challenges Sifton for 1st District Senate seat
Jotte looks to unseat Sifton in bid for state Senate seat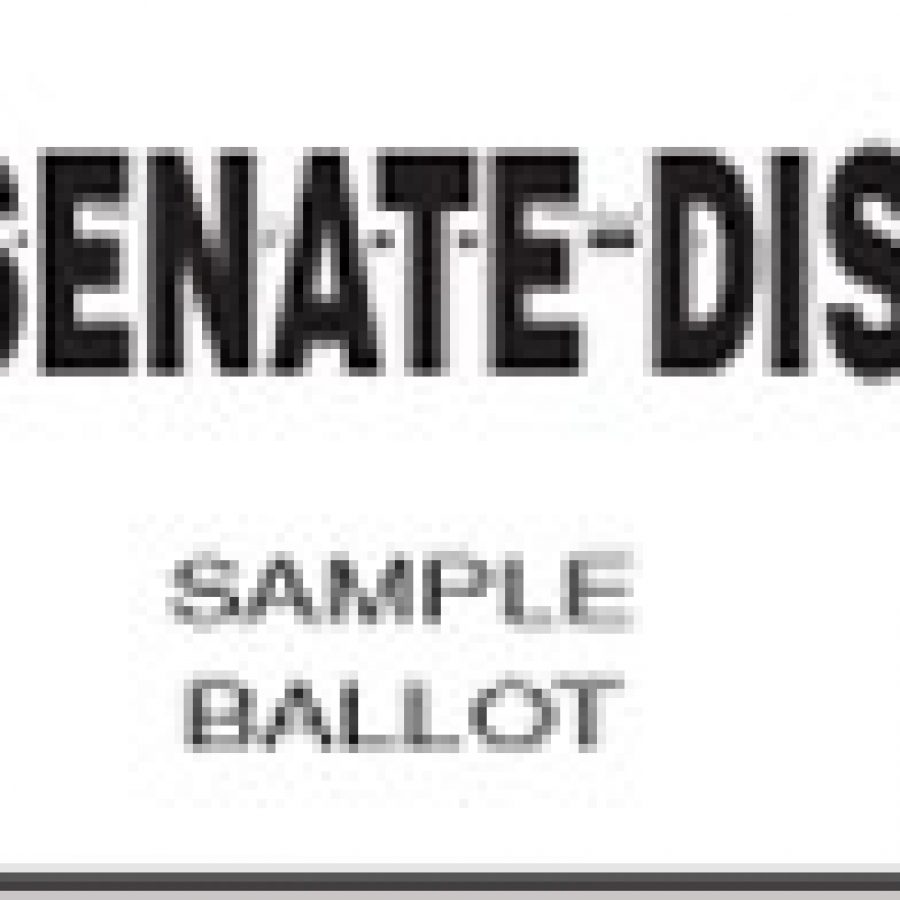 A former member of the Webster Groves City Council is challenging incumbent Scott Sifton, D-Crestwood, for the 1st District Missouri Senate seat in the Tuesday, Nov. 8, election.
Republican Dr. Randy Jotte hopes to unseat Sifton, who is seeking his second four-year term in the Senate.
• "As I speak with citizens on their front porches, at community festivals and in their neighborhoods, I've consistently found that citizens are most worried about jobs and the economy. They yearn for good-paying jobs that will restore our middle class and afford people the opportunity to live comfortably so they can focus on enjoying life and spending time with their families. As state senator, I will focus on sparking growth and creating opportunities for quality jobs," Jotte said.
• "Protecting our families and children, including education and public safety. It's an essential function of government," Sifton said.
Jotte, 56, 120 Orchard Ave., 63119, is an emergency physician at Barnes-Jewish Hospital and an associate professor of emergency medicine at the Washington University School of Medicine. He and his wife, Susan, have two teenage children.
In the past, Jotte held the following public offices: Chagrin Falls, Ohio Village Council, 1996 to 2001; and Webster Groves City Council, 2004 to 2008. He ran unsuccessfully in the 2012 Republican primary for the 2nd District congressional seat, and was defeated in 2010 by Democrat Pat Dolan for the 5th District County Council seat.
Jotte said he is seeking election to the state Senate because "I wish to serve because now more than ever we need a state senator who is focused on people and not politics, special interests or lobbyists. Partisan politics and self-serving political interests have caused our dysfunctional state of affairs. As state senator for the 1st District, I will look after the public needs of the citizens in the same manner I take responsibility for their medical needs should they arrive in the emergency department: objectively with a commitment to fixing the problem …"
Sifton, 42, 7834 Oakwyck Drive, 63123, is an attorney at Husch Blackwell LLP. He has two young children.
Sifton was elected to the Missouri House in 2010 and the state Senate in 2012. He served on the Affton Board of Education from 2001 to 2010 and was board president from 2007 to 2009. He said he is seeking re-election "to continue making a difference for our community during challenging times."
Jotte said, "I am pro-life."
Sifton said, "I am pro-choice."
Jotte said, "I oppose the death penalty."
Sifton said, "I support the death penalty."
Jotte said, "The 2nd Amendment is an important component of our Bill of Rights and U.S. Constitution. Based on my experiences as an emergency physician, I believe training in firearm safety should have been included in the recent Missouri legislation."
Sifton said, "Yes. This year's gun bill should be repealed. We need safety training for concealed weapons. Lifetime permits are bad policy."
Jotte said, "I think a serious discussion must occur that considers the cost of this proposal versus the likely benefits of having closed meetings recorded. I am not opposed to the idea, but do not want to create extra costly burdens if the benefit does not exceed the costs."
Sifton said, "Yes. I introduced that amendment on the floor at the Senate, in fact."
Jotte said, " I would welcome and readily participate in a broad discussion within the General Assembly and among residents of the 1st Senatorial District in this regard.
"I support restricting gifts to legislators and would pledge to not accept gifts from lobbyists if elected. As legislators, we are held to a higher standard and I believe we must restore public trust by implementing checks and balances. While organizations advocating for a particular issue understandably would desire to support candidates who would advance that particular issue legislatively, we must ensure elected officials are not being paid for their votes.
"Regarding contribution limits, I believe transparency is critical. When limits were previously instituted, large contributions discovered alternative and often convoluted pathways to support particular candidates."
Sifton said, "Yes, and I support the ballot question to do the same."
Jotte said, "Governments function best with a healthy exchange of ideas in a common setting, physically before and with a public body.
"While medical or unavoidable commitments might preclude in-person attendance, such physical absences should not be recurrent or apply to an entire public body. A reasonable number of absences should be considered, and when exceeded, measures taken to assure public officials fulfill the obligations of office in person."
Sifton said, "In-person attendance should be required for elected boards and bodies. Videoconferencing should be the exception, not the rule."
Jotte said, "The regional application of tax-increment financing needs to be changed. We need to refocus our efforts on promoting real job growth, not the current pattern of luring the same retailer from one municipality to another with tax dollars. Local governments over the last 25 years gave away nearly $6 billion in tax subsidies to private development.
"New jobs were few and of lower wage, despite being subsidized at $370,000 per job. Some failed even at that. St. Louis Mills Mall, built in 2003 for $250 million with over $50 million in tax subsidy, was auctioned off last November for $9 million, less than 4 cents on the dollar.
"We can do better. St. Louis has been identified as having the potential to become one of the largest tech hubs, not just in Missouri, not just in the Midwest, but in the nation. If we're smart, we'll unleash that potential. Cortex, an innovation community in the Central West End, shows we can do just that. With companies like Square that allow mobile payments and Unleash that trains viruses to attack cancer cells, we have a good start. Our future will be very different if we stop putting resources into projects like St. Louis Mills Mall and focus on attracting jobs of the future like Cortex."
Sifton said, "TIF depends on how the deal is structured. Some are fair, others are not. Local schools need a strong voice in the process."
Jotte said, "I am open to discussion of redefining the majority vote required for school-district bond issues while also taking into account whether such votes occur during special elections or a general election."
Sifton said, "Yes."
Jotte said, "I will push for ensuring that our students and schools in the 1st Senatorial District receive their fair share of state education dollars. Education is key to preparing our students for good paying jobs that I will work to bring to our region. The foundation formula must be re-evaluated to assure that every Missouri school district receives fair, appropriate and effective funding support of student education. When taking into full consideration the position taken by voters statewide on recent tax measures as well as the implications of the Hancock amendment, it is clear that Missouri must identify potential efficiencies in government to mobilize revenue for schools. Structuring and implementing state programs more efficiently will find savings found that could be applied to educating our students."
Sifton said, "Yes. Suburban districts like ours do not get their fair share under the formula Republicans adopted in 2005. We also need to fund the formula fully."
Jotte said, "The Missouri Sunshine Law, introduced in the General Assembly in 1973, advances public trust in government by promoting transparency. Modifications taking into account the role of digital and electronic communications in governance, occasional practices of the inappropriate application of exceptions to the Sunshine Law and the need for enforcement of the Sunshine Law are due."
Sifton said, "Please see my response regarding recording of closed meetings. So, yes."
Jotte said, "During my services as a member of Webster Groves City Council, we proactively addressed infrastructure needs in our community, maintaining our concrete and asphalt streets in good condition and repairing bridges over our creeks and railways in a fiscally responsible manner. The state has a similar responsibility to our state roads, highways and bridges. Identifying and mobilizing the financial resources to maintain such infrastructure in a sustainable manner likely will require revenue from a variety of resources."
Sifton said, "I will oppose raising taxes without a vote of the people. The situation improves in 2023. We should manage our expenditures carefully and use one-time funds to support roads. We should also explore public-private partnerships."
Jotte said, "Eminent domain can be applied appropriately when a significant gain derives from public or civic use. Seizure of private property to allow a third party to economically benefit from the new usage while also augmenting tax revenue should be curtailed."
Sifton said, "We need stronger protections against takings for private development."
Jotte said, "Having personally cared for Medicaid patients on a daily basis for over 25 years as an emergency physician, I am personally and professionally dedicated to assuring they receive the right care at the right location at the right time. Significant systemic inefficiencies allow redundant, unnecessary and at times risky care to be provided that cause medical complications, does little for overall health, and drives up cost. Funds available for other public causes, whether roads, schools or as a tax reduction are lost in these inefficiencies of care.
"I am committed to improving our state Medicaid program, resulting in improved outcomes at a lower cost. Effective care management programs providing assistance and guidance to those with the highest usage can provide improved care, improved outcomes and savings. A broader public discussion regarding what to do with subsequent savings, including coverage for additional services or beneficiaries can then occur."
Sifton said, "Yes. We should also expand Medicaid managed care statewide. Expanding Medicaid will make a big difference for the economy in several ways and should help to rein in overall health care costs."
Jotte said, "No, as a sufficient legislative mechanism already exists that relies on a public vote of St.
Louis city and St. Louis County."
Sifton said, "We need less local government in our region, but the city and the county should not be merged without a vote of the people."
Jotte said, "I believe the Public School and Education Employee Retirement System is a well-managed plan that is adequately funded. I support ensuring that the plan continues to be managed in a prudent manner so our teachers receive the retirement they deserve from their service to our state."
Sifton said, "No. I oppose switching to a 'defined-contribution' system."
A
Jotte said, "Changes are warranted to assure that each and every student has an option to receive an education in an accredited school district. Failing schools require immediate and comprehensive attention to determine the cause of failure, crisis intervention to meet the needs of current students, and measures to assure long-term success.
"School transfers must proceed in an equitable manner that allows school districts receiving transfers to budget and adequately prepare for an academic year. Students in failing districts deserve sufficient options to allow them to meet their educational needs in schools as close to their homes and neighborhoods as their parents choose. Receiving districts deserve certainty and the ability to maintain the local control that makes our schools responsive to the needs on a local level."
Sifton said, "Yes. Either of the bills the governor vetoed would suffice. We need for local receiving districts to be able to set up class-size limits. Receiving districts also should not have to build new buildings to accommodate transfers. Transfers should start with an unaccredited district with accredited buildings. Kids who don't attend public school should not be eligible to transfer."
Jotte said, "In that the Senate chamber is the site to conduct official public business, the press should have access to closely follow relevant discussion and developments so citizens are fully informed of the work their public officials are doing. While I am not personally familiar with matters that caused reporters to leave the Senate floor, I would like to facilitate their return."
Sifton said, "Yes. I was one of a handful of senators to oppose removing reporters from the Senate floor."