E-cigarette backers slam vote to raise age for tobacco sales
Sponsor says bill will save thousands of lives over time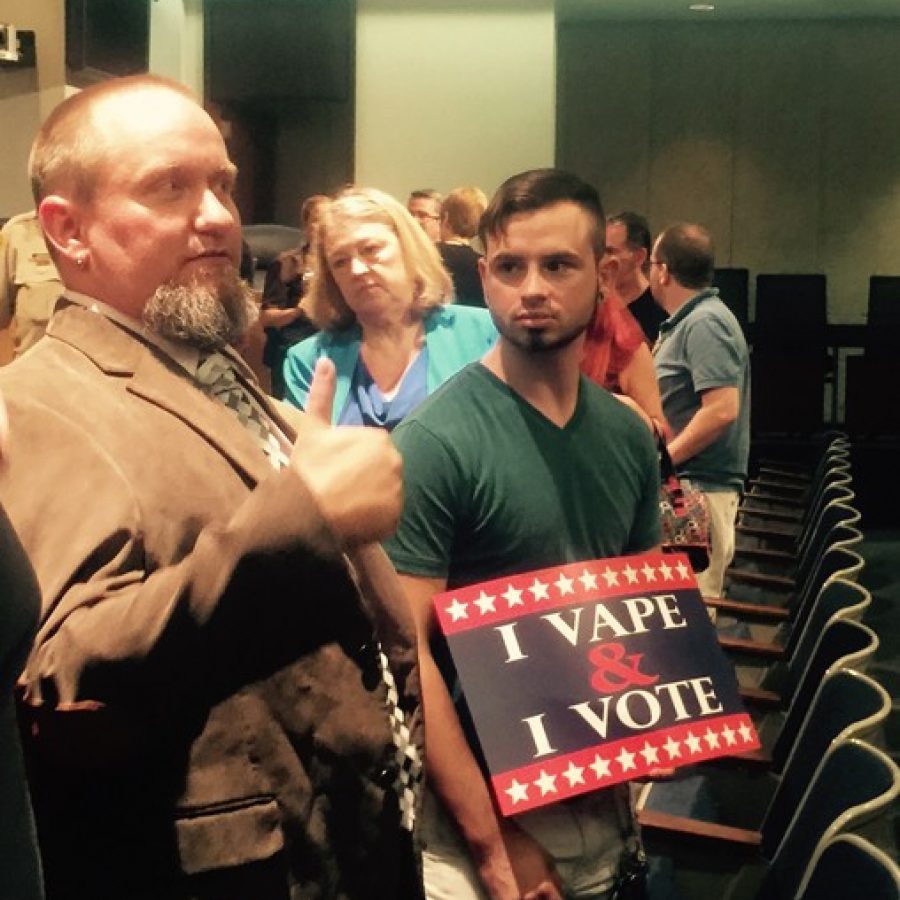 The County Council raised the age of tobacco sales to 21 last week, a move praised by anti-smoking groups but criticized by e-cigarette advocates who say it will be harder for younger smokers to quit.
The ban, called Tobacco 21 or T21, will go into effect on Dec. 1 countywide, even in cities like Crestwood, Green Park and Sunset Hills that are not typically under county jurisdiction. The council voted 5-1 to enact the ban, with 7th District Councilman Mark Harder, R-Ballwin, opposed.
First District Councilwoman Hazel Erby, D-University City, was absent.
St. Louis County is the 191st local jurisdiction nationwide to raise the age for tobacco sales.
The legislation will save thousands of lives in St. Louis County in the coming decades, said its sponsor, 2nd District Councilman Sam Page, D-Creve Coeur, a physician.
"This is a big win for the kids in St. Louis County," he told the Call after the Sept. 6 vote. "We will dramatically decrease the smoking rates among teenagers as this is implemented. And we'll save kids' lives as those teenagers miss the opportunity to die from a tobacco-related illness or disease."
Anti-smoking groups say that raising the smoking age to 21 reduces high school smoking by over 50 percent, since 90 percent of adults who provide cigarettes to children under 18 are under 21. Smoking rates among high schoolers have declined dramatically in the last decade, but electronic cigarette or "vaping" use is increasing in popularity.
The new smoking age also applies to sales of e-cigarettes, an aspect of the new law opposed by dozens of ex-smokers who told the council they got their lives back through vaping. Along with a dozen other vape shop owners, Kathy Hutton of Crestwood, owner of MOVape in Concord Plaza, and Justin Price, owner of The Vape Room in Oakville, spoke to the council last week about their fear that making vaping illegal for teenagers will make it harder for them to quit the greater evil of smoking.
Teenagers prone to smoke are most likely already addicted by 18, so they will be cut off from a key pathway to quitting, Hutton said, pointing out that she sees the health of her customers visibly improve as they switch from smoking to vaping.
"I have seen miracles happen," she said. "One of my regular customers started out on an oxygen tank and is no longer on an oxygen tank … If you have this alternative to help you get away from smoking, I think it's a wonderful thing."
Price is starting his fourth year in business in Oakville, and he said he has witnessed the same phenomenon. His first customer at The Vape Room was a woman who was buying vaping products for her children to help them quit smoking, after they had done the same for her and her husband a year earlier.
"We've changed hundreds if not thousands of lives, and it's very real," Price told the council. "I invite any of you to come to my shop any day, or any of the shops that these owners have, and see the real difference."
One of the national chairs of the T21 movement, family physician and Ohio State University professor Rob Crane, noted that last year, 2,000 people died of smoking in St. Louis County, while 800 children started the habit.
"You can't help those (800), they're going to continue for many years to come, but the most addictive drug on the face of the earth is something you can control," Crane said. "You can help kids grow up a little bit, so their frontal lobes get to a point where they can refuse nicotine on their own. We need your courage, we need your real foresight not just for St. Louis, but for all of Missouri."
Organizations including the American Heart Association, the March of Dimes and the American Lung Association back the bill, along with doctors and students from Washington University and St. Louis University.
Several physicians asked that vaping be banned, pointing to a decision by the U.S. Food and Drug Administration, or FDA, earlier this year that vaping cannot be a smoking cessation product since it contains tobacco.
Since vaping is so new, no long-term studies have yet been conducted, but the Royal College of Physicians in Great Britain issued a position paper last spring that noted that current data suggests that vaping is 95 percent safer than smoking, with far fewer chemicals and long-term health risks.
The report, which Page dismissed as an opinion instead of an empirical study, claimed that e-cigarettes are rarely used by British teenagers who did not already smoke, and that lives would be saved if doctors encouraged their patients who smoke to vape instead.
"It's really the only information that anyone knows of that gives any sort of vague legitimacy to an argument that vaping products have a health benefit," Page said. "We know that vaping products are tobacco products, the FDA has told us that, they are not a legitimate cessation product.
"They can be used for that purpose for people over 21 if they choose to do that, but the harm of addicting kids to nicotine far outweighs the reported benefit of using it as a tobacco cessation product, which we don't know to be true."
But in his remarks, Price fired back that the 800 new teenage smokers in the county each year could be helped to quit by vaping, and he noted that more dangerous substances than e-cigarettes are currently legally available to 18-year-olds in St. Louis County, as seen in the relative ease his brother acquired the methadone on which he fatally overdosed.
"He got it from a methadone clinic here in St. Louis County that you can walk into right now, and they ask you two questions: 'Are you over 18?' and 'Where do you hurt?'" Price said. "Why can you get help off of heroin and prescription pills, but you can't get help off of tobacco?"
To applause from the vapers in the council chambers, Price said, "I'm sure the chairman of T21 is telling you that you can be proud, and you can be the 191st community to stand up against tobacco, but how about being the first county to stand up for vaping? That will make headlines, and I'm serious. Because we are changing lives every single day … If the chairman of T21 thinks that nicotine is the most addictive substance in the world, I invite him to go down to that methadone clinic at (the 11000 block of) St. Charles Rock Road."
St. Charles resident Terry Donaho noted that he signed up for the Marines at age 18, in what turned out to be a nine-year commitment that included a year deployed in Iraq.
"If you're able to choose to fight for our country at the age of 18, then you should be able to choose at the age of 18 to vape," he said.