Dooley, Corrigan debate such issues as city-county merger, trash districts
Candidates spar over taxes, ethics during forum attended by 200 people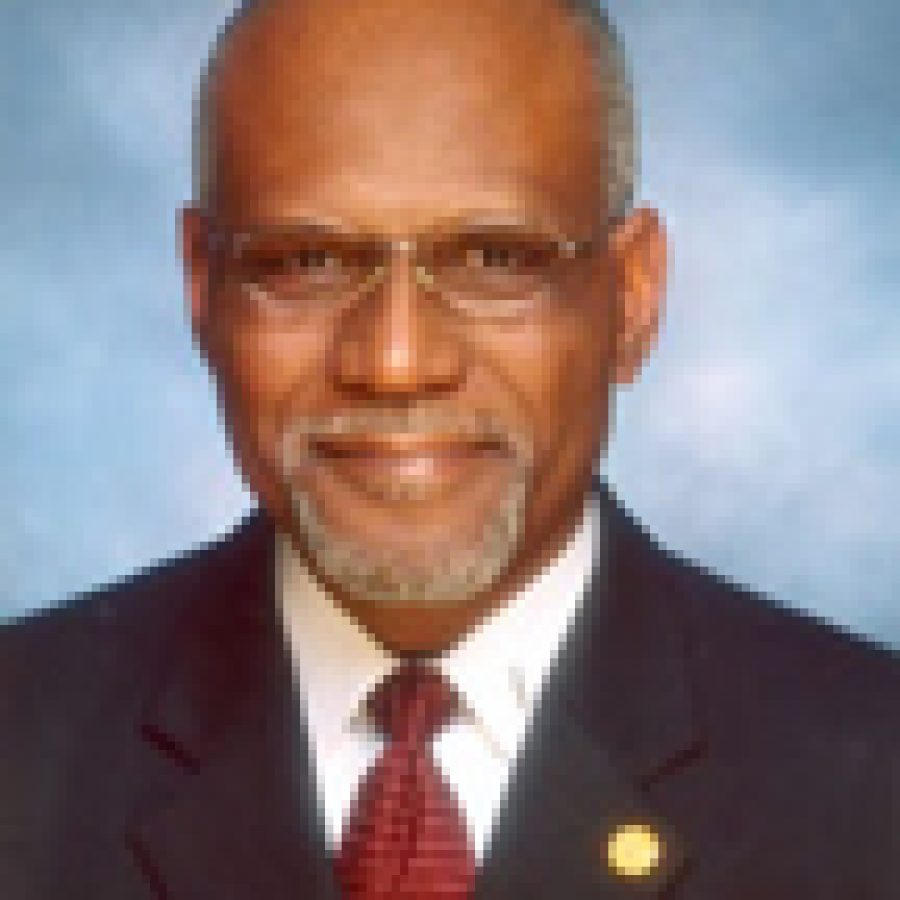 Incumbent St. Louis County Executive Charlie Dooley and Bill Corrigan, his opponent in the Nov. 2 election, sparred at a forum last week over which of them would move the county forward over the next four years.
Dooley, a Democrat, and Corrigan, a Republican, debated such issues as a St. Louis city-county merger, trash districts and crime during the 90-minute forum Oct. 14 at the Brentwood School District Conference Center. The event, co-sponsored by the Holden Public Policy Forum and the League of Women Voters, drew an audience of more than 200 people.
Libertarian county executive candidate Theo "Ted" Brown Sr., called 30 minutes before the event began to say he was ill and couldn't attend, organizers said.
Dooley is seeking his second full term as county executive, having served since 2003. Corrigan, a lawyer from Ladue, is seeking elective office for the first time.
During opening statements, Dooley said the county has made strides under his administration, pointing to its "simply outstanding" AAA bond rating, fully-accredited health department and triple-accredited police department. The county, he said, is the "premier county in the state and the core government in the region."
"St. Louis County is not broken," Dooley said. "Let's not fix something that's not broken."
Corrigan, however, said Dooley wasn't as positive when he filled out applications to the federal government for stimulus funds for the county.
"Charlie Dooley has told the federal government on four occasions including last year that the county approaches a future that is 'uncertain at best and dire at worst,'" Corrigan said during his opening remarks. "Why is that? Because of a lack of leadership. That's what this election is about. It's about our future. It's about who do you trust to lead this county. It's about who has the better vision for our future."
The candidates first were asked how they felt about a possible merger between St. Louis city and county.
Dooley said the issue would have to be decided by voters but added he felt when the city and county "work together we get things done in the region."
"I'm looking at the big picture," the county executive said. "In the 21st century, if it takes the city of St. Louis re-entering St. Louis County to make us globally competitive, to be cost-effective and create jobs, that's what I'm about."
Corrigan said he opposed a merger but would support "collaboration" with city leaders.
"First of all, if the city and county merge, you're talking about the county undertaking an unfunded pension liability in the city of over $100 million. You're talking about $30 million in debt. You're talking about higher taxes for families and small businesses," Corrigan said. "What I support is being collaborative with the mayor of the city of St. Louis."
Last week's forum featured a three-person panel that asked Dooley and Corrigan follow-up questions after they answered written questions from the audience. One panelist, St. Louis University administrative law professor Ken Warren, asked the candidates how they could support a merger when the idea seems unpopular in the region. He cited a poll that showed roughly 73 percent of county residents would oppose merging with the city.
Dooley said the merger merely is a "topic of discussion" at this point.
"Discussion is good …," he said, adding, "Any leader who says it's not to our advantage is not looking at the big picture. Again, it's going to be a vote of the people in each jurisdiction … Do I think it's going to happen tomorrow? Probably not. When is it going to happen? I don't know."
Corrigan reiterated he was opposed to the move "because of the economic disaster it would cause to St. Louis County."
The candidates were asked what they thought was the "biggest impediment" to job creation in the county.
"We don't have a county that fosters innovation and ideas and entrepreneurism," Corrigan said. He cited as an example the county's business incubators, which he said are underutilized due to high rent and a lack of mentorship.
Corrigan held up a copy of his economic development plan, which calls for a seed capital fund, a venture capital residence program, a scholarship program and other initiatives. Some of those would be funded with revenues from Pinnacle's River City Casino in Lemay, Corrigan said.
Dooley argued the county is doing plenty for small businesses and has invested more than $7.1 billion in them over the past four years.
"We're doing something right. You can't fix something that's not broken," he said.
Dooley also cited the St. Louis County Economic Council's BOOST Program with PNC Bank, which he said has loaned $5 million to small businesses, and its Regional Business Plan Competition with Edward Jones to promote entrepreneurship.
"If you have an idea, St. Louis County is the place to be for your idea," Dooley said. "It's about small-business growth."
The subject turned to the county's two-year-old trash district program, which is the focus of four pending lawsuits. A county circuit judge recently ruled in one suit that the county breached an implied contract when it failed to provide a state-required two years' notice to waste haulers before establishing eight trash districts in unincorporated areas.
A hearing on damages for the three suing waste haulers — American Eagle Waste Industries, Meridian Waste Services and Waste Management of Missouri — tentatively is scheduled for mid-November.
Corrigan said the county forced the trash districts on residents despite bipartisan opposition.
"Because my opponent and his administration disregarded the advice of Republicans and Democrats we're now faced with a bill that's going to be in the tens of millions of dollars," Corrigan said, referring to the recent court decision.
Dooley defended the program, arguing it has saved residents some $6 million a year and has improved neighborhoods because trash cans and trucks are not on streets every day of the week.
"The trash districts are working outstanding," Dooley said. "The vast majority of the people in St. Louis County recognize it and embrace it … Again, it works. It's environmentally friendly. It was the right thing to do at the right time to move our community forward."
On taxes, Corrigan blasted the Dooley administration for unsuccessfully proposing a tax increase at the threshold of a recession and for awarding "millions of dollars in no-bid contracts" to campaign contributors. Corrigan said he would call for a moratorium on tax-rate increases if elected.
"I will be a steward and a fiduciary of your money," Corrigan said. "I will make sure every contract is bid out and that you get value for your hard-earned tax dollars."
Dooley argued the tax rate has been reduced roughly six cents during his time in office, saving residents $13 million a year. He later added most county contracts are put out to bid and go before the County Council for approval.
Asked about crime, Corrigan cited FBI statistics that he said show violent crime in the county has increased during Dooley's time in office. Corrigan acknowledged the county is in the process of updating its 50-year-old crime lab but said he would've done it "years ago."
Dooley contended the county cannot be held responsible for crime in areas in which it doesn't provide police protection, such as municipalities. In unincorporated areas, Dooley said, crime actually has decreased.
The candidates were asked what would be their first action in office if elected or re-elected. Corrigan said he would implement an ethics code for his administration, which he announced roughly a year ago. He criticized Dooley for crafting an ethics policy only a month ago after having seven years to do it.
"We led on ethics," said Corrigan, holding up a copy of his ethics plan. "I will sign this code of ethics on day one of my administration and you'll have a government that operates with the highest transparency in this region."
Dooley responded by questioning Corrigan's own ethics. He said his opponent got a "sweetheart deal" by refinancing his home five times in the last eight years with Pulaski Bank, where Corrigan is a board member. Dooley asked Corrigan if he was paid as a board member while the bank foreclosed on homeowners and did not pay back the money it received from the federal government's TARP, or Troubled Assets Relief Program.
Dooley also pointed out that while he has released the last four years of his tax returns, Corrigan repeatedly has refused to release his.
Corrigan said he and his wife have refinanced their home to take advantage of historic low interest rates. He said Pulaski Bank re-loaned its TARP money to small businesses and also used it to help clients with their mortgages.
The candidates at one point were asked to give their position on a possible casino in north county. Dooley said he is opposed to the casino because the majority of north county residents are opposed to it and because of environmental concerns.
Corrigan said he is neutral on the issue and is awaiting the results of a Missouri Gaming Commission feasibility study on the proposed casino.
On follow-up, Dooley said he didn't need to see the study.
"I believe the people have the first right. They said they don't want it. I don't need a feasibility study," he said. "I don't need an expert. They (the Gaming Commission) don't live there. The people of north county live there. That's paramount in my mind."
He then went after Corrigan for frequently referencing and holding up his economic development, tax reform and ethics plans when answering questions.
"Let's be clear. Leadership means making difficult decisions in difficult times … not holding up a piece of paper, talking about what you think you have on paper, which you have absolutely nothing," Dooley said. "If you had something on paper that was meaningful, you'd be a swami.
"We're talking about real issues that impact people's lives. And it's insulting that every time you speak, you've got some four-point plan, six-point plan, eight-point plan that's not real, it's a fabrication in your own mind."
"I've been called a lot of things in life," Corrigan quipped in response, "but never a swami before."