Doercrest Manor residents concerned over traffic plan for Long Elementary
Sunshine Law complaint filed against Lindbergh by resident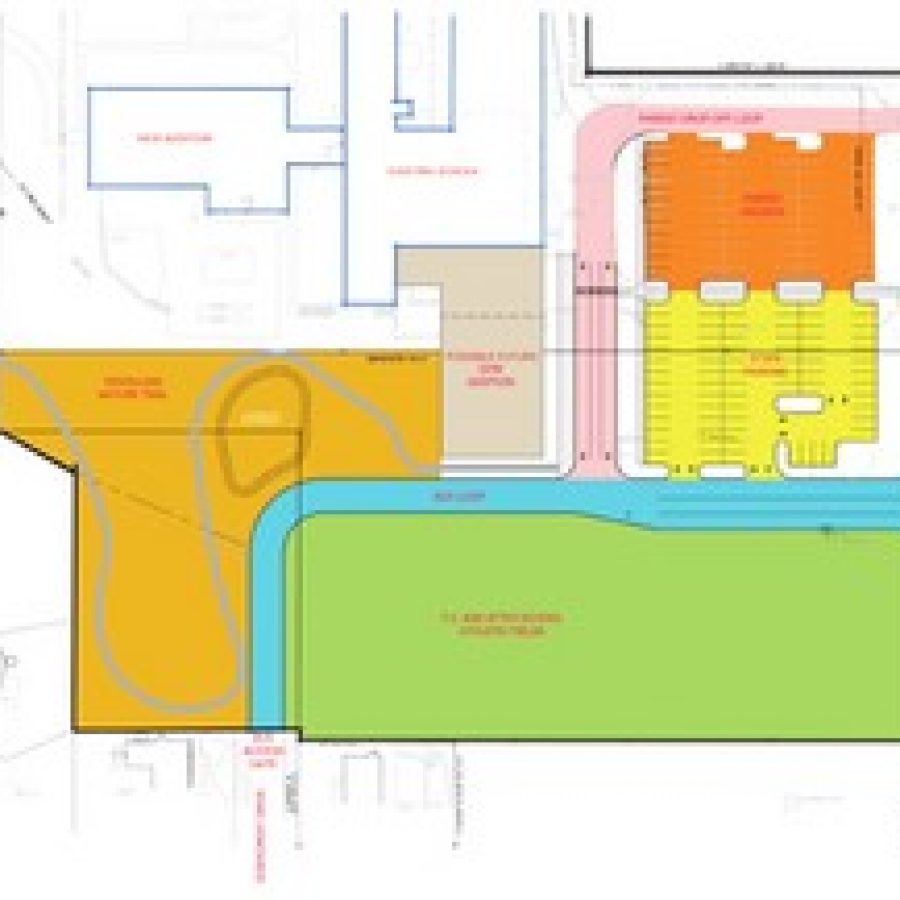 Doercrest Manor residents voiced concerns last week about Lindbergh Schools' traffic plan for Long Elementary School, contending the district's plan would create a safety hazard for their neighborhood, students and motorists.
Lindbergh officials, however, counter the district's plan will improve safety by separating car and bus traffic, and will solve traffic-congestion problems that have existed for decades at the school on Sappington Road.
Roughly 30 people from the Doercrest Manor subdivision and nearby areas attended a Jan. 29 meeting at Southview School, 11660 Eddie & Park Road, right across from Doercrest Drive. Also attending were some Crestwood officials, including Mayor Jeff Schlink, and Sunset Hills Ward 2 Alderman Scott Haggerty.
Lindbergh Schools paid $850,000 to buy 4.684 acres adjacent to Long Elementary School, 9021 Sappington Road. The property will be used for a parking lot, field space and to extend Doercrest Drive to the school.
Doercrest Drive resident Frank Ruzicka was critical of Lindbergh's plans last week, referencing a meeting roughly 40 residents had with district officials about the traffic plan.
"… All I got from that meeting was 'We're listening. We hear you. We're listening. We'll take it under consideration,'" he said. "But the thing again that is most upsetting with that entire affair … was kind of the attitude of 'Hey, we're the school district and we don't really have to go through all the steps that somebody else might have to go through.'"
Residents' focus is safety for the entire neighborhood, Ruzicka said.
"… Our entire focus is safety. I'd love to focus on my home value. I'm not doing that … It's all about safety, and it's not just safety of our kids in the Doercrest neighborhood, it's the safety of any kid on a bus that pulls out of there," he said.
"It's about the safety of anybody on Eddie & Park (Road) who's coming back and forth at the time school lets out … They didn't have the courtesy even to talk to their other educational institution right down the road that it would clearly affect and that's Southview (School)," he said, also contending the district's plan would impact nearby parochial schools.
"All these schools are letting out at approximately the same time. You've got foot traffic. You've got car traffic. You've got bus traffic. And their solution, again if you go back to the No. 1 thing, they say, 'We're trying to ease congestion and make it safer,'" Ruzicka continued. "All they're doing, in my opinion, is moving it to Doercrest and Eddie & Park …"
But Lindbergh Superintendent Jim Simpson told the Call that based on residents' comments, district officials altered their original traffic plan for Long. While district officials planned to extend Doercrest Drive to Long and install a gate, the gated extension now will be an exit only for buses twice a day, he said.
"… We have worked very diligently with the Doercrest Manor community to listen to their concerns … We altered our plan. Now what is that? The summary is this: We are able to do the one thing we really need to do, which is separate bus traffic from pickup and drop-off, and out of our gated exit — not entrance — there will be five buses in the morning and five buses in the afternoon, each one, within a 10-minute spot.
"So if you live on Doercrest Drive, what will you see? You will see five buses drive by your house in a quick succession. That is it … It allows us to separate the traffic. We can spread out now."
The plan calls for the existing Long entrance to remain in place as an entrance-only driveway onto the site and will be dedicated to car traffic. All cars will exit the campus onto Sappington Road through a new exit driveway.
The current exit from the parking lot will be closed and a new three-lane driveway will be created roughly across from Banyon Tree Court. Two lanes will be used for exiting the campus and one lane will be an entrance. At drop-off and dismissal times on school days, this entrance will be for buses only. Buses will exit through Doercrest Drive.
Ruzicka circulated a petition that states, in part, that signers support the proposed expansion of Long, but "stand firmly opposed to the use of Doercrest Manor as an access to Long School."
Ruzicka told those attending last week's meeting that he believes Lindbergh officials have not been forthcoming with information about their plans for Long. To obtain more information, he filed a request with the district under the Missouri Open Meetings and Records Act, also called the Sunshine Law.
He said he was disappointed with the district's response that included a sketch of the property and less than two pages of text.
"… I decided, you know what, I need to take this up a notch, and I have filed a formal complaint with the Missouri attorney general's office, Chris Koster's office, in that I believe they are not being forthright with information at this point …," he said. "I don't want to paint the school district as evil, please understand. We support expansion and improvement of Long School.
"… We absolutely support that. But what irritates me and I think others in the room is that we're being left in the dark …"
Simpson told the Call he was unaware of Ruzicka's complaint, but district officials are committed to "transparency."
District officials also plan to meet again with those who live near Long, he said.