Disenfranchisement of south county ends, Trakas says
'Patriots' of Bauer Road key to election win, new councilman says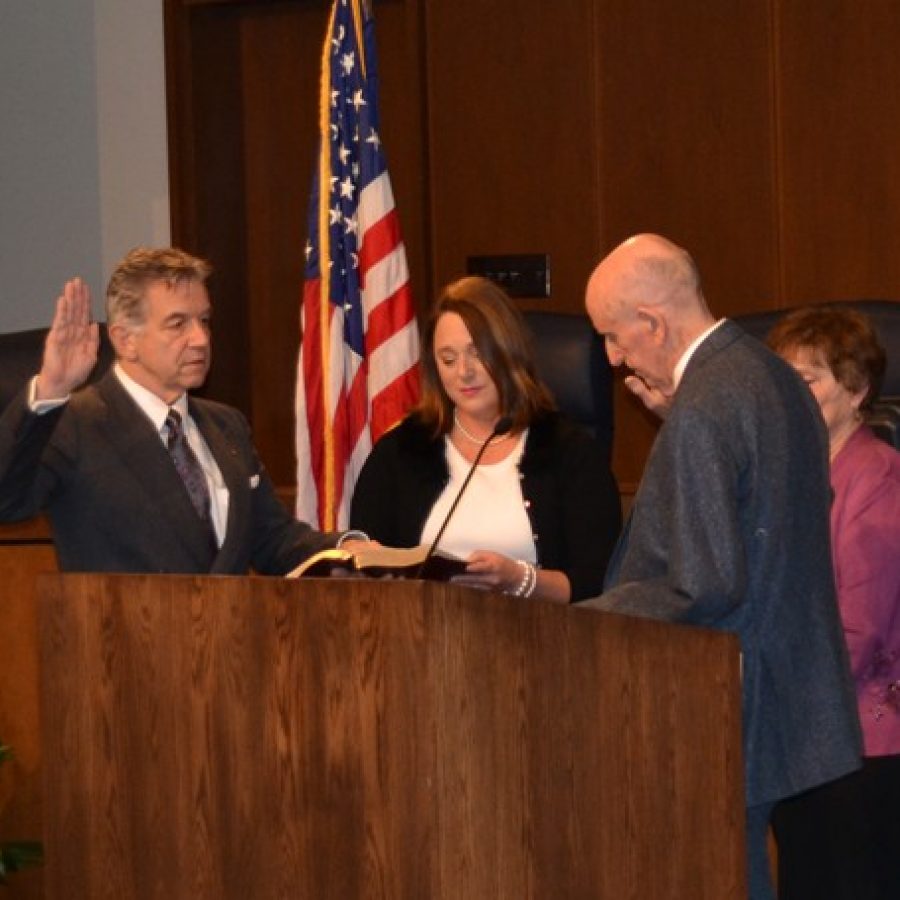 After being sworn in last week, new 6th District County Councilman Ernie Trakas, R-Oakville, promises that south county residents no longer have to worry that they have no voice in Clayton.
"The disenfranchisement of the citizens of District 6 ended the day I was sworn in," Trakas told the Call after taking office.
To engage residents, Trakas plans to hold quarterly town-hall meetings rotating through Oakville, Concord, Lemay and Affton, starting with a kickoff meeting in Lemay in March.
Former Councilman John Campisi, who was the last Republican to hold the seat and was defeated for re-election in 2008 by now-County Executive Steve Stenger, frequently held town-hall meetings. As a councilman, Stenger also conducted town-hall meetings, but not as frequently as Campisi.
Trakas' election marks the first time in a decade that three Republicans will serve on the seven-member council, but he pledges to serve constituents of all political stripes.
"Every resident of District 6 — Demo-crat, Republican, and independent alike — knows his or her voice will be heard by their councilman, and in turn, my voice will speak for them," Trakas said at his Jan. 1 swearing-in.
Outgoing Councilman Kevin O'Leary, D-Oakville, who did not seek re-election, made similar promises, but acknowledged that navigating the position was more difficult than it initially seemed. In the mostly unincorporated 6th District, the job encompasses not just county and state issues but the sometimes more contentious local issues like zoning.
Trakas was sworn in by U.S. District Judge E. Richard Webber, a 6th District resident appointed to the federal judiciary by former President Bill Clinton.
"To those who serve or have the opportunity to truly know Ernie Trakas, as I have known him for about 20 years, get ready to know a genuine servant," Webber said. "I know he will take the service of St. Louis County above and beyond where he personally resides. He will work hard, and his infectious smile will give you confidence that the fate of St. Louis County and our state is in his hands."
Trakas: south county 'special'
The grandson of four immigrants, Oak-ville attorney Trakas, 66, is a native of Washington, D.C., where he worked as a public defender and as counsel for the U.S. House of Representatives' Committee on Interstate and Foreign Commerce.
But he has lived in the 6th District for 33 years, and his wife, Lori, has always lived in ZIP code 63129. His daughter Allyson attends college out of state.
For the last 20 years, Trakas has represented school districts for Mickes O'Toole.
Before he filed for office, Trakas was best known to voters as the husband of former Mehlville school board member Lori, who was defeated for re-election last year. She served as his campaign manager.
As seen in the case of his wife and the many residents who choose to live where they were raised, "South county is special," Trakas said.
And he plans to protect that unique character, he vowed at his swearing-in.
Bauer Road key issue
Former Rep. Pat Yaeger, D-Lemay, said she got "run over by the Trump train" when Trakas defeated her Nov. 8 after she outraised him 3-to-1, but Trakas credits the determination of the "Bauer Road patriots" opposed to a since-dropped 232-unit apartment complex with lifting him to office.
He decided to run after being approached multiple times and declining, but after reading about Bauer Road in the Call, he took to heart the words of Edmund Burke: "The only thing necessary for the triumph of evil is for good men to do nothing."
Inspired by the residents who were taking action, Trakas said, "I guess I just got tired of doing nothing."
Those residents were "men and women who refused to be silenced or yield in their mission to speak truth to power," he said. "Make no mistake, without those citizen-warriors, I'm not standing here today."
Trakas plans to keep residents informed of issues through the town-hall meetings, email blasts and a 6th District newsletter, he said.
"You're never going to be able to keep everyone happy, but I also don't expect to shy away from criticism, either," Trakas told the Call. "I think that's way more im-portant to hear than laudatory remarks."
His legislative assistant, former St. George Mayor Carmen Wilkerson, was an alderman in that now-disbanded south county city and ran for mayor with a pledge to disincorporate it. Trakas said he chose Wilker-son because she has the qualifications but will also be an independent voice with connections to Lemay and Affton that will help him better serve that half of the district.
"I want folks to know that if they have a concern, I want to hear about it," Trakas said. "If they place a call to their councilman, they will receive a return call from me, my legislative assistant, or both. I'll try to do the best I can for the entire district as its councilman, on every given issue I have to deal with."
At Trakas' first meeting last week, 2nd District Councilman Sam Page, D-Creve Coeur, was unanimously elected chairman.
As vice chair last year, Page once limited south county residents to one minute to speak about Bauer Road, following the precedent established by former council Chairman Mike O'Mara, D-Florissant, who lost in the Democratic primary to Rep. Rochelle Walton Gray. But if that situation arises again even after O'Mara's departure, Trakas won't stand for it, he said.
"I will not sit silent, and I will do everything that I can to make sure that residents have sufficient time to articulate their concerns," he said. "This idea that somehow we're going to throttle people by limiting the amount of time they have to state their position — that is something that is untenable. It should be obvious to any member of the council that that's what we're there for, that is what we were elected to do. And the idea that somehow we're going to as a body ignore that … It just flies in the face of logic and reason. So it'll have to be addressed."
And while a host of unexpected issues are sure to crop up over the next four years, Trakas believes he was chosen for the role.
"First and foremost, I want to thank God for deeming me worthy for this mission," he said Jan. 1. "It is very humbling being in his will. I want to thank you for equipping me and calling me to a job I did not covet, to be a voice for those forgotten by their elected representative, so that those same people will know that God has not forgotten them."