Photo of the flooding in the lobby at Crestwood City Hall courtesy of Crestwood Ward 2 Alderman Justin Charboneau.
By ERIN ACHENBACH
Staff Reporter
eachenbach@callnewspapers.com
The damage to Crestwood City Hall from flooding last month was so significant it could top $1 million.
Eight Crestwood city employees have been displaced from their offices after a water main break at Watson Plaza Drive flooded City Hall with over a foot of water Aug. 10.
Six to seven of the displaced employees are working out of a temporary construction trailer outside City Hall, Crestwood City Administrator Kris Simpson said while giving a flooding update at the Board of Aldermen meeting Aug. 27, one of the first public meetings at City Hall since the incident occurred. "We've made the best of a difficult situation, and I applaud their efforts and willingness to deal with a lot of disruption. It's challenging whenever your normal day-to-day workflow is so disrupted."
On August 10, a 20-inch Missouri American Water main burst, causing water to pour out of one of the large tanks next to Crestwood's Government Center at 1 Detjen Drive.
"I heard it completely drained," said Simpson. "It parted around our building as if we were an island in the middle of this river that suddenly opened up in the ground."
Water entered the building through the Americans with Disabilities Act-accessible entrance, going down a set of stairs and into the Fire Department administration area in the basement on that side of the building. Water also went through a service grate that was on the Public Works side of the building.
The basement, which also contained storage areas for files, backup equipment and telephone and IT equipment, had over a foot of standing water. Water also made its way into the main floor of the building, affecting the lobby, parts of the Board of Aldermen Chambers, the Human Resources Department and the Municipal Court.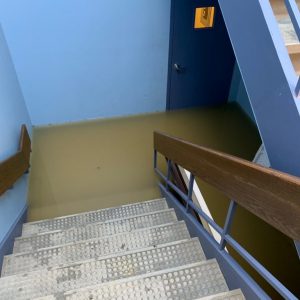 By Monday, Aug. 12, two days after the mishap, all the water had been cleared from the building.
"The last several weeks have been a lot of activity in terms of cleaning up and dry-ing ourselves out… literally every object that was in the basement, and there were a lot of objects in the basement, had to be removed from the building," said Simpson. "A lot of paperwork was down there that is being freeze dried. I understand that the trailers with our papers are down in Texas being serviced by a specialist company."
The city currently has a request for proposals out for construction management services to oversee the reconstruction.
Missouri American Water is accepting responsibility and will cover the costs of the remediation work, such as cleaning up, removing drywall, making sure there's no mold, sanitizing the floors, drying out paperwork and removing any furniture impacted by the water, said Simpson.
"This is my seventh week on the job. I was hoping to network with y'all, but not under these conditions," Missouri American Water Manager of Government Relations Ken Franklin told the Board of Aldermen. "The system… is about 4,200 feet of pipe. It runs 365 days, 24 hours, so days like this happen but not usually (to this extent), but this was just something that was highly unusual. We are meeting with Mr. Simpson and staff to see if there's anything we can look at and lessons learned."
The city will have to cover reconstruction costs through its own insurance policy. Simpson said it will be a significant project, but there is no clear estimate yet as to how much it will cost and how long reconstruction will last.
"I'm told to expect it to be between $500,000 to $1 million," Simpson said. "To that end, our insurance company has already forwarded us a payment for $150,000 which we expect to receive this week."
As the city begins selecting reconstruction specialists and works to get operation-al in the basement again, the city's insurance company will continue to forward payments to cover the costs.
"I'm pleased with the efforts of staff and all of the contractors that have come in to assist us throughout this challenging process," said Simpson. "… I have not witnessed much, if any, interruption to city services or impact on city services as a result of this. For that I commend the staff's willingness to deal with this adversity."
Multiple aldermen also praised city staff and Simpson for their handling of the situation, like Ward 1 Alderman Mimi Duncan, Ward 3 Alderman Greg Hall and Ward 2 Aldermen Mary Stadter and Justin Charboneau.
"I worked in municipal government for many years, and I never went through anything exactly like this. I had something similar and I can really appreciate what you're going through," said Hall. "I appreciate the hard work that's being done, and I know how difficult it must be. Thank you all."
"Alderman Charboneau and I were here the day of the flood… Simpson was here and other staff… it was hard to believe that that happened. It was incredible how the city staff and the people that were here reacted," said Duncan. "When I was talking to (Fire) Chief (Lou) Hecht, he was making sure that the fire trucks could get out, because the concrete on the driveway might have been compromised because of the amount of water, to make sure that he could protect our citizens… I'm confident that the end result will be an improved City Hall to serve our citizens."