Customers, employees react to Oct. 13 closing of Johnny's Market with tears, sadness
Customers, employees saw signs Johnny's would close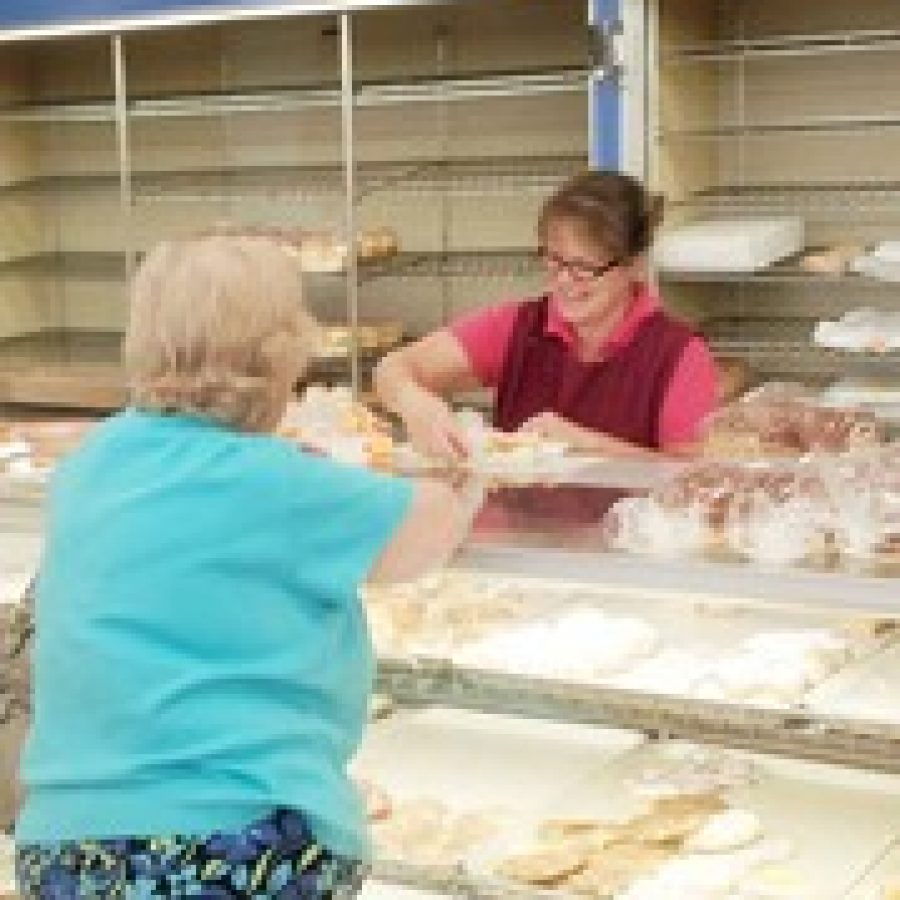 Tears and sadness. That was the reaction from both customers and employees of Johnny's Market, at Sappington and Gravois roads, when the announcement came that the store will close Oct. 13 — the same date the mom-and-pop shop opened in 1944.
Debbie Loeffelman, owner of Johnny's Market and daughter of original owners John and Adel Loeffelman, has been at the store her whole life — from resting on her mother's hip as a child to "running around aggravating people" to becoming a full-time employee at 19 years old.
"It's the only thing I've ever done … It's probably more of my blood than it is my mom and dad's," she said. "It's very emotional because not only for my people that work for me, but for my neighborhood people, the people that shop here. I grew up with a lot of these people. They are my family. Johnny's Market is my family."
Loeffelman said the store is closing because there are "not enough people coming in the door," along with competition from such stores as Target and Walmart and aging customers.
"You can't squeeze blood from a turnip, as my father would say," she said.
However, the family store had a couple miracles, as Loeffelman called them, in 2003, when Johnny's sold a winning Powerball ticket, receiving $50,000, and made extra money due to a strike by union grocery store employees.
"That's the savings that we've (been) living on since 2003," she said.
Juanita Schnietz, a Johnny's employee for 18 years, said she could tell at the beginning of the year the store would be closing.
"When you're here that long, you see how it was declining," she said.
Making the official announcement was hard for Loeffelman, but also a release.
"Keeping something like this in for so many months was difficult, and so, for them (the employees), there's this sadness, but now it's turned to maybe a feeling of gratitude for what they had," she said.
Sally Barbieri, who works in the bakery, has worked at Johnny's for 28 years. She learned about the store closing Aug. 21.
"I wasn't surprised because business has been bad, but I was surprised that she's kept this place going with her own money, which is — it's just the kind of person she is," Barbieri said. "It's just sad. It's more than just a job."
Barbieri grew up with some of Johnny's original employees.
"I've known (Debbie) since I was 14 … I've worked other places, and she could not have been a better boss," Barbieri said. "And I have a different relationship with her because I've been here so long that it's a more personal relationship."
Schnietz said, "It's a sad day" with Johnny's shutting its doors.
"Another little mom-and-pop down the drain, but change is what life is all about, so there you go," Schnietz said.
Johnny's closing is "huge for this little area," according to Barbieri, because it is "like a small town" when customers come to the store.
"I know almost every customer," she said. "I know what they want when they come over here (to the bakery). It's just — it's a lot more than just a job. It's kind of who I am, and I'm just going to miss everybody."
Loeffelman said customers were coming in the store last week and "had just been sobbing."
"Some of them can't even talk to me, they're so sad," she said. "They're sad for themselves, for why they come here, but they're sad for all my people and what are they going to do and me, what am I going to do…"
Harry Dengler, who has been at Johnny's Market every Saturday at 8 a.m. for 43 years, said he knew the closing was inevitable.
"I'd been in corporate finance for 40 years, and I could see," Dengler said. "Myself, I'm part of the problem. I go to Shop 'n Save. And it saves money. And we all do what we have to do for our own well-being, I guess."
Dengler said the loss of Johnny's Market will deteriorate the Sappington area "a little bit."
"Will it cause humongous problems? Probably not. But it's a local institution, and to lose that is to lose the thread that you've had for a long time," Dengler said.
Loeffelman said Johnny's has impacted her life "in every way possible." She graduated from Cor Jesu Academy, went to college for one year and then a Johnny's employee retired. Loeffelman's father asked if she wanted to work full time and she said OK.
"I didn't have any great aspirations when I was 10 years old to be at Johnny's Market," she said. "I had dreams like any little girl, you know, get married and have a family and this and that. And I was married for a while, but divorced, and the family never happened, so, I mean, all things for a reason."
Even the ending of Johnny's Market has a meaning, according to Loeffelman.
"There is a good purpose somewhere in that, even though it brings a lot of sadness," she said. "All I can figure is there must be something I'm supposed to be doing because I certainly wouldn't be doing it if Johnny's Market was still here because I would have never left. You would have had to drag me out dead or sick. Seriously, that's the way I feel …"