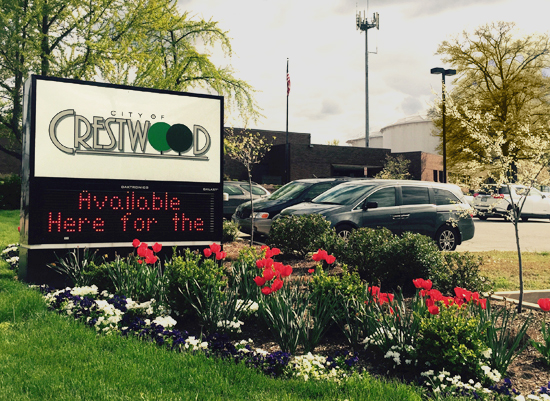 The Crestwood Board of Aldermen will continue to meet virtually for the remainder of the year due in part to the COVID-19 pandemic, but the city is also taking the opportunity during the time of videoconferenced meetings to renovate the upper level of the Government Center.
The City Hall chambers that usually serves as the home of the Crestwood Board of Aldermen will be under construction for the remainder of the year after aldermen approved additional city-funded renovations to happen alongside repairs after a Missouri American Water main break in August 2019 caused hundreds of thousands of dollars in damages to the building.
While the City Hall basement underwent restoration from the water main break covered by insurance and Missouri American Water, the board also agreed that it was an ideal opportunity to renovate other parts of City Hall while construction was happening anyway.
The renovation projects include replacing the lobby skylight, adding Americans with Disability Act-compliant access to the front entrance of the building and updating the Board of Aldermen Chambers.
"Shortly after the flood occurred, the city recognized that it was an opportunity to do other renovations, while the Government Center was already going to be a mess and under construction," City Administrator Kris Simpson said in an email to The Call.
At the Aug. 25 meeting, the board approved $450,900 and $28,611 construction contracts for the skylight and chamber renovations in the consent agenda.
"If COVID allows, and if construction goes as planned, I expect we will be back in the chambers for our first meeting in January 2021," said Simpson.
Aldermen have met virtually since April on videoconferencing app Zoom.
In May, both board President Mimi Duncan and Ward 2 Alderman Justin Charboneau said they want to return to in-person meetings, citing concerns that virtual provides limited access to the public.
"I do think some of these Zoom meetings limit access or maybe discourages participation of individuals, so I would like to get back to in person as soon as possible," Charboneau had said.