Crestwood first-responder pay competitive in region, Simpson says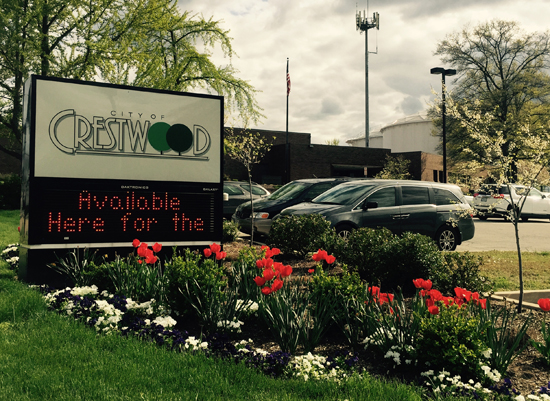 The city of Crestwood has made significant strides in making the salaries of its police and firefighters "very competitive in the region," according to City Administrator Kris Simpson.
Representatives and supporters of the city's Police and Fire departments jammed the city's Aldermanic Chambers last week to voice their dissatisfaction to city officials regarding the amount of raises proposed by the city for next year and a new merit pay plan.
But Simpson told the Call he believes the Board of Aldermen has been "pretty generous in getting the salaries headed in  the right direction."
During his presentation of the city's proposed 2018 budget at the Nov. 14 Board of Aldermen meeting, Simpson outlined how the city will spend revenue from St. Louis County's Proposition P, which was approved by voters in April.
Prop P is a countywide half-cent sales tax designated for police and public safety.
"… So let's address the elephant in the room — Prop P … We're expecting to receive $525,000 in 2018," he said. "The 2018 budget contains over $1.2 million in new public safety spending. The Board of Aldermen is committed to equipping, training and supporting outstanding public-safety services and this budget does that."
Raises for police and firefighters in the proposed budget total roughly $324,000.
"In terms of benefits, the city took action this year to reduce the cost of health insurance to employees without cutting benefits, and we're continuing to fully fund our police and fire pensions, which I'm pleased to say are at 100 percent or higher funded," Simpson said, adding that is "significant. That comes to $222,000."
The proposed budget also includes public-safety service enhancements "that were undertaken by the Board of Aldermen recently that did not have funding sources and now they do. The board is pursuing accreditation of the Police Department, which we supported by adding a new sergeant and equipping him," the city administrator said. "We've added a new firefighter/paramedic to enhance our services and to provide savings against overtime costs …"
Prop P funds are proposed to be used for "significant" equipment and capital purchases, Simpson said, including new breathing equipment and the replacement of a defibrillator at a total cost of $135,000.
Other proposed capital spending includes $100,000 to renovate the Fire Department bunkhouse, $72,000 for Police Department vehicle replacements and $40,000 to renovate the Police Department bathrooms.
A total of $105,000 in Prop P funds will go to cover an increase in the cost the city pays to the Affton Fire Protection District for the area Crestwood annexed in 1997.
Simpson noted the city's 2017 budget had a deficit of roughly $525,000.
"That deficit has grown over the years as a result of raises that were granted by the Board of Aldermen (to police and firefighters) in previous years," he said.
Police Department average pay increased from $51,209 in 2015 to $53,055 this year, while Fire Department average pay increased from $57,048 in 2015 to $60,690 this year. Proposed average police salaries for 2018 are $57,138, while proposed firefighter salaries for 2018 are $62,511.
"… The Board of Aldermen is committed to moving in the right direction, the positive direction, in making our pay more competitive, but we're doing it in a reasonable and measured fashion that protects the taxpayer money that they have entrusted us to," Simpson said. "We don't want to be back in a situation in two or three years where we're asking for another property-tax increase of our residents. We want it to be in 20 years, just like the last one.
"So as a result of these raises, Crestwood's deficit grew even though we were not generating revenues to cover them. The deficit by 2017 had risen to $524,086. Sixty-seven percent of the 2017 budget was public safety, and if you just apply that ratio to the deficit, the share of public safety's share of that deficit is $352,000 — meaning there's over $1.58 million of funds in the 2018 budget that are being covered by Prop P."
While the city is not tracking Prop P expenditures line by line, Simpson said, "… We're receiving $525,000 of revenue to cover almost $1.6 million worth of expenses. So the Board of Aldermen has a budget before them that more than satisfies the statutory requirements of Proposition P that puts our department in a better position going forward, both fire and police, and obviously equips it and leaves the city in a fiscal position that is responsible and allows for future growth."
Merit pay plan OK'd
While some of the supporters and representatives of the police and firefighters urged the board not to approve a merit pay plan proposed by Simpson, aldermen later voted 7-1 to adopt an ordinance implementing the plan. Ward 2 Alderman Mary Stadter was opposed.
Before adopting the plan, aldermen voted to amend the new pay plan's accompanying position classification plan to increase starting and maximum pay for the Police Department as follows:
• Starting pay for officers and detectives increased to $50,000 from $49,180.
• Maximum pay for officers and detectives increased to $70,000 from $69,406.
• Maximum pay for sergeants increased to $80,000 from $79,350.
• Maximum pay for lieutenants increased to $93,000 from $92,575.
Asked about the concerns expressed by supporters and representatives of the police and firefighters regarding salaries and the new merit pay plan, Simpson told the Call, "I understand their position and I understand their concerns. However, I think the city has demonstrated that we are committing all of our Prop P revenues to police and public safety as required by the law. In fact, we're even going further and spending more than what we're getting from Prop P in new expenditures for police and public safety. In addition to significant raises in the Police Department, which includes management employees, union employees and civilian employees who are not in the union like dispatchers, the average raise is 10 percent.
"In the Fire Department, the average raise was 3 percent and that included management, union and non-union (employees). So the Board of Aldermen's been pretty generous in getting the salaries headed in the right direction, which I think is probably the most important issue to the union members. We've also taken steps this year to reduce the health insurance costs to get more competitive there and I feel very good about where we're at from a compensation and benefits perspective — that we're very competitive in the region."