Crestwood fire chief leaves and Hecht set to take helm
Crestwood Fire Chief David Oliveri is trading the Midwest for mountains after leaving the city last week to move to Washington state, and it looks like he will likely be succeeded as chief by Assistant Fire Chief Lou Hecht.
City Administrator Kris Simpson began the search for a new fire chief around a month ago, after Oliveri announced his resignation.
Crestwood had one internal application, from Hecht.
Simpson met with Hecht on Oliveri's last day, Oct. 31, to offer the assistant chief the position.
From there, the Crestwood Board of Aldermen will ultimately approve or deny the promotion at its Nov. 13 meeting.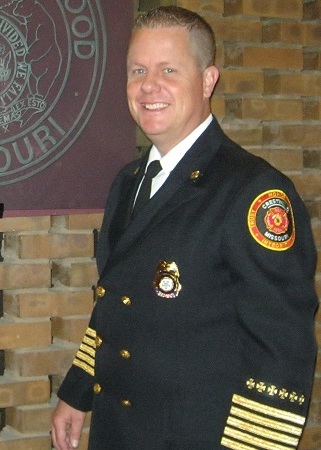 Oliveri, who had been with the Crestwood Fire Department for almost 31 years and St. Louis County fire services for 32 years, will be heading to Anacortes, Washington, where he accepted the position of fire chief early last month. Oct. 31 was his last official day as fire chief in Crestwood.
"My ultimate dream…was to relocate when I retired to either the Northwest or the Southwest," Oliveri said.
Oliveri is familiar with the area where he is relocating after vacationing there numerous times before.
He jumped at the chance to move there.
"I love the area, it's a beautiful area with a very mild climate," he said. "I decided to have the opportunity to live and work in the city or area that I hoped to retire to was just an opportunity that I felt was too good to pass up."
He first started working for Crestwood as a firefighter-paramedic, a position he spent 10 years in.
From there, he spent 15 years as captain, three and a half years as assistant fire chief, and two and a half years as fire chief after being promoted to the position in April 2016.
Anacortes sits on Fidalgo Island in the Puget Sound. According to the 2010 census, it has a population of approximately 15,788 and a total area of 15.53 square miles. Crestwood, according to the 2010 census, has a population of 11,912 and a total area of 3.6 square miles.
"It (Anacortes) has two different mountains to the east and the west. As someone who has lived in the St. Louis area their entire life, it's just a beauty we're not used to seeing," said Oliveri about what he was looking forward to.
Although the Missouri native is excited about the change of scenery, Oliveri said he will miss the friendships he formed over the years in Crestwood.
"What I'm going to miss most are the great friends that I've made… Some of the current employees of the Crestwood Fire Department and even other firefighters who worked here at Crestwood and went on to other departments," said Oliveri.
And despite the 2,152 miles between Anacortes and Crestwood, Oliveri plans to remain involved and close to the Crestwood community.
"I'm hoping that even from miles away that I'll still be able to stay in touch and try to be involved," he said on his last day on the job in Crestwood.
Hecht was interviewed by an internal promotion panel where he was recommended to move forward in the interview process.
From there, a "town hall" of sorts was held on Oct. 25 with the Crestwood Fire Department, where firefighters had the opportunity to ask Hecht questions and talk with him.
The response from the town hall was unanimous, according to Simpson.
Everyone agreed that Hecht should be promoted to fire chief.
"I've been on the record as supporting…Lou Hecht to become the next fire chief," Oliveri said prior to his last day.
Simpson is familiar with Hecht and the work he did with the Fenton Fire Protection District prior to working at the Crestwood Fire Department.
"I have a really good feeling about his candidacy," Simpson said.