Crestwood continuing as normal for now after pandemic, flooding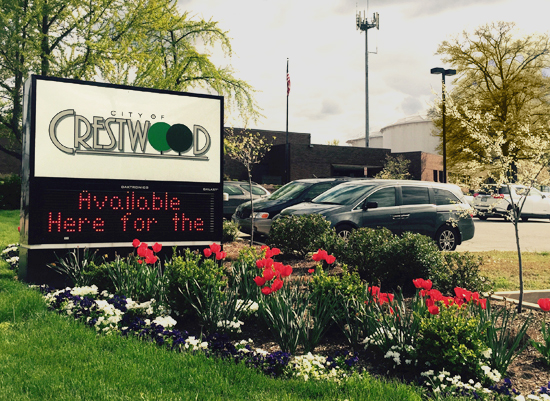 The city of Crestwood has survived a pandemic and a flood in the last year, and so far, city operations are continuing as normal.
But some big decisions are still to come on how to balance this year's budget since the city relies mostly on sales taxes, which have plummeted during the county and state's stay-at-home orders currently in effect.
"We've got a total economic standstill on economic activity," City Administrator Kris Simpson said at the April 14 Board of Aldermen meeting. "I think we're going to find what our new base is. We've hit the world's biggest pothole along with everybody else, and we're just going to have to be in flux."
Any projections made about the 2020 budget will have to be completely thrown out, as the city navigates an unprecedented time along with all other South County governments and cities nationwide.
Simpson expects the city could take a $1 million to $1.5 million hit to general revenue, which would equal about 10 percent of all revenues coming in.
"At least for now, we're continuing to provide services as normal," Simpson said. "We're continuing to assess the ongoing financial impact. I am concerned… This is something that everybody is just taking day by day, the more information we can get, the better… It's definitely a challenging time, especially when there's so much unknown."
The city furloughed six part-time Community Center employees, but so far has not had to lay off or furlough any full-time workers.
Cities like Chesterfield that are reliant on sales tax from shopping centers that have shut down have laid off employees and asked for pay cuts for police.
So far, no decisions on possible budget cuts have been made in Crestwood, but the city is delaying any nonessential budget items until decisions have been made.
Currently, the only projects moving ahead are improvements to the Whitecliff Park quarry and the renovations to Crestwood City Hall, which are both funded by grants or reimbursements. City Hall was flooded last year, damaging offices that are now being renovated on the dime of Missouri American Water.
Upgrades to the Crestwood Aquatic Center that were also funded with a grant are mostly finished, although whether or not to open the pool could be a budget decision the Ways and Means Committee makes when it meets in June to consider budget amendments in light of the crisis.
The city also may not have a choice on whether the pool opens, depending on the status of the public health crisis.
Ward 3 Alderman Scott Shipley said after Simpson presented the 2019 finance report at the same meeting, "Looks like 2019 was a pretty good year. It looks like we were able to bank quite a bit of money, which will help us this year."
But the city won't benefit from any sales taxes for online purchases made by city residents. Missouri is one of just two states that so far have declined to allow local cities to collect sales tax from Amazon and other online retailers. With brick-and-mortar local businesses closed, that leaves finances for cities like Crestwood in an unprecedented downturn.
Meetings have moved online, through Zoom videoconferencing software.
Just like most workers, city employees have for the most part been working at home when possible. Some of the city workers were displaced from their original City Hall offices due to last year's flood, then displaced from City Hall altogether due to the pandemic.
For those who can't work at home, like the officers of the Crestwood Police Department, the city has taken measures to protect them.
Half the police are working out of the Crestwood Community Center, which has been closed during the pandemic. That way, if anyone is exposed or tests positive for COVID-19, only half the police force will be affected at any given time.
Woodard Restoration, a disaster mitigation company that just moved its headquarters to the city, is conducting special disinfecting on the Police Department every two weeks, and even offered to do the work for free.
"We're doing everything we can to make sure that we keep the city up and operational and everyone safe and effective," Simpson said.
The city's trash service provider, Waste Connections, has told the city that with more people staying at home, it's seeing trash levels that compare to the overflowing bins around holidays. The trash company is "stressed to the max" but getting the job done, Simpson said.
Ward 2 Alderman Justin Charboneau said it's a "true testament" to staffers that they've been able to keep departments up and running under such difficult circumstances.
"So far during this time I haven't heard any complaints about any gaps in service," he said. "I think everybody obviously appreciates what is going on."
That was echoed by Shipley, who said the city was prepared early on for any possibility, and it shows.
"Back before any state of emergency was declared, the city was proactively planning and quickly ramped up to be prepared for this new normal," he said, adding, "I can't imagine how our police and fire departments are dealing with all this, but somehow they do and continue to do the hard and dangerous work for all of us."
"I'm very proud to live in Crestwood, the city's doing a great job," said Ward 4 Alderman Ismaine Ayouaz.
Crestwood city parks remain open, even as St. Louis County's parks have shut down.
Two aldermen said they have personally observed everyone in Crestwood keeping the proper social distancing while enjoying the parks.
"I'd like to compliment our citizens of Crestwood," said Ward 3 Alderman Greg Hall, a member of the parks board. "The time we spent observing the park and observing social distancing, I've been very impressed. What I observed in the parks and around the quarry area — I  think our citizens are doing an outstanding job."