Crestwood aldermen select UrbanStreet as developer of mall site
Citizen believes city officials rushing developer's mall plan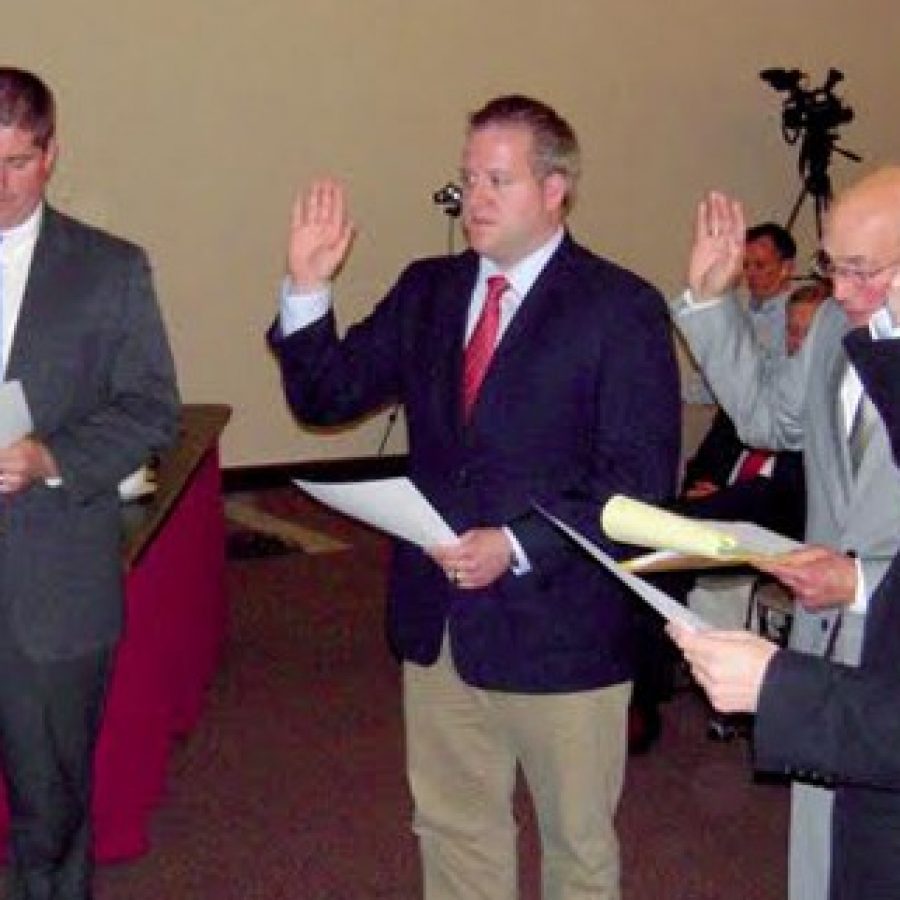 The Crestwood Board of Aldermen voted unanimously last week to select the owner of the former Crestwood Plaza as the preferred developer of the mall property.
The resolution selecting UrbanStreet Group of Chicago as the preferred developer was approved with some amendments after three new board members were seated April 28 — Justin Charboneau of Ward 2, Grant Mabie of Ward 3 and Timothy Anderson of Ward 4.
The three new aldermen were elected April 7, along with Ward 1 Alderman Darryl Wallach, who was re-elected.
UrbanStreet Group, which submitted the only response to the city's request for proposals, or RFP, to redevelop the site, is requesting nearly $28 million in tax incentives, including tax-increment financing, or TIF, for a roughly $99.5 million mixed-use project at the 48-acre site at Watson and Sappington roads.
The project includes four components — a retail area, a multiplex theater and restaurants, 225 apartments, and open space and community gardens.
The board adopted the resolution with amendments suggested by Mabie and Anderson.
Although the resolution designates UrbanStreet Group as the preferred developer for the project, it states, "Such designation shall terminate if the city and UrbanStreet do not enter into a mutually satisfactory redevelopment agreement with respect to the redevelopment project by July 1, 2016."
An amendment included by Mabie would allow the board to terminate UrbanStreet's designation as the preferred developer with a future resolution.
An amendment included by Anderson added language clarifying the Board of Aldermen's involvement in the process.
The resolution now states, "There having been no prior negotiations between the city and UrbanStreet for a redevelopment agreement, the city staff, after an initial consultation with the Board of Aldermen and thereafter with regular and periodic consultation with the board, is hereby authorized to negotiate a redevelopment agreement between the city and UrbanStreet, which provides for the construction and financing of the redevelopment project, including the application of any tax-increment financing assistance or other economic development incentives approved by the Board of Aldermen, and to present such redevelopment agreement to the Board of Aldermen for consideration."
Mabie added the words "and approval" to the end of this section of the resolution.
Aldermen agreed to delete a section of the measure that would have directed City Clerk Helen Ingold to provide notice to other taxing districts of Crestwood's desire to convene the city's TIF Commission. Aldermen will consider that section at a later date.
On April 15, Crestwood officials publicly unveiled UrbanStreet's response to the city's RFP, after keeping the plan under wraps for nearly a month.
As first reported by the Call, Lindbergh Superintendent Jim Simpson believes UrbanStreet's plan to construct 225 apartments at the mall site "is the worst scenario for Lindbergh Schools," as it would exacerbate the aggressive enrollment growth that already is challenging the school district. Students from those apartments would attend Crestwood Elementary School, which is already at capacity.
More than a dozen speakers addressed the Board of Aldermen last week before the three new board members were seated, with many expressing concerns about how the project would impact Lindbergh Schools.
David Reinhardt, a Crestwood resident and Lindbergh parent, said he was concerned about UrbanStreet's request for nearly $28 million in tax incentives and the 225 apartments, and how that could potentially impact Lindbergh Schools.
"… Taking away revenue for what could be up to 23 years from Lindbergh Schools for educating any new Crestwood resident is just not sound, logical reasoning," he said. "Lindbergh has seen, is seeing and will continue to see student growth — 250 new students a year is what currently comes to Lindbergh, most of which are elementary students. Lindbergh Schools' educational model is correct and 100 percent on target — proper classroom sizes, individualized teaching methods that benefit all students (and) excellence in teachers and staff who care about each and every child. The qualitative and quantitative evidence is there. It's clear. It's transparent and truthful.
"I and many other of the 18,000 residents of … Crestwood and the surrounding Lindbergh community do not want to see this commitment to academic and personal student excellence be compromised because revenue is being diverted from not just schools, but possibly police departments, fire departments and other public-service works."
Mayor Gregg Roby interjected, "Sir, you have 10 seconds."
Reinhardt continued, "Mayor Roby and board, please do your due diligence in educating yourselves and the Crestwood community if TIFs, TDDs (transportation development districts) and CIDs (community improvement districts) are in your constituents' best interests … Is leveraging tax dollars a gamble, a risk that you want to take on a child's education? …"
Resident Carol Wagner, who served on the city's TIF Commission for the redevelopment of Watson Plaza, discussed the process for granting TIF assistance.
"I would like a clarification of this — the TIF. It's my understanding that a developer can't just come and ask for TIF and it's up to you guys to decide whether or not to give it to them," she said. "That a TIF Commission has to be formed. That St. Louis County is involved in the TIF Commission and all matters are weighed out carefully before any amount of money is given to any developer and it's done on needs …
"So I think sometimes people are getting more overworked about a TIF when they really don't, in my opinion, understand that it's a long process."
Resident Kathryn Brandt, whose home backs to the mall site, said she is anxious to have the property redeveloped, but urged aldermen to take their time.
"… While I care greatly that it is redeveloped, I would ask you guys to consider taking time. If feels very rushed, and it feels like you guys are rushing into a decision without a lot of information. And I just moved here in June of 2014. I've jumped in …," she said, noting she serves on the city's Beautification Committee.
"… I have a very vested interest. I want to be here until I die. I never want to move, but I really don't want to see a halfway thought-out plan be built behind my house because it's not going to do any good in the long term. And I'm not sure that the plan that they've proposed is all the way great, and I know none of you really do yet either.
"But I feel like it's being ramrodded through. I feel like it's being rushed, and while I very much don't like an empty mall, I don't want to see an empty development that we paid a lot of money to bring into this community. So please just take your time," Brandt said.