County to appeal ruling throwing out new police standards
Council OK'd new standards despite promises of lawsuit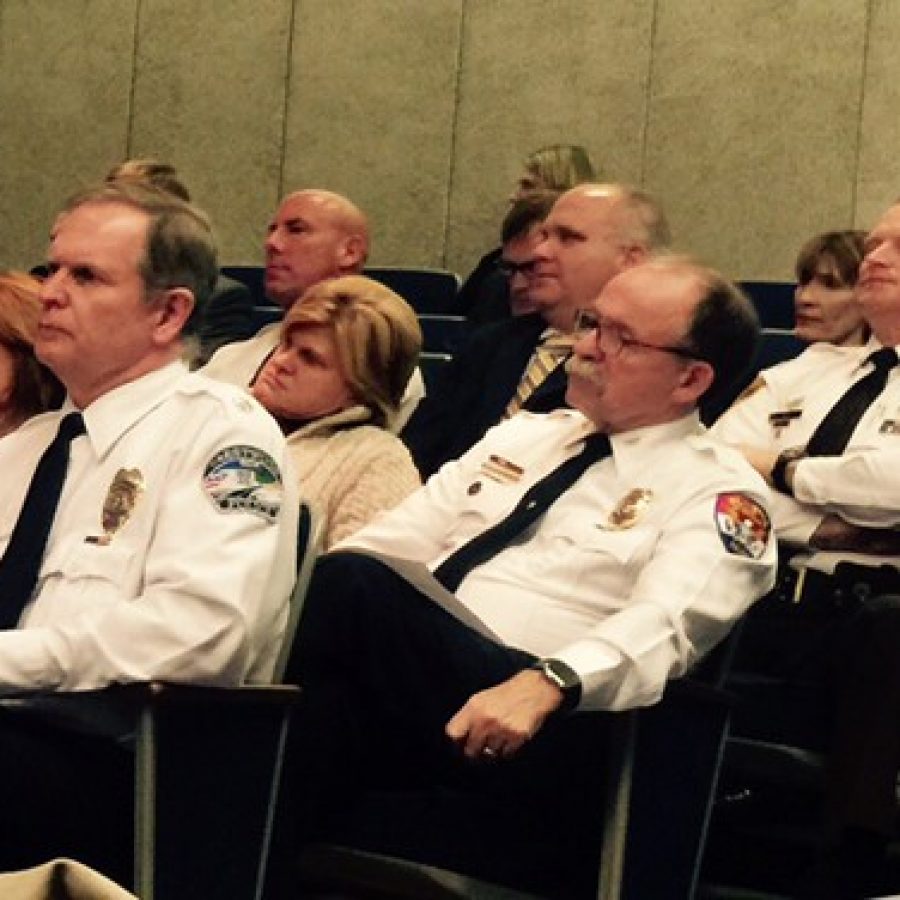 County Executive Steve Stenger vows to appeal a judge's decision last week to throw out new countywide police standards after the judge ruled the county has no power to tell cities how to run their police departments.
St. Louis County Circuit Judge Robert Cohen handed down a decision May 4 that the police standards are "invalid and unenforceable." Sunset Hills City Attorney Robert E. Jones argued the case to Cohen last month on behalf of Sunset Hills and 15 other county municipalities suing the county and Stenger, who spearheaded the rules, over what Jones calls a "police takeover bill" and an unconstitutional and unprecedented overreach from the county into how cities are run.
The County Council approved the 13 minimum police standards in December, despite promises from Jones' law firm, Curtis, Heinz, Garrett & O'Keefe, and the Municipal League that a lawsuit would follow, supported even by cities that meet the standards, like Sunset Hills and Kirkwood, who want to maintain local control over their police departments.
The night the bill was passed, Stenger noted that County Counselor Peter Krane was fully prepared to defend the standards in court, and after last week's decision, Stenger promised to appeal.
"We will continue to fight to ensure that all county residents have equal access to consistent high-quality law enforcement, no matter where they live or travel," Stenger said in a statement.
Cohen issued an injunction blocking the standards because they are "invalid and unconstitutional," he wrote in his decision.
He agreed with Jones' argument that the county is explicitly barred from passing legislation affecting incorporated cities by the Missouri Constitution and the county Charter, and that Stenger and the county "unlawfully fomented" a conflict between the county and its cities.
County officials gave city police departments six months from the bill's signing to meet the standards, or the police chief, mayor or aldermen of any out-of-compliance city could be prosecuted or fined $1,000 a day for each violation.
The rules mandate that departments cannot discriminate based on race, ethnicity, gender, sexual orientation, religious beliefs, disability or economic level, and they will have to license and train officers, conduct drug screenings, criminal background checks, character assessments and psychological examinations of all new hires, provide 24-hour service with at least one officer and a supervisor always on duty to bond out prisoners and establish policies over use of force, pursuits, lawsuits, complaints and firearm discharges.
The issue is not the standards themselves, Jones said, but the county's argument that it could pass countywide legislation because police services are a health issue. That sets an alarming precedent and opens up endless other areas of city government to county regulation, including public works and parks, which could be construed as health issues because people could be injured on a street or exercise in a park, he said.
"None of us disagree with the idea that we should have effective policing in the incorporated areas of St. Louis County — the problem here is that they didn't go about it correctly," Jones told the Call.
Under the state Constitution, the county cannot provide municipal services in incorporated areas unless the city agrees to a contract or voters approve a Charter amendment, which voters rejected in 1971, Jones said.
"That was really the best argument — that was the one that ultimately carried the day," said Jones, who is a former mayor of Ballwin.
Cohen issued the injunction blocking the legislation after requests for summary judgment from both sides, but did not address another one of the cities' arguments — that the standards are an unfunded mandate under the Hancock Amendment.
The county cannot appeal the decision until Cohen addresses the other aspects of the lawsuit, Jones said.