County in talks to sell part of Sylvan Springs
On whether to sell park land, residents are evenly divided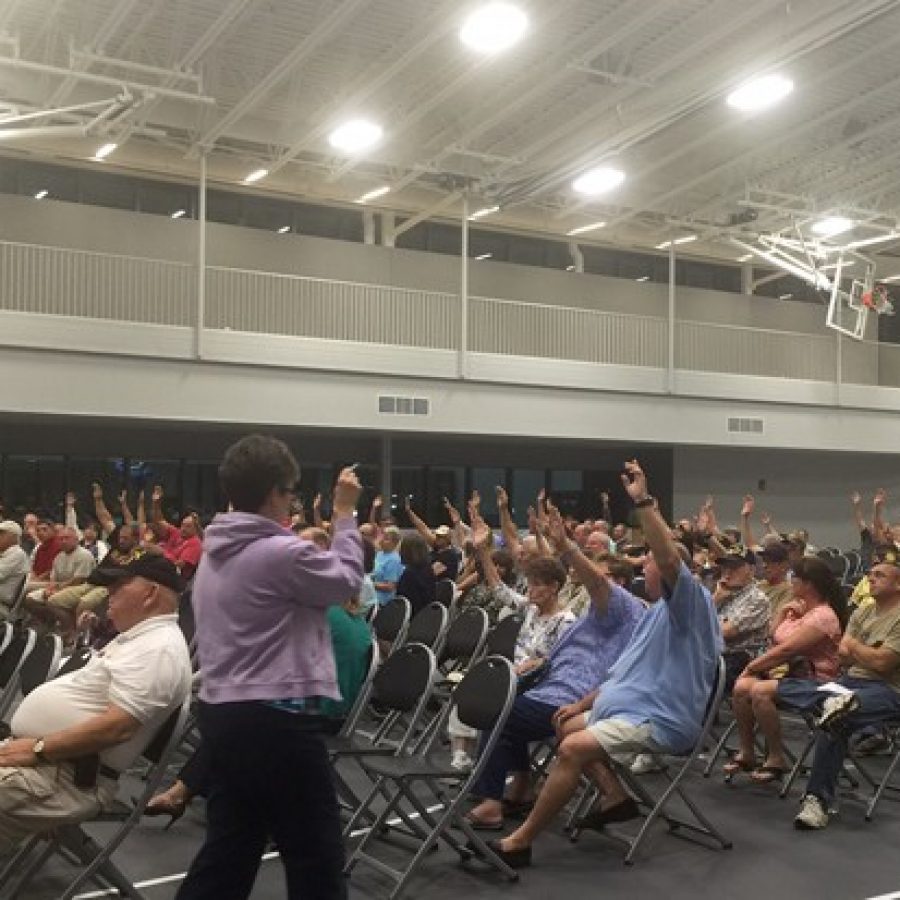 After a series of public hearings this summer, the county has entered into negotiations with the federal government to sell half of Sylvan Springs Park for the expansion of Jefferson Barracks National Cemetery.
Residents speaking at two public hearings in Lemay were evenly divided on whether the county should sell 38 acres of the 72-acre park to keep the cemetery in operation for the next two decades.
"It is an issue where we have emotions high on both sides, and we understand that, and we want to hear from the public," County Executive Steve Stenger told the Call. "There were some good ideas that were presented to us, and we took all those into consideration as we're moving forward."
The county has no time line on when negotiations could be finalized, and a professional appraisal is just now underway.
A previous estimate set a value for the Sylvan Springs land of $1.8 million.
"I think we'll be able to ultimately work something out," Stenger said. "There's issues related to price, timing and acreage, and we're working those things out."
Veterans Affairs, or VA, estimates that Jefferson Barracks, the fifth-busiest of the 132 national cemeteries in the country, could run out of new gravesites by 2021 if it is not expanded.
Open Space Council Executive Director Katherine Dockery said during a public hearing that Sylvan Springs would only provide six more years of grave sites. But cemetery director Jeff Barnes told the Call the 26 usable acres from Sylvan Springs would give the cemetery 18 more years of gravesite space. Another 13,000 gravesites on property from the VA Medical Center could extend the life to 2046.
Without a plan outlined for where to go for more space after 2046, parks advocates believe VA officials could ask for the rest of Sylvan Springs or for Jefferson Barracks Park, which also adjoins the cemetery, instead of expanding to areas in Jefferson County or Illinois.
"Of course, remaining open and tying it into the existing national cemetery is important to us," Barnes said, although he said federal officials have no current plans to use other park land when space runs out again. "After 2046 — that's 25, 30 years down the road, and I really can't answer what would happen … We will continue to explore potential areas around this cemetery because the goal will always be to have one existing cemetery, but if the time comes and 2046 arrives — sure, there is definitely a potential at that time that we would have a second national cemetery. It would still be within the St. Louis community, but right now our goal is, for the next 25 years, to have one continuous cemetery."
Stenger initially supported turning over 38 acres of the 72-acre park to the cemetery, but he promised public input would drive whether the county moves forward with the plan, which he called a compromise between cemetery advocates and park lovers.
Hundreds of residents showed up at two nearly three-hour public hearings in July.
In a show of hands at the end of each night, 81 residents favored selling the park and 90 residents were opposed.
The results of an online survey were also evenly divided for and against selling the cemetery, county officials said.