County executive race heating up; Stream wins surprise endorsement
Stenger says endorsement payback for Dooley's defeat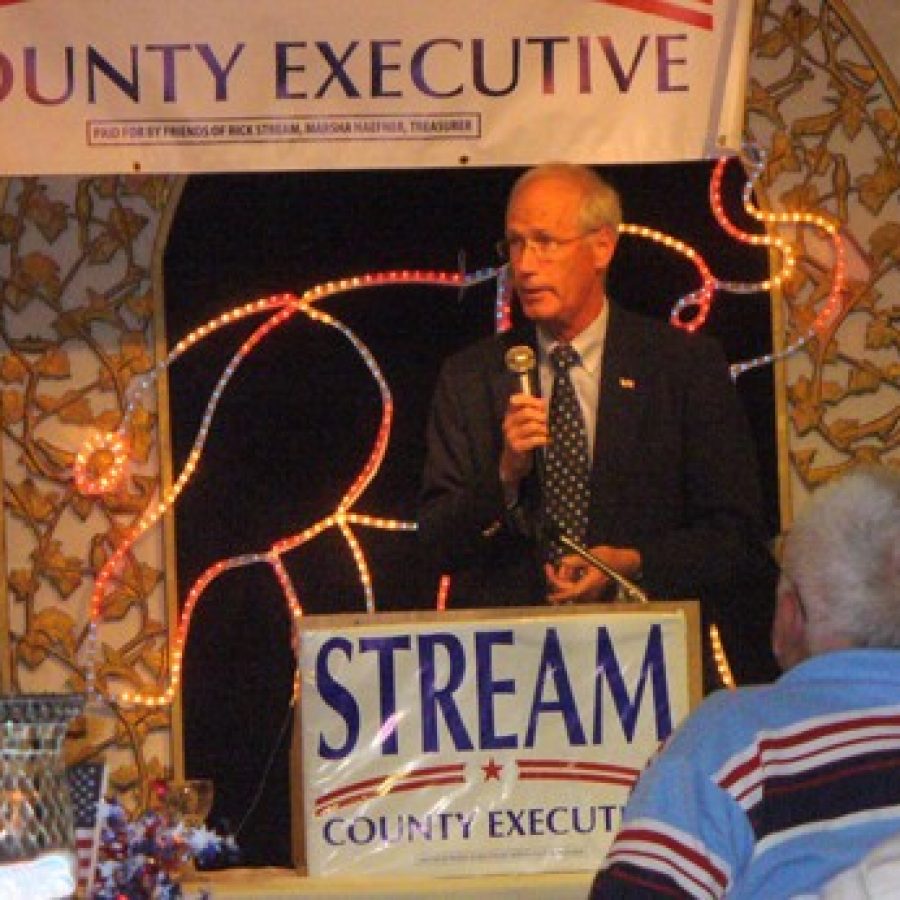 With a month to go in the race for county executive, the dueling television ads have started up again and Rep. Rick Stream, R-Kirkwood, has gained a surprise cross-party endorsement from north county.
Upset over Ferguson and the defeat of a diversity bill by the County Council, a newly formed coalition of north county Democrats endorsed Stream over 6th District Councilman Steve Stenger, D-Affton.
The Fannie Lou Hamer Coalition — a group of black Democratic mayors, state legislators and other politicians from north county led by Council Chairwoman Hazel Erby, D-University City — is campaigning on Stream's behalf in north county in the wake of the endorsement.
"Who becomes the county executive will be determined by the black community, and we have selected and endorsed Rick Stream," Berkeley Mayor Theodore Hoskins said at the announcement at Berkeley City Hall. "We are punishing the Democratic Party because they have disrespected us … This is about disrespect of the black community. We can't even get an appointment under the Democrats."
Named after Hamer, the celebrated civil rights activist who said she was "sick and tired of being sick and tired," coalition members said after meeting with Stream, they are convinced he will represent their interests better than Stenger. Each of the members of the coalition supported County Executive Charlie Dooley in his bid for re-election over Stenger.
As specific examples of the ways they said Stenger has dismissed their concerns, they pointed to his "unbreakable alliance" with county Prosecuting Attorney Robert McCulloch, even after the events in Ferguson. They also cite Erby's minority contracting bill that Stenger spurned for a more pro-union bill that they believe shuts minority contractors out of county contracts.
Stream and Stenger have both begun to air television ads, with Stream noting that exchanging one Democratic county executive for another would be like "rearranging the deck chairs on the Titanic," and Stenger labeling Stream as "XStream" for some of his votes in the Legislature.
At a campaign rally in Oakville last week, Stream responded to the attacks on his voting record, noting that his Kirkwood district is moderate, evenly split between Democrats and Republicans, and has voted for President Barack Obama each time Obama has run. Sometimes state legislators appear to vote against their own bills when they vote against amendments, he added, which means votes can be spun either way.
"I can guarantee you that a district that has voted for Obama twice does not vote for extremists — they wouldn't have put me in office," Stream said. "His ads are fallacious, they're false, and you notice he didn't have any of the attributions for any of the votes."
The coalition does not believe Stream's positions on state issues are relevant to a county race, Erby said. In areas where a county executive actually has power, like her contracting bill and the diversity of county departments, the north county Democrats emphasized that they believe Stream represents them better than Stenger would and that they trust Stream to carry through on his promises.
For example, although the county population is roughly 25 percent African-American, Erby said she discussed with Stream how only 1 percent of county jobs and contracts go to African-Americans, a record he agreed was "horrible."
Stream has spent 42 years in leadership and management, including in the U.S. Navy, as a division manager in the U.S. Department of Defense, president of the Kirkwood Board of Education and state legislator. Some of the Fannie Lou Hamer members are Stream's colleagues in the Missouri House, and they said they appreciate his efforts across the aisle to get things done, especially on education — an issue where they believe state and local Democrats have completely shut them out, even though most of the state's unaccredited districts are in north county.
"I personally negotiated with Rep. Stream on the transfer bill, so he's an honest broker," said Rep. Courtney Allen Curtis, D-Berkeley, who represents half of Ferguson. "We'll utilize all of the assets that we have assembled behind us and in the community (for Stream) — he is an honest broker and we can trust that he is willing to work with us, simply because the other side has shown that they are not willing to work with us."
In response to the Stream endorsement, Stenger told the Call that the endorsement is simply payback for his decisive defeat of the coalition's chosen candidate, Dooley, and is an "orchestrated attempt to try to show a division where there's none."
He alleged that the entire event was organized by two of Dooley's closest employees on the county payroll, Mike Jones, a special adviser to Dooley who is also vice president of the State Board of Education, and Pat Washington, who is the county communications director.
Both Jones and Washington were at the endorsement event, which took place at 2 p.m. Oct. 1 at Berkeley City Hall. At the event, Washington told the Call she was there only as an interested individual, not in her role with the county.
"These are both individuals who are on taxpayer dollars organizing a political rally during the day, so there are serious issues with that," Stenger said. "Charlie Dooley has in a sense endorsed Rick Stream. His administration has endorsed Rick Stream."
Washington was unavailable for comment before the Call's press deadline.
Although Erby said the coalition has the majority of African-Americans in north county behind it, Stenger said that he does not believe that and will continue to reach out to African-Americans for their votes.
"When they talk about, 'No one gets elected without their support,' well, I just did 60 days ago," he said.
And if the Fannie Lou Hamer Coalition requires a repudiation of McCulloch for their endorsement, Stenger said he is happy to go without their approval.
"If that is what they need in order to have their endorsement, they will not get that from me," he said. "He is welcome to have their endorsement because we disagree on that … I will not denounce Bob, and I'm going to stand with Bob. I think it's the right thing to do for our county, and I think we have a process in place and we have to honor that."
At the Oakville rally, Stream said he believes McCulloch has done a good job as prosecutor overall and did not call for McCulloch — who also lives in Kirkwood — to step down in the Michael Brown case.
But he said it might have been a good idea in hindsight since a quarter of the population does not trust McCulloch to be impartial in the case. In future cases in which a police officer kills a member of the public, a special prosecutor should be appointed, he added.