County executive, police chief eulogize fallen officer as 'newest American hero'
Belmar: Officer's widow, son forever part of police family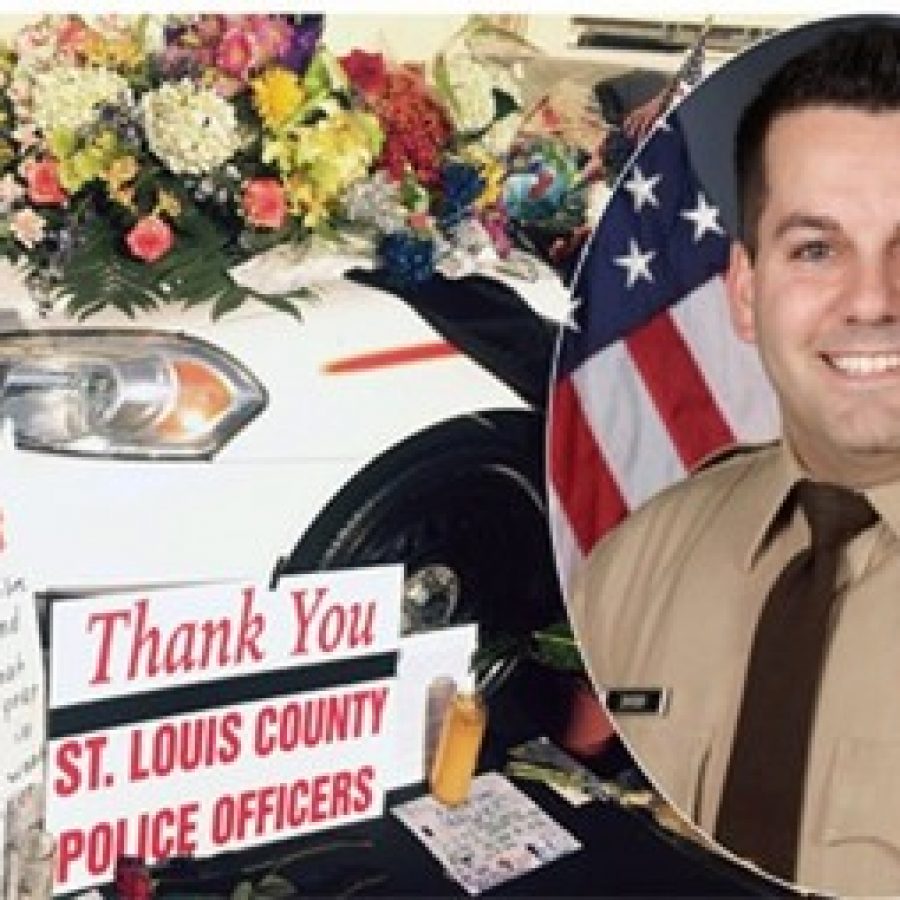 Residents lined roadways throughout the region last week, saying goodbye to an officer most of them had never met. But to the family and friends at his funeral, Officer Blake Snyder was a husband, father, son, friend and a brother in law enforcement.
Snyder, 33, a four-year veteran of the St. Louis County Police Department's Affton Southwest Precinct, was killed in what might have been an ambush while responding to a domestic disturbance call in Green Park Oct.6.
In his Oct. 13 eulogy for Snyder, police Chief Jon Belmar called Snyder the "newest American hero." And his heroics did not start the night he died in Green Park, County Executive Steve Stenger said: Just a few weeks earlier, the officer pulled residents out of a four-alarm fire at an Affton apartment complex.
More than $100,000 in donations have poured into BackStoppers to benefit Snyder's wife, Elizabeth, and their son, Malachi.
After the burial service, the St. Louis County Police Department sent out Snyder's last radio call: "St. Louis County to Car 3305, Officer Blake C. Snyder, DSN 4153. Attention all units. St. Louis County is announcing the final roll call for St. Louis County Police Officer Blake Snyder … The men and women of the St. Louis County Police Department are forever grateful and proud to have served with Officer Blake Snyder and will never forget his ultimate sacrifice.
"Police Officer Snyder, may you rest in peace and protect us from above, knowing that your strength carries on in your wife Elizabeth, your legacy carries on in your son Malachi, and your honor will continue on with all of us. Police Officer Snyder was a cherished member of the St. Louis County Police Department, and he will never be forgotten."
Thousands gathered to pay their respects at Snyder's visitation Oct. 12 at Kutis Affton Chapel and at his funeral the next day at St. Louis Family Church in Chesterfield, which was packed to its 2,000-person capacity with police officers. Officers from other precincts in the county covered for the Affton precinct so that Snyder's immediate co-workers could all attend the funeral.
They walked into the church just before Snyder's casket, which was carried into the church to the sounds of bagpipes as Elizabeth Snyder followed, carrying Malachi. At her request, the funeral was televised and recorded so that one day, her son could see it.
After the funeral, thousands lined the route from Interstate 64 to Interstate 270 to Alton, Ill., and the Great River Road to Godfrey, Ill., Snyder's hometown, where he was buried at Valhalla Memorial Park.
"Blake's Life Matters," read a sign held up by an Affton resident lining the route Oct. 13 from Kutis to the Affton Southwest Precinct on Gravois Road, where a growing memorial on Snyder's car has been covered to protect it from the rain. Boy Scouts from the Affton School District, children out of school for the occasion and law enforcement from all over the country lined overpasses between Chesterfield and St. Louis County and our entire region, I offer my sympathy also to our entire Police Department and to Chief Jon Belmar. Over the past week, I have had the chance to speak to people who knew and worked with Blake, and they told me about a man whose deep Christian faith inspired him to a life of service. He was truly a man for others. He carved time out of his life as a young married father to mentor young people at his church."
Even before the morning he died, Snyder was a hero, pulling people out of their houses during a four-alarm fire that blazed at the Echoridge condominium complex in Affton just a few weeks ago, Stenger said.
In a rare appearance in full uniform, Bel-mar called Snyder "our newest American hero" and read from Isaiah 6:8: "Also I heard the voice of the Lord say, whom shall I send and who shall go for us? Then said I, 'Here am I, send me.'"
Snyder and Belmar stood side by side during the Ferguson unrest, the chief added, noting that for law enforcement in St. Louis and elsewhere, "These are difficult times."
To Snyder's wife and son, Belmar said, "You are now and forever part of the St. Louis County police family, and more than that, the law enforcement family na-tionwide."
Addressing Snyder's backup officer, who pulled up behind Snyder, saw him being shot and opened fire at his assailant, Belmar said, "You did everything you could to protect your fellow officer, and because you were there, Blake did not die alone."
As speakers gave their eulogies, a slideshow of pictures of the young officer and his family played in the background, including a photo of him and Elizabeth handcuffed to each other after they got engaged and an image of him holding his newborn son for the first time.
"To be absent from the body is to be present with the Lord," Family Church Pastor Jeff Perry said, noting Snyder's deep belief in God.
The officer's pastor from his college days in Godfrey, Duane Vancil of the Riv-er of Life Community Church, said that any words of comfort he might offer to Snyder's parents, Dick and Peggy, his wife and his brother, Adam, would fall short of the comfort they need in their time of grief.
But he recounted how he had taken his son, who was hoping for a career in law enforcement, to meet Snyder once his former parishioner had switched careers to become a police officer.
After Snyder was killed, Vancil said he asked his son whether he still wanted to go into law enforcement.
"Now more than ever, Dad," Vancil's son told the pastor.
Snyder's brother Adam, a pediatric dentist in Bethalto, Ill., thanked the community for the outpouring of love they have showed a "complete stranger." When Snyder graduated from the police academy in 2012, his family was "beyond proud" but also "silently afraid of the unspeakable," Adam Snyder said. Adam and his parents would gather together sometimes to talk about their worries in relation to Blake's dangerous profession.
"That's all we could talk about, about how scared we were, and we wanted to do anything we could to protect him," Adam Snyder said. "But we never discouraged him, because we knew that it was his calling, his calling from God, to serve and protect others."
The family lived a perfect life until Oct. 6, he said through tears.
"Myself and Blake, our lives were perfect, perfect because it was filled with love. But no more," he said. "He was the best son, the best brother, and the best husband and the best father and the best friend. Today we salute Blake not as the best, but the best of the best."
Snyder's brother and brother-in-law, St. Louis County Police Officer Justin Sparks, comforted each other as they spoke.
Sparks is the brother of Snyder's widow, Elizabeth.
Sometime in the past few years, Sparks had written a poem, "Blue Hymn for the Fallen," that was to be read at the funeral of any St. Louis County police officer who died. He shared it with Snyder, without knowing that he would be reading it at his friend and brother-in-law's own funeral.
"Buddy, Blake, while I wept over you in the hospital room, I was struck with the sensation of unbearable loss accompanied by unbelievable pride," Sparks said. "I will be your arms holding up Elizabeth, and I will be your hands guiding your son into honorable manhood. Brother, I know you looked up to me in this world of the thin blue line — you're a better man than I, brother."