County Council eyes pulling McCulloch's county pension
Stenger says pulling pension would be 'act of cowardice'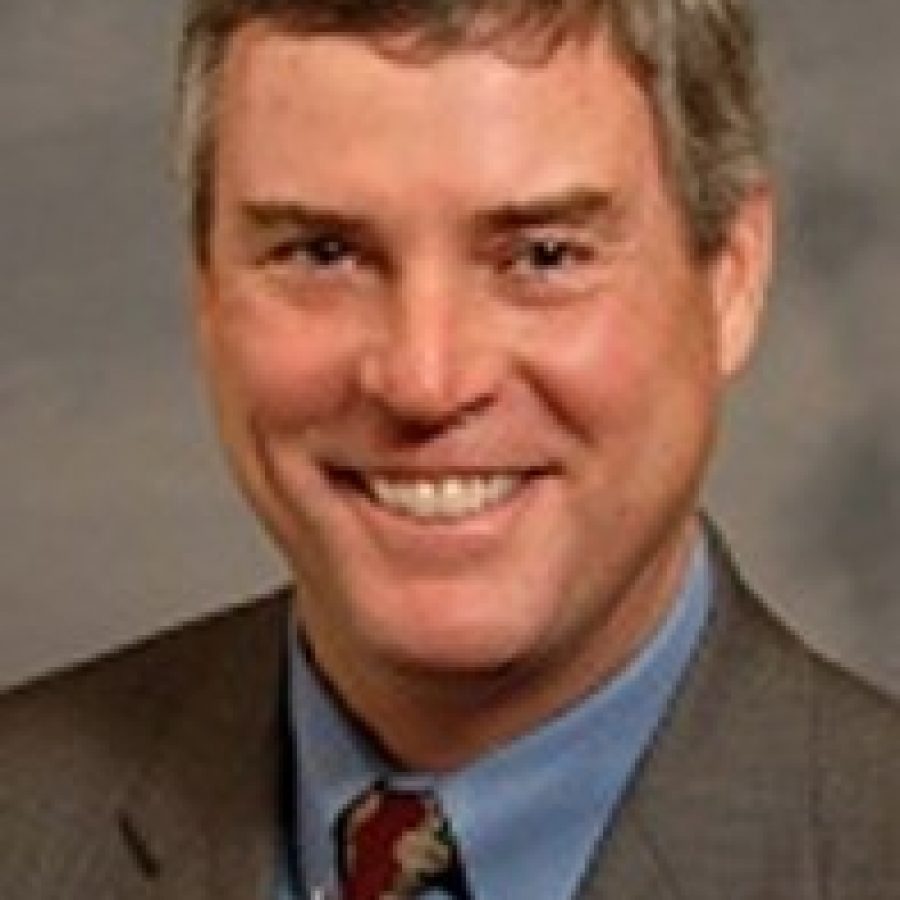 County Council members are considering yanking Prosecuting Attorney Robert McCulloch's county pension at the same time they weigh how to shore up the county's retirement system.
The $525 million county pension fund, a defined-benefit system that grants a pension based on number of years worked and salary when the employee retires, could become underfunded in the future if no changes are made.
In two years, pensions could gobble up 10 percent of the county's $600 million budget, and if no changes are made, the number would climb to $90 million by 2027, when the county will pay pensions to as many retirees as it has employees, according to a report commissioned by the county Retirement Board of Trustees.
To design a more sustainable system, the Retirement Board and County Executive Steve Stenger recommend that the council increase the retirement age, boost employee contributions from zero percent to 4 percent of salary and increase the time for vesting from five years to seven years.
In a hearing set Tuesday — after the Call went to press — the council was slated to review the proposed retirement changes along with legislation requested by 1st District Councilwoman Hazel Erby, D-University City, to reverse a bill it unanimously approved in November that grants McCulloch a higher pension.
The council invited McCulloch and a Retirement Board representative to the hearing to discuss the possibility of taking away the prosecutor's county pension and the broader changes proposed for county retirees, respectively, said 6th District Councilman Ernie Trakas, R-Oakville.
Any changes would apply only to new hires, not existing employees already counting on a certain pension when they retire.
"It's not underfunded currently, but for the future health of the fund we have proposed multiple changes to ensure its longevity and reduce our expenditure from the general fund for the pension in years to come," Stenger said. "It's just future-oriented because we didn't want to penalize current employees."
The changes have been on hold at the council for months as legislation slowed due to the deteriorating relationship between Stenger and members of a council alliance spearheaded by Trakas, Erby and council Chairman Sam Page, D-Creve Coeur.
The Retirement Board had hoped to have the changes in place by July 1, but that was "not achievable … unless the council merely waived its responsibility to carefully consider your proposal," Page wrote in a June 29 letter to Retirement Board Chairman Thomas Wright when Wright asked why the changes had not yet been made.
The council could not tell from the proposed bill sent May 23 what the changes were, and did not receive a bill more clearly outlining the changes until June 21, Page said.
After commissioning a committee to evaluate the future of the $525 million pension fund it manages in 2015, the Retirement Board grew even more concerned about the future health of the fund and the county's ability to fund it, according to committee minutes.
Retirees have not received a cost-of-living adjustment since 2005. The retirement panel has lobbied for one in recent years, but both Stenger and former County Executive Charlie Dooley turned them down for budget reasons.
The rising cost of pensions is why county employees did not get raises this year.
The proposed changes would save $27 million in the next decade, some of which could potentially be directed toward an increase for existing retirees, Stenger said.
The council unanimously voted to increase McCulloch's pension by repealing a clause the council earlier placed into the pension ordinance that reduced McCulloch's county pension by however much he receives from the state prosecutors' pension fund. The same bill allows former employees with more than two years of a break in employment to return to the county and count past years toward their pensions.
That change applies to 31 employees, but not McCulloch, even though he served as an assistant prosecutor before going into private practice and returning as elected head prosecutor. Since McCulloch was not vested in the system before he left, those years don't count on his pension, Stenger said.
McCulloch is the highest-paid county official and makes $160,000 in the position he has served in since 1991. His pension is a closed record, but Stenger estimated that the combined county and state pensions would add up to roughly $115,000, not the $170,000 reported by other media outlets.
McCulloch, 66, should not be penalized by the county he has served for decades because prosecutors also earn a state pension, Stenger contends.
Although Erby has been a vocal McCulloch opponent since Ferguson, she voted with the rest of the council to increase his pension and is one of several members, including Page, who now say that they did not know what they were voting to approve.
But the letter Stenger sent to the council with the legislation noted that it would roll back a reduction in McCulloch's pension.
"No one was fooled. No one was tricked. There was no deceit," Stenger said. "If someone needs to come in and read to the council, then that's a pretty darn sad state of affairs."
When Stenger made the recommendation on McCulloch, he proposed that one county employee receive a higher county pension at the same time that he is recommending all future county employees receive lower ones. That's an issue for Trakas, who was not yet on the council when the change was approved.
"No one has more respect for Bob McCulloch than me, as a lawyer and as a man, but this matter can't just be looked at in isolation," Trakas said.
In comparison to the millions saved through the proposed retirement changes, however, the cost of McCulloch's full county pension is "negligible," Stenger said.
The higher pension payout to McCulloch, an ally who helped Stenger defeat Dooley in 2014, plays into perceptions of Stenger critics that the county executive rewards his friends and campaign donors.
"He's not really Stenger's friend — he's the St. Louis County prosecuting attorney. And he's served the county for over 20 years, and he's served in difficult times," Stenger said. "So I think whether he knows me or doesn't know me or is an acquaintance or a friend doesn't enter into the equation."
But if the council takes away McCulloch's county pension while contending it didn't know it was voting for it, Stenger sees that as politically motivated revenge.
"They absolutely knew what the bill was when they voted for it," he said. "It's an act of cowardice, and I think what they're doing now is an act of retaliation against Bob McCulloch for whatever reason."