County, city leaders unveil their plan designed to boost MetroLink security
MOU not an agreement, but 'a wish list,' Trakas contends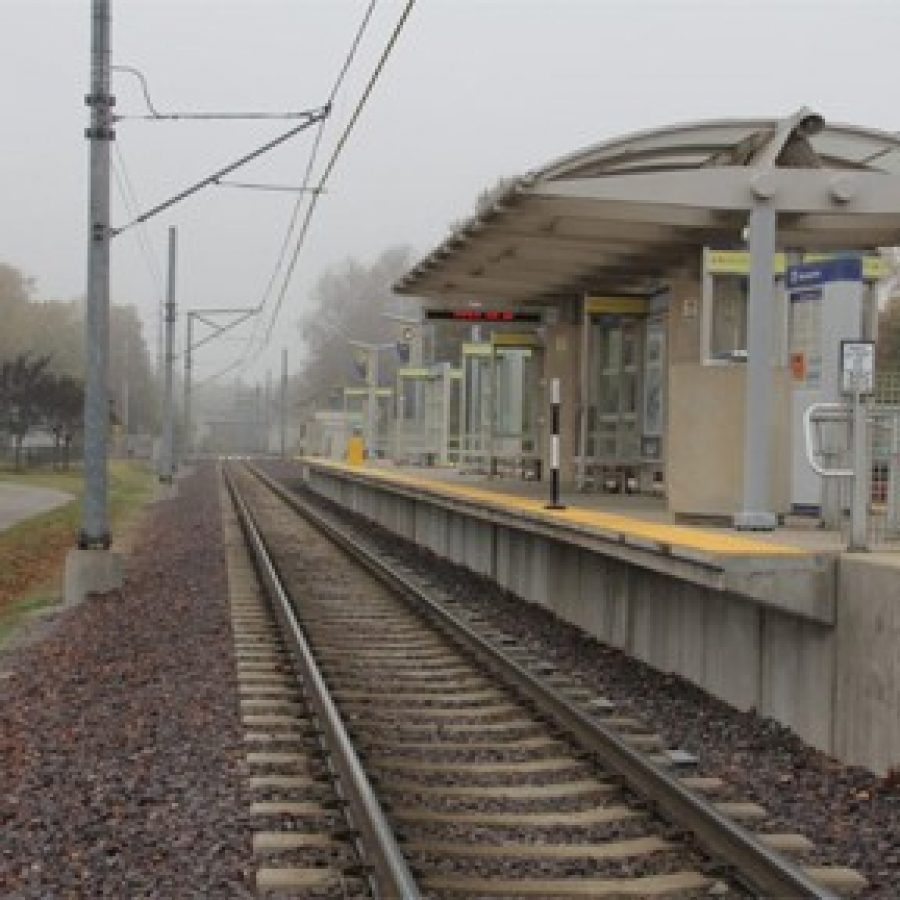 Leaders of St. Louis County, the city of St. Louis and St. Clair County in Illinois unveiled their plan to improve MetroLink security last week as more crimes on the trains grabbed headlines.
St. Louis County Executive Steve Stenger, former St. Louis Mayor Francis Slay, new Mayor Lyda Krewson and St. Clair County Board Chairman Mark Kern have been collaborating on the security proposal for more than a year, with heavy involvement from police in all three jurisdictions but little input from the Bi-State Development Agency that oversees MetroLink.
The leaders propose a joint task force of law enforcement from the three counties under a unified command led by the St. Louis County Police Department, housed at a substation next to the Delmar Loop station donated by Washington University, which county and city officers are already using as a base of operations.
The agreement released May 18 still had a blank space for Bi-State CEO John Nations' signature, and the Bi-State board unanimously signed on to the plan in an emergency meeting the next morning, Metro spokeswoman Patti Beck said.
Board approval signals that Nations will add his signature to the document, board Chairman David Dietzel said.
Stenger released the agreement just before the County Council's May 18 public hearing on MetroLink security, which had been rescheduled from an earlier date due to flooding in the county.
The memorandum of understanding, or MOU, specifies that Metro will not start its own police force but also will not cut any of its taxpayer-funded security operations without the go-ahead from the task force. It also endorses cross-jurisdictional deputization, a central 911 and dispatch system and 911 texting so that riders can more easily contact police.
The MetroLink operations of all law enforcement agencies in the task force — the St. Louis County Police Department, the St. Louis Metropolitan Police Department and the St. Clair County Sheriff's Department — will fall under a unified command structure led by St. Louis County Capt. Scott Melies, with more police officers hired to police the trains.
From the joint precinct on the Delmar Loop, task force officers will develop a data-based daily patrol plan, including plainclothes operations, with specific security goals, the MOU states. Passengers who commit serious crimes could be permanently banned from the system.
Officers and sheriff's deputies will still be employed by their respective counties, and the other counties assume no liability for the actions of other counties' employees operating under orders from the task force.
The three counties will set staffing goals and evaluate the role of their respective county in the MetroLink system's security, while setting up "oversight and accountability structures for security resources." The counties will collaborate on safety grants.
The MOU also calls for the task force to set up a Transit Advisory Working Group of all the counties' prosecutors, police chiefs, Amalgamated Transit Union Local No. 788 and Citizens for Modern Transit that will meet quarterly. The task force will use the working group to categorize "passenger offenses that require special attention," the MOU states.
Depending on "cost and feasibility," the counties want turnstiles or barriers installed and want future MetroLink car purchases to include connecting cars so that police officers can patrol all cars in a train.
The task force will review how the plan is going in 120 days.
The same day the plan was unveiled in Clayton, an officer arrested two men blocks away for allegedly committing an armed robbery on the Clayton MetroLink platform. Days earlier, a train was hit by eight bullets near Washington Park, Ill.
Although Nations said he had little involvement in the MOU beyond two meetings last month, he endorsed it.
"Having an armed, uniformed police force on the MetroLink under a unified command is the answer," he said.
Metro's lack of involvement in the talks highlights a rift between the transit agency and police and other St. Louis city and county officials over who has the power to police the light-rail system. The system runs between two states, three counties and the succession of cities between Scott Air Force Base and St. Louis Lambert International Airport. The train was built as an open system with no turnstiles, but that 1980s-era design always required heavy fine enforcement to function, Nations told the council.
Metro security guards have not issued fines in Missouri since police chiefs in St. Louis County and city told Metro in 2015 that its security guards are not qualified to write tickets since it is not qualified by the FBI as a police agency. But those same agencies also feel that their police officers should not have to be the primary agency writing fare tickets, Nations said.
Earlier this month, county Prosecuting Attorney Robert McCulloch said that he would stop prosecuting fare tickets from MetroLink altogether since the system has no turnstiles.
As a result of those decisions, "I've got a $1.8 billion open system without the critical element of effective fare enforcement," Nations said.
With Metro security guards' ability to write tickets taken away, they are powerless once they cross the county line if someone doesn't pay to ride, Nations said.
"There's not a lot they can do, particularly in St. Louis County, which has said, 'We're not going to enforce the fare system,'" he said.
Despite those restrictions, Metro has never wanted to start its own police force, Nations said.
"We believe there needs to be a dedicated police force on the MetroLink system," he said. "But it doesn't have to be us. Our goal is not to have a police force, our goal is to have a safe system."
Before Nations took the podium, 6th District Councilman Ernie Trakas, R-Oakville, grilled Melies and Tom Curran, a senior policy adviser to Stenger, on Metro's involvement and whether the MOU is legally enforceable.
"This is not an agreement, this is a wish list," Trakas said. "I won't even call it an agreement. There is no agreement for a unified central command, there's a hope that maybe it will happen."
The MOU states it is not a contract, but in a statement, Stenger noted that the agreement is a collaboration that took a lot of time and effort by each of the three counties, which provide most of the money for Bi-State to run.
"It is an agreement between multiple jurisdictions and Bi-State and is enforceable because the three major funders of Metro are signatories on the agreement," Stenger said.