Council hears Fey, Fuhr outline issues with election fiasco
Directors take responsibility for April 5 election problems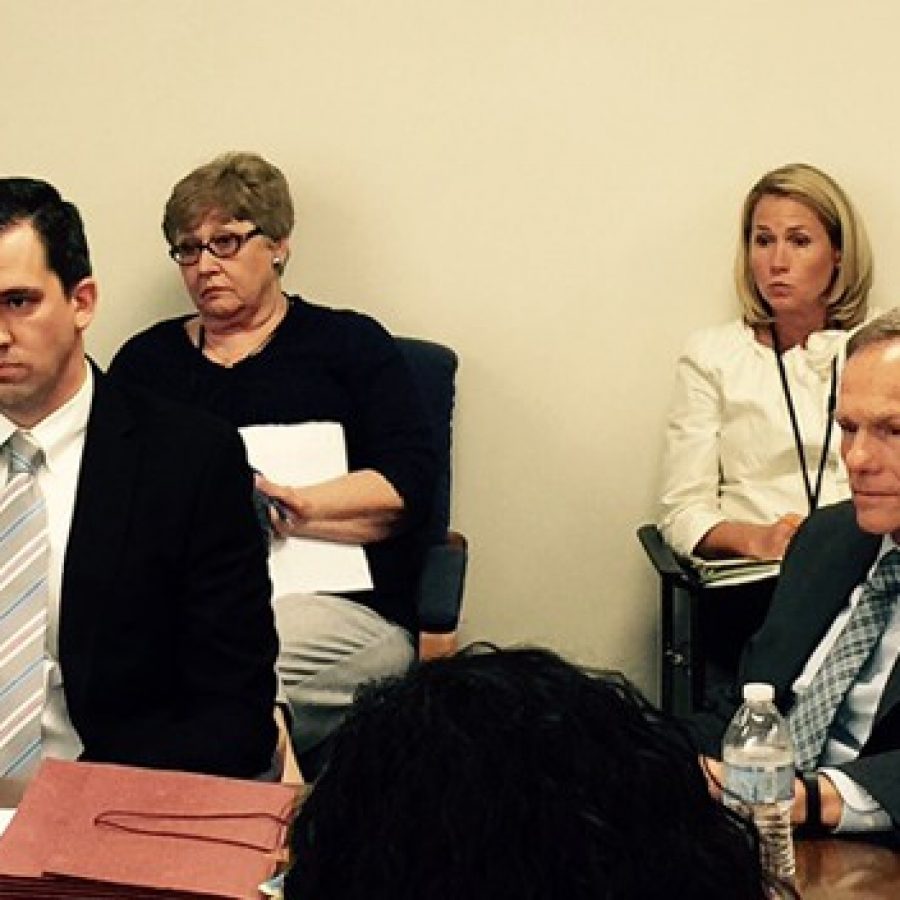 The county election directors at the center of the April 5 election debacle already explained what went wrong to state and election officials, and last week they outlined to the County Council the "perfect storm" that led to hundreds of voters being denied the right to vote.
The May 10 Committee of the Whole meeting was the first time the County Council, which funds the Board of Election Commissioners, heard about why and how the countywide ballot shortages happened.
Some members of the council came away unsatisfied, while others commended Democratic Election Director Eric Fey and Republican Election Director Gary Fuhr for accepting responsibility for the problems.
On an eventful day for county elections in which the election board also voted to redo elections in Sunset Hills and Berkeley to rectify the damage, former Rep. Fuhr announced his retirement effective Friday, May 20, which the board emphasized is unrelated to the election.
"He had no role in the mistake that was made," Commissioner John Maupin said.
Fuhr's replacement will be based on merit, not patronage, the basis on which many of the jobs in the election office have traditionally been granted, Commissioner John King added.
Fey and Fuhr, who both live in Concord, repeated to local officials much of what they previously testified to a Missouri House task force whose members include Rep. Marsha Haefner, R-Oakville, and Rep. Cloria Brown, R-Lemay.
In hindsight, and without excusing what happened, "It was the perfect storm," Haefner said of what went wrong: Unintended consequences of the county's many municipalities, back-to-back elections and a judge allowing cities to file late, all run on antiquated technology vulnerable to human error.
With 363 ballot styles for more than 90 municipalities and 1,500 precincts, even with no complicating factors, St. Louis County is one of the top three most complicated counties to run elections in the country, along with Los Angeles County and Chicago's Cook County.
To illustrate the difficulty, Brown ticked off the various jurisdictions on her ballot, including sewer, fire and school districts, national and state representative districts, and Senate districts.
"And I don't even live in a municipality," Brown said.
The first wrench into this year's election happened when the Legislature moved back the presidential primary, which left only three weeks between the March 15 primary and the April 5 municipal election.
Since the 750,000 registered voters can vote 42 days before an election, that change created an unprecedented double election for 1.5 million voters, Fuhr said.
After six teams of two workers proofed and finalized the 50-page ballot database — as large as the one from the rest of the state of Missouri combined — a judge allowed municipalities Mackenzie and Uplands Park to file their ballots late because they forgot, Fey said.
Workers again merged the county database with the statewide database. The outdated systems, along with the military absentee database, are always a struggle to "speak" to each other, and the merge flip-flopped ballot numbers for 63 precincts.
Pressed for time and already working overtime, workers checked the two pages of add-ons but not the originals again, Fey said.
They also double-checked all the ballots as they packed them to send out to precincts, but "we were proofing against a bad database," Fey said.
Even with significant overtime, the electronic voting machines could not be recalibrated in the three weeks between elections, so voters only had them in March, and ballot-less precincts in April had no backup.
To top off the problems, a judge is typically on call for emergencies, but when the board tried to extend voting hours so more people could vote, no judge was on call, Brown said.
By the time the appeals court ruled polls should stay open, they had already closed.
One improvement over past shortages was that the office has a local ballot printer, said Fey, who was hired last year.
During a 2014 shortage, the election board chartered a plane to fly ballots in from out of state.
The election board suspended Fey for two weeks without pay from his $125,000 position for the errors, and Election Coordinator Laura Goebel was suspended for a week without pay.
At the election board's meeting last week, Maupin suggested a series of new guidelines that could prevent a recurrence of the election issues. He suggested hiring at the election office be based on merit rather than patronage alone, including some type of formal hiring process that includes minimum standards and that the directors sign off on the ballot database after it is proofed.
One backup electronic voting machine should be available at every polling place, Maupin suggested, even if the office encounters the same problem with turnaround time as it did in March and April. And to prevent that turnaround issue, he suggested asking the state to move the date of the presidential primary. The election board will consider the suggestions at its next meeting.
The County Council hearing did not touch on technology issues, but the already-complicated process becomes more difficult with outdated tools, Haefner said.
"It's like we're in the '80s with what we have to work with, it really is," Haefner said. "There's no easy answer — money, of course, is always the problem."
Election officials have repeatedly told Secretary of State Jason Kander their issues with state and local databases working together and have received no response, Haefner said, noting that neither Kander nor anyone from his office attended task force hearings.
In a presentation Fey gave to the Sunset Hills-Crestwood Kiwanis Club during his suspension, he noted that the county's ballot-counting machines run on Zip drives, which are no longer produced.
Election workers shop for the drive's disks on Ebay, he said. Electronic voting machines, bought with federal funds, are now 10 years old and showing signs of age, but like the other technology issues, no money is likely anytime soon from the state or county to replace them.
"We're behind the eight ball on a lot of situations," Fuhr said. "We've brought it up to the Legislature, and there are no revenue sources that have been identified to be able to do that, so these (technology) problems I don't think are going to be over for awhile."
County Executive Steve Stenger, who did not attend the Committee of the Whole meeting, said budgets are tight countywide as revenues have decreased over time.
"Some of it is a function of funding," Stenger told the Call of the technology issues. "It becomes more and more expensive to operate our election board, so we are examining at all times ways that we can become more efficient and we can do cost-cutting, and at some point, you begin to eat into necessary services and you don't want to see that happen. I hope that the economy picks up so we can have higher tax receipts."
Although Fey and Fuhr have taken much of the blame, they have their defenders, including 5th District Councilman Pat Dolan, D-Richmond Heights, who wrote a letter to a newspaper defending his former legislative aide Fey.
Although 1st District Councilwoman Hazel Erby, D-University City, had nothing but praise for Fey, she agreed with the other council members that the errors cannot happen again.
"If you've worked with Eric, you know his work ethic, his integrity, his passion — and my heart went out to him," she said. "However, my constituency, they don't know Eric. All they know is they were disenfranchised."
The multiple major failures would have been difficult to prepare for, Brown said, noting that the widespread "Monday morning quarterbacking" since the election has been disturbing.
"I don't think anyone should be fired, because I think it's a big accident that could have happened to anyone because of all the moving parts," she said.
In the future, Brown hopes the county can set up an automated system to check ballot numbers.
Former FBI agent Fuhr is not new to managing complex operations: He once led the FBI's Chicago-based Fugitive Task Force, which required detailed preparation with life-or-death stakes.
The directors believed they had adequate protocols in place for the double election, but instead it became the "most embarrassing thing that I've ever had to deal with in a position," Fuhr said.
"Running an election is not dissimilar from moving an army, and so you can't control every aspect of it in the way that I would like to," he added.
With Fuhr leaving, the county is lucky to still have Fey, since he has years of experience in elections, Haefner said.
"I just learned today that Gary Fuhr is retiring in May, and I worry about that," she said.
Brown said she has great respect for Fuhr, her former colleague in the House, and Fuhr backed Fey completely.
"I would trust Gary Fuhr with my life, and if Gary says Eric's a good guy, then Eric's a good guy," she said.